Because of the extension of the Stay Home, Stay Healthy order, I've been trying very hard to limit how far I venture from home for recreation. I've been spending most of my time at my nearest conservation area, Antoine Peak. But those who know me well know I get bored easily by doing the same routes over and over again.
I started to consider additional nearby possibilities by pulling upMapMyRun on my computer and tracing "epic dayhikes" to local trails I could pull off directly from my front door. MapMyRun allows users to click from point to point on a roadmap to get an estimate for the route's total distance. I now have a 22.75 mile loop planned to hike from my house to McKenzie Conservation Area, do my favorite loops on the trails, and return via different roads. It's not how I normally visit my favorite trail systems, but nothing has been normal lately. It's nice to know I have an option that doesn't require driving, and it will be a very good workout when I do it.
We're starting to get back to the full range of activities and locations for recreating on public land. If it's possible to drive to the trailhead, an excellent route at McKenzie Conservation Area is a more manageable 6.75 miles. I love McKenzie in the spring for its variety, including terrain, wildflowers, and view sheds.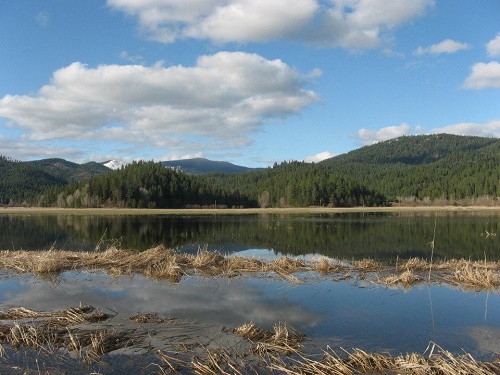 My favorite route is to start south from the parking area on Bedrock Ridge Trail and do the short warm-up loop to the west at the first trail junction on the newest trail in the system, Vision Quest. The trail's name comes from the 1985 movie, portions of which were filmed at this location. The 1.5 mile spur trail to Vision Quest crosses the paved road and heads up a hill past the former cabin site (now gone) featured in the movie. The trail passes a pond and cedar grove at the bottom, but quickly climbs to a pine and Douglas fir forest. This trail makes a short lollipop loop, then returns hikers to the road crossing and the initial trail junction.
Once back at the Bedrock Ridge Trail, continue south. The trail passes through a mature forest and reaches a rocky outcropping that offers excellent views of Newman Lake before dropping quickly to intersect the Turtle Rock Trail.
For some additional distance and elevation, turn right at the trail intersection to hike the entirety of the Turtle Rock Trail, including the steep climb to the alternate access point at Peninsula Drive. Following the loop, continue straight from the intersection with Bedrock Ridge, where the trail quickly reaches the lakeshore and the trail's namesake, Turtle Rock. From Turtle Rock, the trail climbs gradually back to the parking area via an old roadbed.
Round-trip distance: 6.75 miles
Rating: Moderate
Elevation gain: 1000 feet
Map: https://www.spokanecounty.org/1406/Trail-Maps
Getting There: From Trent Ave. in Spokane Valley, turn north on Starr Road toward Newman Lake. Drive 3.6 miles, then turn right onto East Hauser Lake Road. Continue 0.3 miles, then turn left on North Muzzy Road for 2.9 miles. Continue onto NW Newman Lake Drive for 1.9 miles to the parking area for McKenzie Conservation Area, located on the east side of the road.
Support Local Trails: Provided group gatherings can resume, consider joining WTA for a weekend of trail work. Sign up at wta.org/volunteer.
Holly Weiler is trying to adjust to staying at home and is growing her biggest garden yet in an attempt to stay both sane and healthy.