The sea of wind turbines seemed to push us along as we motored south on our way to Bend for a long weekend. As our "This American Life" podcast episode came to an end, we exited the highway and tuned into some Talking Heads to awaken our stoke for pedaling. Mountain bikes in tow, we were excited to venture out of Spokane for some late-winter riding. Riding knobbies on actual dirt for a change.
We had our sights set on the small town of Echo, Oregon, 20 miles west of Pendleton, and a great midway stop on our way to Bend. Word had it that there was some great single-track on a local winery's property just off the highway. The thought of a nice, flowing ride to loosen up our legs and get some fresh wind in our lungs had us pretty psyched.
After working our way through the charming town of Echo, expansive pastures, plus a few gravel roads that had us questioning our directions, we arrived at the trailhead. A kiosk with a map of the trails was there to greet us along with a sizable and completely empty parking area. Stepping out into the sun and stretching our stiff, seat-shaped bodies to the sound of songbirds and the soft rustling of prairie grass was invigorating. We eagerly off-loaded our bikes, geared up, and pointed our tires north toward the Umatilla River.
Rolling shrub steppe and open prairie laid out before us. This trail network is best suited for early or late season riding because once the summer sun rears its head, dirt conditions degrade to a fine powder and finding solid traction can pose a problem, not to mention the dust inhalation and sunburn. Lucky for us, it was early March, perfect timing for comfortably cool air and dirt ideal for confident, higher cornering speeds. The annual "Red to Red" XC mountain bike race was held there the weekend before, so trails were well-worn and broken-in nicely.
Winding our way through a smooth, undulating meadow, we reached an open gate at the entrance to the Echo West Vineyard for the Sno Road Winery. These are the kind folks that have generously decided to share their land with mountain bikers and hikers, and allow us to enjoy these thrilling trails. We were excited to stop by the winery in Echo after our ride to sample its creations and give our thanks.
Skirting the perimeter of their vineyard, overlooking the river and Alkali Canyon, we traversed down a few switchbacks, making our way to a double-track along the river. Though the soil was gummy and rooted here, the trail was well established through a jungle of recently cleared brush. Dozens of songbirds gave us surround-sound acoustics as we climbed back up and through the vineyard, making our way back toward the parking area. Shedding our outer layers at the car, we ventured into the more prominent southern trail section.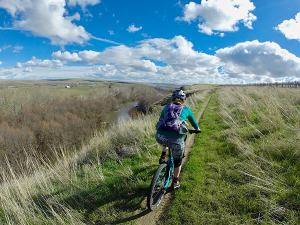 We rolled onto the "A Trail Loop," which begins and ends at the parking area. This main loop is what connects all other smaller loops together. Picture a necklace with several loops as beads. The necklace is "A Trail Loop," and the loop beads are marked "Shane's Trail," "B Trail," "C Trail," "D Trail," "Shelley's Trail," and "Ivan's Trail." All intersections are well marked so navigation is a piece of cake, especially since trees are virtually nonexistent, making visibility expansive.
The remainder of our sun-drenched ride was filled with nothing but good old-fashioned fun. We snaked our way around countless buffed-out corners, berms, and rolling fields of silky single-track. Fervor-filled, we made our way around a series of loops, across a couple of manmade boardwalks, and up and over a wooden bridge overpass before finding ourselves on the eastern side of the trail system. Here the trails throw some entertaining, more technical maneuvering at you in the form of loose shale, bumpy rocks and mild exposure. If this doesn't excite you, staying on "A Trail Loop" and bypassing C, D, Ivan's and Shelly's Trails would alleviate any concerns.
After two hours of exploring the myriad of trails, turns and sweeping grasslands, we coasted back to our car fully gratified. This small chunk of riding off the beaten path had just given us everything we craved; an invigorating pedal through new land, solitude, and a place to get our legs and lungs pumping with fresh energy. On our way back through Echo, we were bummed to find the winery closed and had no choice other than to tip our helmets and carry on down the road. We will certainly be back to this corner of the world.
Getting There: South from Tri-Cities, take I-84 east to Exit 193. Make your way to Echo and drive through Main Street towards Lexington. Turn left onto Snow Road (gravel). After 1.6 miles, you will see a windmill on your left. Turn left onto the unnamed road just past the windmill and follow 0.7 miles to the parking area on your right. For more info, check out Mtbproject.com/trail/704197. // (Erik K.)