Many of my friends know me as a trail guy. For many years I have been working with the city of Spokane to fund, promote and maintain the Fish Lake Trail. I am also a board member of the Inland Northwest Trails Coalition, which supports the development of walking, biking and boating trails throughout the region. It would, therefore, be no surprise that I was appalled when I learned recently that representatives from the 9th Legislative District had attempted to close 120 miles of the John Wayne Trail and give the land to the adjacent property owners.
Fortunately, due to a typographical error, the bill was not presented to the house for a vote. Knowledge of this action precipitated a public meeting in Tekoa to call the representatives to task and to elicit support for keeping the trail open to the public. As a result, three more public meetings were scheduled in order to get input from stakeholders, and the first of those was held in Rosalia on Tuesday, November 10.
In preparation for this meeting, I contacted my friend, and fellow bike advocate, Loren Dudley, and we decided to get to the noon meeting by riding the John Wayne Trail from Tekoa to Rosalia. My only prior experience with the trail had been a recent ride with my son from Rattlesnake Lake near North Bend up to the Snoqualmie Tunnel. Given that this section is on the west side, we rode it in the rain, but the trail is in excellent condition with established trailheads, clean outhouses and even one well designed campsite.
Our experience on the Tekoa to Rosalia section was quite different. We were escorted to the "trailhead" by Tekoa resident Ted Blaszak, who is primarily responsible for the current effort to save the trail. He pointed west and sent us on our way. For the most part, the riding surface is quite good, and the countryside is magnificent. I was using a borrowed fat tire bike and Loren was using a typical mountain bike. While my ride was softer, Loren managed quite well. The major obstacles on the ride consisted of a half-mile section of shoulder-high grass and five missing bridges that entailed short detours. The only living things we encountered were two moose and an owl. With a consistent pace, it took us just over three hours to make the trip.
It is now my intent to ride the entire trail and to continue to advocate for its preservation and improvement. I encourage everyone to contact your state senators and representatives, and, if possible, to attend any additional meetings that might get scheduled in this area. Learn more about the John Wayne Trail and the efforts to save it at: Savethejohnwaynetrail.com.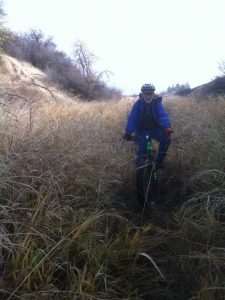 Written by Dan Schaffer