A Growing Number of Inland NW Backcountry Riders are Using Snowmobiles to Go Farther, Access New Terrain & Still Earn Their Turns 
I roll out of the parking lot at Valley Power Sports in Pinehurst, Idaho, stoked to have my sleds back and ready for the snow to fly as splitboarding season gets going. Wait…what do snowmobiles and splitboards have to do with each other?
Here in the Inland Northwest, we have some of the best riding in North America, with a reliable snow pack on the highest peaks even in the worst of ski seasons, as many of these spots are up to 1,000 feet higher than some of the resorts. However, unlike other backcountry skiing and riding areas with easy access where you can drive to the trailhead by car, such as Stevens Pass and Sherman Pass in Washington and Kootenay Pass up in B.C., to hit many of the best backcountry lines in North Idaho requires long slogs on touring gear, which in some cases would take much of a day or longer to reach.
Fortunately, many of these areas already have roads groomed specifically for snowmobile touring, paid through snowmobile registration fees that fund education and maintenance projects, that backcountry skiers and riders on sleds can readily reach for day touring. All one needs is a basic snowmobile, GPS, review of Google Earth, a ski or splitboard setup, avalanche gear (and the ability to use it all properly), and the latest avalanche bulletin information to take advantage of a vast expanse of riding opportunities far beyond the reach of nearly all climbing skin-powered backcountry skiers and riders. (For more information about splitboarding, check out "Split Personality: The Evolution of Backcountry Snowboarding" at Outtheremonthly.com).
Despite the fact that the vast majority of sled-assisted backcountry riders avoid popular areas in places that are frequented by most day-touring backcountry skiers and splitboarders, there seems to be lingering misunderstanding and controversy surrounding responsible sled-accessed riding, which consists of using the snowmobile for transportation instead of skinning the many long roads that are already groomed for snowmobile recreation. With this type of sled-accessed riding, the snowmobile is used to reach an end point location where the machines are parked and the backcountry rider uses climbing skins to go deeper into the mountains where most snow vehicles cannot access.
The benefits of having a snowmobile for this type of touring are many, including the ability to access terrain that few if any other human-powered skiers and splitboarders are riding; the reduction of trekking fatigue; allowing for transport of more gear such as food, water and safety equipment; and making such deep backcountry excursions more safe in the event of emergency situations where an injured person, whether skier or snow machine user, may need to be extracted.
To note, there are other types of sled-based skiing that can be more controversial, including when two riders use a sled to power up the mountain before one rider skis or snowboards the targeted slope, while the other person rides the snowmobile back to the bottom. Using sleds to make laps in this way is more common in alpine areas of the Selkirks and Canada, but there are occasional instances of this type of sled-based skiing occurring in other areas in North Idaho that are popular with day-touring skiers and splitboarders, and this is likely where much of the controversy around sled-accessed riding in the backcountry community stems from.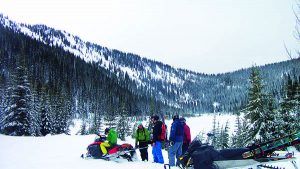 The use of snowmobiles for backcountry access is not new, but now due to population growth as well as ease of use, there are more participants than ever. The same can be said for non-motorized backcountry enthusiasts who head out to enjoy the solitude of the backcountry. This increase of all types of winter recreation has led to some conflict between different user groups. Accommodating both groups and their different expectations is difficult, but compromises can be gained if user groups work together.
Snowmobilers, including skiers and splitboarders who use sleds to access the backcountry, should also do what they can to minimize conflict with non-motorized users. Giving respectable breadth between each other and slowing down when approaching those on foot/ski and even stopping to talk with touring groups to discuss where you are riding, conditions, etc., can help. Avoiding riding sleds in areas that are popular with non-motorized winter recreationists will also go a long way to improve relations.
If you venture into the deep backcountry for skiing/boarding in our area, you'll see the benefits of sled-access riding quickly. To learn more about skiing and splitboarding around the Inland Northwest and to get connected with other like-minded tourers, check out PanhandleBackcountry.com. //