When I first started snowboarding almost 25 years ago, people asked, "What is this skiboarding thing you do?" I would spend time explaining how it wasn't "ski" anything. It's snowboarding, like skateboarding, but on snow. Now, the new snow sport today that has become what snowboarding was 25 years ago is splitboarding.
The question I get asked now is, "What is splitboarding?"  Even many seasoned riders enquire about it. Essentially, a splitboard is a snowboard that can be separated into two ski-like parts used with climbing skins to ascend slopes the same way alpine touring or telemark skis are used in the backcountry. The two halves can then be connected to form a regular snowboard for descent.
Six years ago, a friend introduced me to splitboarding, which I quickly became addicted to. The popularity of splitboarding has increased tenfold since then. This surge was sparked by the Jeremy Jones movie series following the pro snowboarder around the world, reaching peaks none have ventured to before while using a splitboard set up. In those few years, splitboard manufacturers have increased from less than six to over 50 different companies. There are now several splitboard specific bindings designed to switch from "ride" to "tour" mode in seconds, as well as companies making split specific skins (used for ascents) and collapsible poles and packs. The popularity has also produced websites catering specifically to splitboarders such as "Splitboard.com" and "Splitboardmag.com."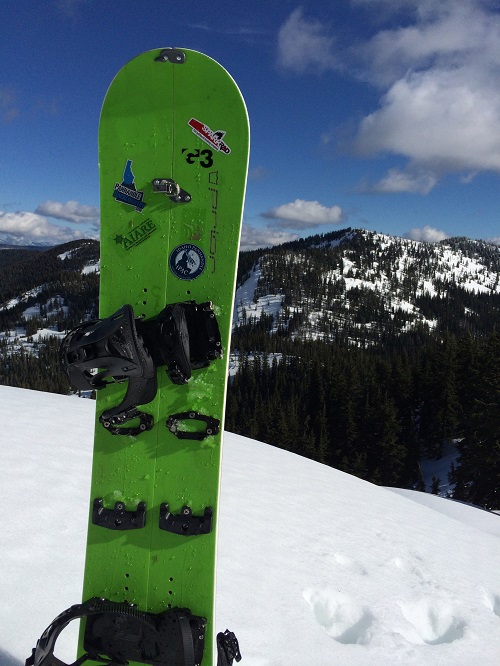 Here in the Inland Northwest, splitboarding has been slower to catch on. However, as many snowboarders begin to look for new avenues to experience their sport, progression into the backcountry is inevitable. Listening to friends' stories about backcountry trips and watching movies glorifying untracked powder opens one's mind to the potential and excitement of "earning your turns."
It's important to note that splitboarding is a backcountry activity in which 2,000 plus vertical foot ascents in predominantly avalanche prone terrain, where the need for backcountry knowledge and safety is essential, are often made for just one run.
If you're interested in giving splitboarding a try, North Idaho College's Outdoor Pursuits program offers rentals for all the items you will need for a backcountry day tour at most popular spots in the Idaho Panhandle. It's also important to have avalanche training and to go with someone else who has also taken a snow safety course and knows the terrain. For more backcountry ski/splitboard resources, visit PanhandleBackcountry.com. //