We huddled beneath looming conifers and stood ankle-deep in a slurry of mud and slush by the side of the road. Outside our evergreen umbrella, a steady rain pattered on the blown-out North Fork of the Coeur d'Alene River. The tributaries on the drive up were surging and brown from days of rain and premature snowmelt.
ROW Adventure guide Randy Dingman forecast a tough day of fishing but even with the rising water, his clients had boated good fish the day before. Flows here are usually manageable and the water is clear through the winter, but this year's sparse snowfall and early melt changed everything.
Dingman offered us a do-over when the river settled down but he also said the winter river produces "a different sort of fish." He spoke of big westslope cutthroat trout, the ones summer anglers rarely see because they seldom rise for mayflies and caddis. Instead, they prowl the river's rocky structure waiting for unwary baitfish. In late winter, these desperate predators hunt easy protein before spring runoff. "It's the advantage of hungry fish," Dingman says. I've dumb-lucked my way into one or two of these hogs before. They surge, run and fight fiercely. I couldn't walk away from a chance at another.
After a short but vivid safety briefing, we pushed off near the town of Pritchard in Dingman's cheery blue NSR raft. The river was a churning brown thing, completely unlike its emerald summer self. Dingman guided our raft with efficient, quiet oar strokes and called out the river's structure, the eddies and snags where baitfish scurry from cover to grab a morsel from a current seam.
I cast a streamer the size of a mouse, stripped flyline and twitched my rod tip to imitate the frantic motion of prey. Dingman is a skilled storyteller and he sustained us through a steady rain with tales of the Silver Valley's settlers – its miners and loggers, priests and whores. The human and natural history rolled off his tongue in the easy way of a family story. The winter river felt like a secret. There was no one else on the water and the summer cabins were shuttered and snug beneath a fast-melting mantle of snow.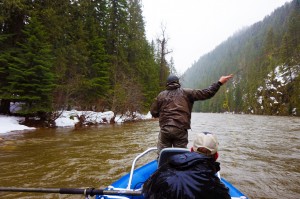 Dingman pointed out an eagle and a meandering line of moose tracks leading to the water's edge. He spotted rising fish and a microscopic blue winged olive mayfly dodging raindrops – hints and reminders that summer will be back. But Dingman was in no hurry for that. He loves this time of year on the river. "It's the perfect place to be after the Super Bowl and before March Madness," he says. And it's the perfect antidote to a slow ski season.
Dingman's career keeps him close to the earth's cycles and he's a skilled interpreter for the rest of us. He shared the sense of wonder at a client's steelhead there on the bank near Asotin, a fish that had evaded sushi nets off the Japanese coast. He spoke with awe at the way the river is slowly rebuilding its streambed after the log drives that scoured it clean in the last century. He pointed out the hulking, charred cedar trunks that return to earth slowly like a fallen temple's columns, and took the moment to tell us about the Big Burn, the 1910 fire that changed everything in the Silver Valley and the American West.
There were tantalizing tugs, a dozen false hook sets, but no fish and no hero shots with slab-sided cutties. It was one of those days when it didn't matter a bit because when most people were riding out the rain at the mall or on the couch, we were fishing. We were in the river, wet with it, amphibians in the dark skins of our waders and rain coats, slick with the same rainwater that filled the river channel. We saw a familiar place in a new way, connected with it, were changed by it. That's a good day on any river. // (Steve Durham)
Making the Most of Early Season Fly Fishing
Pre-runoff fly fishing in the Idaho cutthroat streams can be surprisingly good. However, due to fluctuating spring weather patterns, it can definitely be a hit-or-miss affair. As spring temperatures are on the rise, bug activity increases, which in turn awakens trout to more active feeding patterns. It's a delicate balance though as the temperatures must remain stable at higher elevations to prevent runoff conditions from pushing the water levels up and decreasing clarity, which can turn fish off from feeding. When the balance is right, however, you can see days that are as active as any summer day.
Key in on back-eddies, soft-pockets and side-channels. As river levels begin rising, these side channels provide relief from the main river channel. During the summer months, these sides are all but dried up, but in March and April, they are usually some of the fishiest spots on the river. Your typical cutthroat patterns such as blue wing olives and caddis can produce plenty of fish this time of year, but going sub-surface with leech, sculpin and other beefier bait-like imitations can really entice larger cuts out from the banks. // (Brad Naccarato)