Behind every pretty mineral or rock is a story about Earth's processes, muses Justin Rice, the geologist behind Liberty Lake, Wash.-based GeoKidz, which offers two different geology kits for kids as well as a kids geology subscription box.
"My passion really lies in telling these stories," he says. GeoKidz kits include a mix of beautiful rocks and gemstones, experiments, geology tools and educational materials that describe how the rock specimens were formed.
"When our son was three years old," says Justin, "we bought him a backyard explorer themed kit that was all about bugs. We had so much fun digging up creepy crawly specimens and finding cool rocks along the way! This made us wonder if there were similar geology-themed kits available."
After not being able to find a quality one, Justin and his wife Melia started putting together their own kits, and GeoKidz was born.
The GeoKidz Adventure Kit was the first one to come out and includes the tools and information you might find in a Geology 101 lab course, says Justin. "It includes everything you need to start identifying rocks and minerals as well as tools to get outside and start exploring."
Justin and Melia say they love doing science experiments at home with their two kids, ages 5 and 2. "A lot of these experiments find their way into our kits. Sometimes it requires us adding a geology twist to a classic DIY experiment. Some of our other ideas have come from discussions with customers and even seeing what interests kids that come to our events."
Geology Hot Spots Around the Inland Northwest
The Inland Northwest has plenty of interesting rocks and geologic formations to explore. The Rice family makes annual family geology trips to the Emerald Creek Garnet site near Clarkia, Idaho, for garnets and Red Top Lookout near Ellensburg, Wash., for blue agate.
"We also love camping along the North Fork of the Coeur d'Alene River. I love the Belt Supergroup rocks that comprise much of the Coeur d'Alene district for the stories they tell of our ancient, almost alien planet," Justin says.
His kids love finding smooth river rocks with quartz veins cutting through them. "We call them wishing rocks (you make a wish as you skip them across the river), and our kids' wishes are typically for dad to do something embarrassing."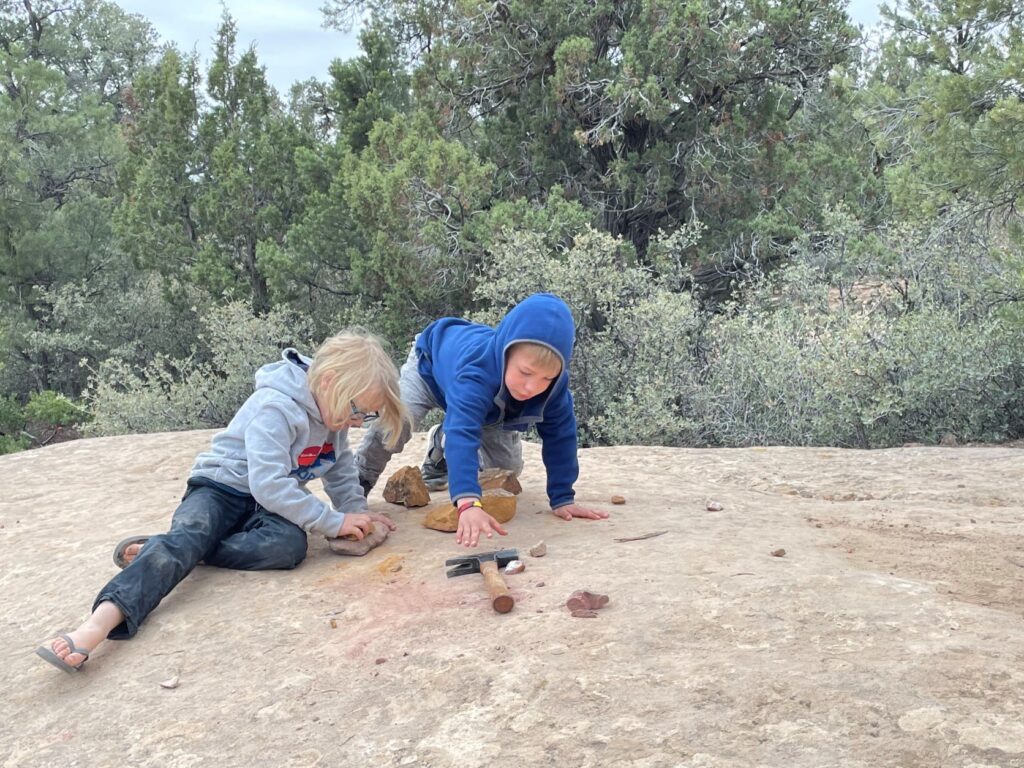 Learning About Geology with Your Kids
Justin explains that it's important to remember geology is the study of the materials as well as the processes that shape our planet. "I like to focus on the processes more with young kids. Kind of a look at the forest instead of the trees approach."
An easy example, he says, might be describing how the Colorado River carved out the Grand Canyon. "We even model this in our backyard sandbox! We spend hours building landscapes in the sandbox, adding a garden hose, and voila, we have a model to teach about erosion, sediment transport, and deposition."
Making it easy to teach your kids about geology, the new GeoKidz subscription boxes offer monthly lessons and experiments that take kids through the bigger picture lens of learning how rocks and minerals form to then focusing in on more complex Earth materials and processes.
Justin says the boxes start with a higher level of looking at geology and progressively get more subject focused. "These are perfect, bite-sized, lessons to start learning geology."
Incorporating Geology into Your Summer Adventures
If you want to plan some family geology outings this summer, the Rice family recommends carrying copies of the Roadside Geology Series books for the places you are already going camping, hiking or biking. "These books provide a great summary of a region's geology as well as a detailed driving log that points out important geologic features," adds Justin. Or find some interesting geology hot spots in the books and explore someplace new.
To learn more about GeoKidz' geology kits and subscription box, visit the GeoKidz website. Find the Rice family's great geology content on Facebook, Instagram, Twitter, or TikTok; or subscribe to the free GeoKidz blog for educational experiments for families to do at home delivered to your inbox at Geokidz.wordpress.com.
Originally published as "Geology Made Fun for Kids" in the May-June 2022 issue.
Find more stories about geology in the OTO archives and family adventures in the Outdoor Family column.