The Inland Northwest has three zipline parks, all within a two-hour drive from Spokane. Which makes an easy day trip for an exhilarating zipline experience.
The sensation you get when you set off down that zip line is similar to riding a roller coaster. It's speed, the risk mitigated by safety, the feeling of weightlessness, and just look at that view. It's a reality experience that gets everyone off their electronic devices and into the outdoors to make one of the best memories of the summer.
Here's what the three local zipline tour companies offer for adventurous families of varying ages, abilities, and group sizes.
Mica Moon Zip Tours & Aerial Park – Liberty Lake, Wash.
"This was a great experience with my mother, sister and niece. Three generations on a family trip. Once in a lifetime! Ian and Ben were wonderful guides and incredibly helpful and patient with my 87-year-old mother and a sister with a fear of heights!" —Randall, Tripadvisor
Awarded Tripadvisor's coveted Travelers' Choice award in 2021, Mica Moon Zip Tours & Aerial Park puts safety first without sacrificing on the fun. "Sometimes when I'm driving up the mountain to check on something, I'll stop and turn off my motor, and I can hear laughing and singing up the mountain," says owner Rik Stewart. "It reminds me why we do this."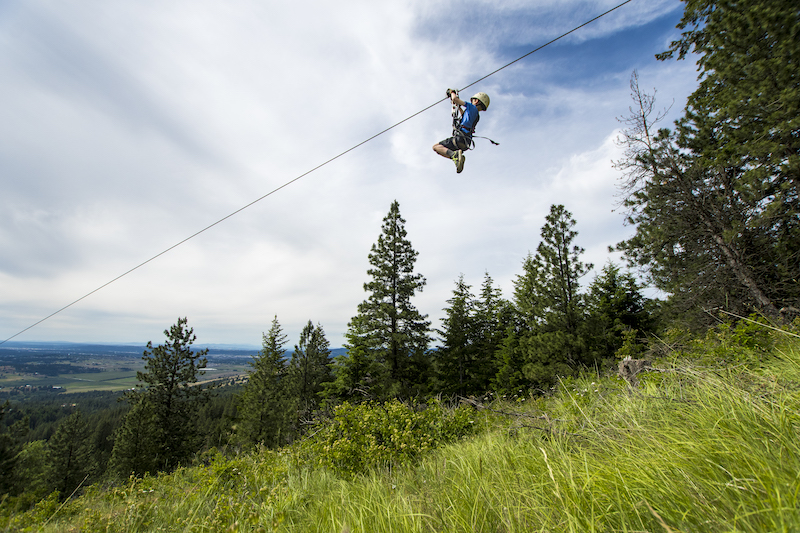 Mica Moon's ziplines accommodate children 6 years old and up, although lighter kids might be challenged at the bottom, he says. Still, Mica Moon guides make sure every person has the best, safest experience. Steward and his staff, he says, enjoy watching families laughing together, being challenged, and cheering each other on.
In addition to nine zip lines, Mica Moon has an aerial adventure park with over 30 obstacles that are 30–70 feet up in the tree canopy. The variety of levels and heights allows guests of all ages and abilities to customize their experience to their individual comfort level.
Timberline Adventures – Coeur d'Alene, Idaho
"Beautiful and exciting experience above Coeur d'Alene. Everything was first class, from the retail shop where the adventure launches, to the seven lines of increasing speed, distance, height and excitement, to the two footbridges, to the excellent guides. Really enjoyed this with my two teenagers." —John, Timberline Adventures website
Timberline offers four unique zip tours appropriate for kids ages 7 and older and individuals up to 260 pounds. One of their tours includes a treehouse, which was featured on DIY Channel's "Treehouse Guys" show (Season 2, Episode 2). On the Treehouse Lunch & Zip, guests get to enjoy Timberline's award-winning zipline tour alongside a delicious lunch from The Local Deli in Hayden, Idaho.
The views of Lake Coeur d'Alene from Timberline's seven zip lines above Beauty Bay are absolutely breathtaking. Two sky bridges and two auto-belays add additional thrilling elements.
After finishing the tour, you shuttle back to Timberline's office where you can grab a drink, shop for a keepsake, and savor the awesome memory you and your family created.
(Timberline's treehouse was featured in Adventure Park Insider, Summer 2019 issue.)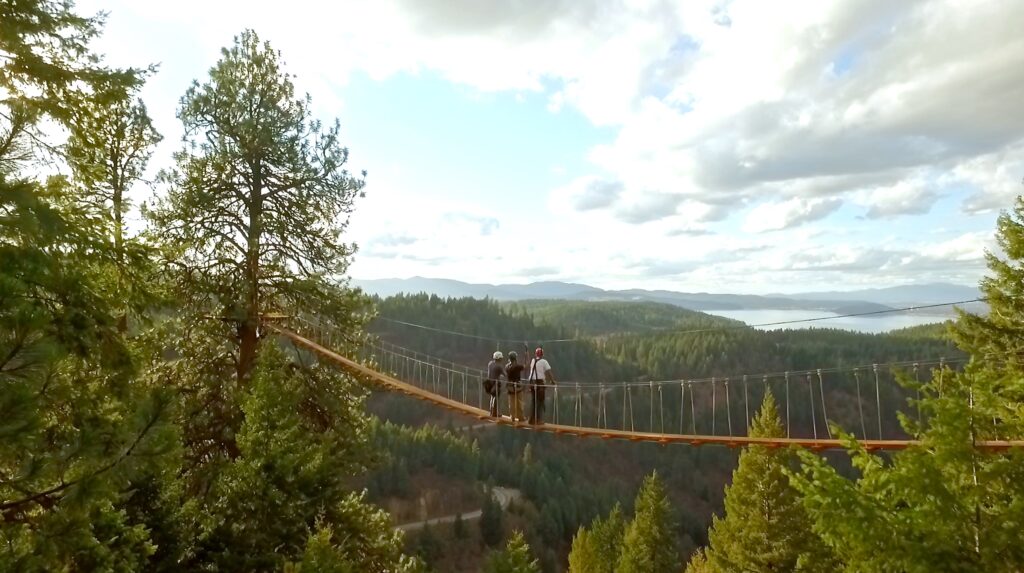 Silver Streak Ziplines – Wallace, Idaho
"Safe, fun, great memory! I would definitely do it again. My family loved it and being outdoors together in a beautiful area was really special." —JCV, Tripadvisor
Silver Streak is spread out on over 263 acres of mountain above Wallace, Idaho, with 10 zip lines and a downhill mountain bike park. There's also a pump track, a mountain bike jump line, and about 2.5 miles of bike trails (from beginner to advanced), with more to come.
Silver Streak can accommodate kids age 10 and up that weigh over 85 pounds on their ziplines, as well as grandparents up to 92 years old. "For a lot of people," says owner Scott Haney, "it's a once-in-a-lifetime thrill, so we send them on the Bucket List zip tour." But they also have guests who zipline around the world and then come back to Silver Streak every year.
Located a short drive up in the mountains from historic Wallace, Idaho, there's a little something for everyone at this mountain adventure park.
Originally published as "Local Ziplining for Families" in the May-June 2022 issue.
Find stories about kid-friendly activities, travel destinations, and recreation ideas in the Out There Kids archives and Summer Adventure Guide.