Dollars add up quickly when taking multiple, always-growing children to the mountain year after year to go alpine skiing or snowboarding. While it's not as cheap as some other outdoor activities, there are ways to save money and rein in costs. With strategic and careful planning, including taking advantage of the below opportunities, families can make skiing and snowboarding together affordable for this winter and beyond.
SKI SWAPS
Great deals on new and used gear and clothing can be found at ski swaps. Local alpine shops bring both new and used rental gear to sell, and the general public also brings in used gear. Do your research ahead of time so you know what sizes to look for. Swap volunteers and shop professionals are usually available to assist with gear selection. Local 2016 swap events include:
LOCAL SKI/BOARD SHOPS
Sports Creel is a locally owned business in Spokane Valley that offers a unique trade-in/trade-up program for adult and children's ski equipment. Whether trading in for bigger sizes or more advanced gear, third-generation shop owner Micah Genteman accepts one-to-one trade-ins of skis, boots, and bindings, and he applies the value of the used gear to the purchase of new gear from the shop (e.g., trade-in boots for new boots). More info: 509-924-2330, Facebook.com/the-sports-creel-312711075603/.
Alpine Haus, located on Spokane's South Hill, has junior ski and snowboard lease packages starting at $139.99, comprised of either used or new gear. Ski packages include skis, boots, and bindings (no poles) as well as a mid-season tune-up. (Return equipment by May 1.) For the shop's junior buy-back program, Alpine Haus owner Drew Harding says, "If a customer buys new boots or skis from us, they can use them for two full seasons. At the start of the third season, we'll buy back gear for 50% of what they paid to be applied for the purchase of new boots or skis." More info: 509-534-4554, Thespokanealpinehaus.com.
For North Idaho families, Ski Shack in Hayden offers children's ski lease packages, ranging from $100-$130 for used gear and $150-$170 for new equipment. Packages include skis, boots, poles, tune-ups, and waxing. This season, Ski Shack will also have youth snowboard lease packages, with all new gear (boots, bindings, board) starting at $150. According to Rhen Lyden, shop manager, Ski Shack will host a season lease night event around mid-October. More info: 208-772-3112, Facebook.com/HaydenSkiShack/.
In downtown Sandpoint, Alpine Shop also has a lease program for kids that includes used skis, boots, and bindings ($130-150). More info: 208-263-5157, Alpineshopsandpoint.com.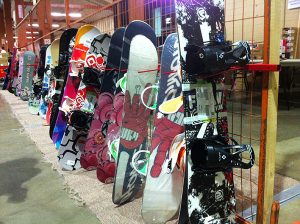 LIFT TICKETS and LESSONS
When your children are age 6 and younger, take advantage of free lift tickets offered at the five major regional ski areas in Washington and Idaho. The Ski the Northwest Rockies association offers a "5th Grade Ski or Ride Free Passport" at the four association resorts (49 Degrees North, Lookout Pass, Mt. Spokane, and Silver Mountain). The four Ski the Northwest Rockies resorts also each offer a great EZ Ski 1-2-3 learn to ski or snowboard program that includes three days of skiing or riding that comes with lift tickets, rental gear and lessons at your mountain of choice. (More details about both of those programs at skinwrockies.com.) Most ski areas also offer their own discount packages and specials for kids and families as well if you don't have a season pass. Night skiing, when offered, is another way to save. At Lookout Pass, people ski free on their birthday, and the mountain will host a Service Appreciation Day on February 26, 2017, with free skiing for military, firefighters, police, EMTs, and nurses. When your family is ready to commit to one mountain, plan ahead for next season and take advantage of spring early-bird sales on season passes.
As for lessons, Lookout Pass's Free Ski School begins on January 7, 2017. Other ski areas have various one- or multi-day lesson packages, and some include rental gear. //