49 Degrees North
Change is coming to 49 Degrees North.  In fact, it is already underway.  If you made it up to the mountain last season, you likely noticed the improved road leading to the bottom of the Sunrise Basin quad, and the new deck and yurts located there as well, offering food, beverages, and information on buying real estate in the new alpine village.  That was the just the beginning, though.
Ground was broken this summer on the planned construction sites, and more is to follow.  Beyond slopeside living, there will be snow making, high-speed quad lifts, and new lodges.  The completion of these additions may be out in the future, but the fact remains. They are coming.
What does this mean for the area?  First and foremost, it will make 49 the only ski in/ski out resort in Washington.  That's a big deal and is sure to draw skiers and riders from all over once it is all said and done.  Equally important is the additional revenue it will bring to the northeast part of the state, an area that has traditionally relied on extraction industries to survive.  This shift to better utilizing recreation-based resources is a major leap forward, and should serve as a great model for other areas to look at.
Will this change the "vibe" of the mountain?  Doubtful considering the folks who visit and work at 49 are about as down to earth as they come.  The place is popular because of how family-friendly and laid back it is, so why change that?  Ski49n.com. (Brad Northrup)
Lookout Pass
Last winter Lookout Pass Ski & Recreation Area kept skiers and riders coming back for more with surprisingly good conditions and coverage in a challenging snow season.  Looking to the future, Phase One of Lookout's long-range expansion plan, which includes two chairlifts on Eagle Peak, a mountain to the immediate west of the existing ski area with a potential to add up to 700 acres with 14 new ski runs plus glade areas with a 1,400′ vertical drop, continues to move forward through the Forest Service planning process. A final environmental analysis is expected this fall. Construction is also projected to start on a new 14,000 square foot base lodge sometime in the summer of 2017 that will be a welcome improvement on the mountain. The main level will house a new food court, expanded seating, and meeting room space, and, in an exciting development for those powder hounds who want to spend more time skiing and less time behind the wheel on I-90, the lower level will include overnight lodging rooms. Speaking of powder, Lookout will once again be open on Wednesdays (after being closed for powder dumps on Tuesdays) in January and February. Skilookout.com.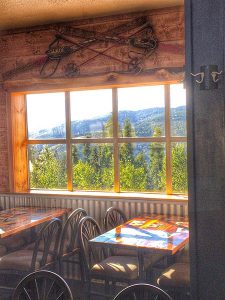 Mt. Spokane
Mt. Spokane Ski & Snowboard Park completed multiple improvements to the ski area this summer. Thanks to a grant from the Washington State Legislature, continuation of remodeling projects were completed at Lodge 2, including new windows, siding, slope-side entries and beautiful hand-hewn finish work inside.
A fleet of vegetation management equipment was purchased mid-summer and has been in use maintaining the slopes ever since, meaning runs will be ready soon as possible for opening day. Mt. Spokane is also excited to offer new state-of-the-art rental skis and boots by Rossignol that have an auto turn rocker that is more versatile and makes it easier to ski in a broad range of snow and terrain. Looking for winter work with skiing/riding benefits?  Mt. Spokane is hosting a Winter Job Fair at Lodge 2 on November 5 from 8 a.m. – noon. Mtspokane.com.
Schweitzer
Schweitzer Mountain Resort is looking forward to the completion of the new lodge at the summit of the mountain. Construction began in July 2015 and the structure will offer unforgettable views of Lake Pend Oreille, three states and Canada. The 9,000 square foot lodge will offer an amazing venue for on-mountain dining and relaxation with a full service restaurant and bar, cafeteria, space for group functions and a new home for ski patrol dispatch. Completion is anticipated this season by December 2016. In addition to the new summit lodge, the resort has spent over $900,000 in capital improvements, which include a new food and beverage technology system, upgrading the entire ski rental fleet, and the purchase of a Prinoth winch cat to continue providing high angle grooming. Schweitzer.com.
Silver Mountain
Getting ready for its second season of seven-days-a-week operations, Silver Mountain's brush cutting team has been hitting it extra hard this summer getting more terrain ready to open earlier in the season. Silver is also bringing back its popular "Flexible 5 Pak" lesson packages, which comes with a season pass valid for the remainder of the season after graduating from the program. The program is open for new skiers/riders 7 years old and up and includes rentals, lift tickets and lessons. Best of all, it's designed for kids and adults who are new to the sport. Silvermt.com.
Whitefish Mountain
The independently owned Montana resort is stoked to be named "No. 11 Overall" by SKI Magazine readers in this year's annual Resort Guide. "We are pleased that the readers of SKI Magazine have once again voiced what we believe to be the core of our mission: to provide an affordable world-class ski experience with a natural, easy atmosphere in the un-crowded, laid-back small-town setting," says Whitefish Mountain Resort CEO Dan Graves. This winter Whitefish goes into its 70th season having invested over $10.6 million to improve the guest experience in the last decade. This season the resort finishes its remodel of it popular mountaintop lodge, the Summit House with a complete remodel of the café and kitchen while continuing the look and feel of the major remodel that began last season. Skiwhitefish.com.
Red Mountain
The same week that Vail Resorts purchased Whistler-Blackcomb, highlighting a trend of acquisitions and buyouts in the resort world, Rossland, B.C.'s RED Mountain Resort launched a crowdfunding campaign—"Fight The Man. Own The Mountain"—where passionate snow sliders and investors alike can take a step towards owning a piece of the oldest ski area in Western Canada. The bold move was a success right out of the gate, attracting attention and lining up potential investors. Minimum buy-in to own a piece of RED is set at an accessible pledge amount of $1,000, which doesn't obligate you to purchase shares; it's just a gauge of interest before the real-deal crowdfunding campaign gets underway. Check it out and get your piece of the powder pie before it's too late. Redresort.com. // (OTM)