Just as a grizzly bear finds a dry den to wait out winter, the same can be said for our local climbing community. With the onset of foul weather, many Spokane area climbers seek refuge at Wild Walls. And so I wondered, with an influx in demand, who sets all those flashy new routes week after week?
On a brisk Sunday morning, I entered Wild Walls looking for Javier Sparks, or Javi as he's known. Having set routes for the past six years, Javi manages a crew of setters responsible for feeding hungry climbers a healthy diet of fun, challenging routes.
Appearing suddenly from behind one of the walls with a big smile and a drill, Javi was clearly ready to strip holds and start anew. He quickly pointed out that route setting is very subjective. "I just try and make sure everything blends together and flows really nice," he says.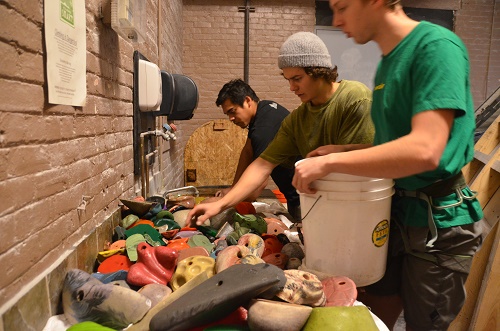 Like most artists describing their craft, Javi labored over how to define success. "If you're able to make a route and all the movement is fluid, the feet are in the perfect spot, that's what I consider a really great climb," he says. "If it doesn't feel natural, it just feels awkward and botched."
What's the biggest challenge he faces with setting a route? He let out a loud chuckle before answering: "Creativity." Because creativity can be a scarce commodity at times, Javi says he knows not every route at Wild Walls is spot-on, noting that the feedback he often gets from climbers critiquing the routes is too nice.
Individual route setters each bring a different climbing style to the gym, which adds variety, Javi says. Because of their specialized skills, he dispatches certain members of the team to particular angles of the wall. For example, he explains how important it is to have women setters on staff for setting routes that reflect the different ways many women climb compared to men who often muscle their way up the wall.
I follow Javi around the gym while sidestepping the organized chaos. Reggae beats bump overhead, the sound of drills bounce off the walls, setters swing from ropes, holds fall from the sky, bolts and colored tape litter the floor and buckets full of grimy holds wait patiently for their vinegar bath. The entire process of stripping a single wall and placing new routes requires a few hours, often involving a mix of volunteer and paid setters.
I begin to hear a reoccurring theme voiced by the setters as they describe the monumental task of trying to mimic Mother Nature. With varying degrees of success, they take as much inspiration as they can from outside and bring it indoors. George Hughbanks, veteran setter and Javi's mentor, points out that there are certain things outside that they can never really bring indoors. "Outside can have some tweaky, not very ergonomic movements, but in the gym, those moves might not be as fun to climb, and then the route is just a wasted piece of real estate," he says.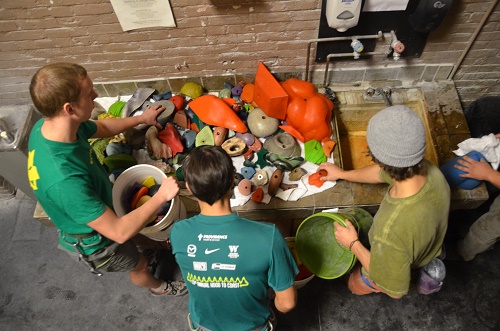 In the back room, with a pungent smell lingering from the giant tub of vinegar, setters rummage through freshly cleaned holds. Like painters picking colors, they crowd around a pile of holds, matching routes they are forming in their minds with corresponding holds. Javi rinses off the vinegar and tosses the holds on the table while asking another setter, Mike, what he wants to set. Mike suggests a 5.11d on the wall he just stripped. "Go for it," Javi says excitedly. The more I listen to Javi and his crew, the easier it is to see why the formula for setting a route is equal parts passion and creativity.
Dane, an easy going, willing apprentice, started out volunteering this past summer and has since graduated to a paid position. Filling his bucket with holds, he describes his passion for climbing and his desire to put up fun routes. "Seeing someone try a route I put up four or five times, and then finally nail it, brings a smile to my face."
Route setting takes on even greater importance in the winter months because of the spike in popularity of indoor climbing. Climbers count on new routes to retain their summer strength, improve technique and build endurance. So if you think hibernation is hindering your climbing skills, go see what Javi and his crew just put up.
Written by Brad Meyers