Just because you started mountain biking on a fully rigid fat tire bike back in 1993 doesn't necessarily mean you're a badass rider. Let me tell you. I've watched much younger riders with far fewer chain replacements under their saddles destroy me up and down the trail and launch off jumps and speed through rock-drop sections that I instinctively dodge or walk around. It doesn't help that I haven't spent an ounce of energy towards developing new skills. I've always been content to hop on my bike, go with what I got and just ride, whether it's the familiar local trails or challenging Northwest classics like the Seven Summits, Long Canyon or Tahoe's Mr. Toad's Wild Ride.
While I've held my own and had fun on the trails I've ridden over the years, something Evergreen East skills instructor Penny Schwyn said to me in an email the other day got me rethinking my old-school aversion to putting a little effort into becoming a better rider: "Between the new technologies and geometry, and the new science of mountain bike skills coaching, there is a lot of material that you will find useful. We have taught a lot of old dogs new tricks." Once I got past the thought that, yes, the gray hairs in my beard do mean I'm getting old, the idea of putting in a little effort to learn more of the technical side of a sport I've enjoyed for decades that would help me be a better rider was starting to sound pretty good.
Evergreen East's mountain bike skills classes are designed to do just that –make you a better rider. All you need to do if you're a long-time mountain biker is restrain your ego a bit, or if you're a newbie, relax your fear of pushing your comfort zone and trying something new, and just sign up for a class. It's as simple as that. Certified instructors will make sure you have fun, ride confidently, and overcome personal barriers to take your riding to the next level.
Classes offer a low student-to-instructor ratio for personalized feedback and instruction. Each skill is carefully demonstrated and broken down before progressing onto practice and drills. And at the end of the day, you can apply all your newly learned skills during a trail ride. With new instructors added this year and a diverse instructor team that includes women and men with different riding styles and years of experience covering racing, coaching and movement analysis, you can be sure to get the help you need in every class.
Classes cover three skill levels: fundamental, intermediate, and freeride. There is also a "Fundamental Women" class lead by female instructors. When the long evenings in July roll around, the popular mid-week evening class option will make a comeback – these classes will be in addition to the half-day weekend courses and will take place over two consecutive weeks. Both women's and intermediate sessions will be available in this format. All classes are located at Camp Sekani in Spokane Valley unless otherwise noted.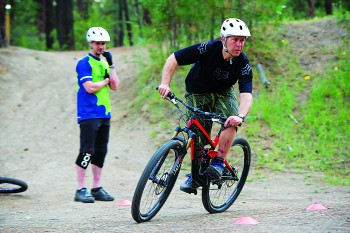 Fundamental Skills
You can go a long way with basic skills. New and experienced riders can all benefit from a focus on fundamental bike handling. The class starts with proper balance and adds a host of vital skills, including braking, climbing, descending, tight turns and negotiating obstacles. Some classes are already sold out, but there is still room in these two: June 20 (10-1:30) and the women only class July 13 & 20 (6-8:30p.m.).
Intermediate Skills
Ready to take it up a notch? Learn how to manage rough trails and obstacles through line choice, wheel lifts, roll-downs, and varied cornering techniques. This class requires completion of a fundamental skills class or instructor approval. Class dates/times: June 6 (10-1:30 p.m.) and July 23 & 30 (6-8:30 p.m.).
Freeride Skills
Attack the trails and get some air as you take the plunge into freeriding. Dial in your trail skills with a variety of wheel lifts, advanced cornering, jumping techniques and drops. Requires completion of an intermediate skills class or instructor approval. Class dates/times TBD soon. Check Evergreeneast.org for an updated schedule.
How to Sign up for a Class
To take one of these classes, you need to bring a mechanically sound mountain bike and helmet. You don't need to be an Evergreen East member to sign up, but there is a price break for current members, and a significantly discounted membership is offered when you sign up (prices range from $50 for a class to $65 for a class and membership). To register or for questions, email classes@evergreeneast.org or look for additional details, including class descriptions and a full schedule, at Evergreeneast.org. //