My dad got me a bike as a college graduation present so I could ride to my first full-time job. At the time, it was a cheap alternative to buying and maintaining a car, but I gained way more than a bump in disposable income by bike commuting – riding every day made me feel great about my body because of what it could do, not because of its shape or size. Exercise became a way of life, not something to fit into my busy schedule. Physical empowerment became an everyday thing, affecting my confidence at work and in relationships.
Bike to Work Week, a nationwide event encouraging bike commuting, challenges participants to take trips they would usually take by car on a bicycle instead. The ethos is simple: getting somewhere you need to go on a bike helps protect the environment and improves your quality of life.
This year for Bike to Work Week, we're making a big change to encourage new riders to participate. Instead of basing our Commute Challenge competition on riding the most miles, we're challenging participants to log at least one mile of riding every day from May 1 until May 22. To kick off the challenge, we're hosting a kick-off at River City Brewing on Friday, May 1 at 5 p.m. An optional informal downtown ride will take off at 6:30 p.m. Regular Bike to Work Week events, including the pancake breakfast, six rides, morning energizer stations and a wrap-up party, aim to help riders connect with others who use bikes to get around.
Spokane area riders logged almost 8,000 trips during last year's Bike to Work Week, totaling over 50,000 miles taken by bikes instead of cars. Almost 900 people chose to make physical activity part of their everyday life during that week.
Want to participate but can't ride to work? Ride to school, to the coffee shop or wherever else feels like a comfortable distance for you. It doesn't have to be every trip you take. Try these Bike to Work Week opportunities to connect with other riders in your community.
"Ride Every Day" Commute Challenge (May 1-22)
This year's challenge is to ride every day for 22 days! The Commute Challenge kick-off event is Friday, May 1, at 5 p.m. at River City Brewing downtown Spokane. Show up for happy hour and an informal ride.

Kick-off Breakfast (Monday, May 18, 7 a.m. at Riverfront Park)
Mountain Gear and Roast House Coffee will serve pancakes and coffee while you get the chance to relax, listen to live music and chat with other riders. Who knows, you might even find a riding buddy for the week. The mayor and lawmakers who have helped move forward bike-friendly policies are expected to speak.
Commute of the Century (May 18-22)
The City of Spokane hosts a supported series of lunch-hour rides exploring Spokane neighborhoods by bike. These rides offer you a chance to find new bike routes and provide feedback.
Energizer Stations (Wednesday, May 20, 7-9 a.m.)
Grab snacks, coffee and other goodies at energizer stations hosted by local businesses and nonprofits around the city. Find locations near your commute route at spokanebikes.org.
Ride of Silence (Wednesday, May 20, 6 p.m. at Riverfront Park)
A silent procession will take place to honor cyclists who have been killed or injured on the road, including a short dedication before the silent ride. Meet by the "runner" sculptures and wear your helmet.
Wrap-up Party (Friday, May 22, 5:30 p.m. at River City Brewing)
Wrap up the week in style with snacks and beer generously donated by River City Brewing. Be there to win door prizes and to celebrate your cycling accomplishments!
For more information about Bike to Work Week Spokane, visit Spokanebikes.org. // (Erika Prins)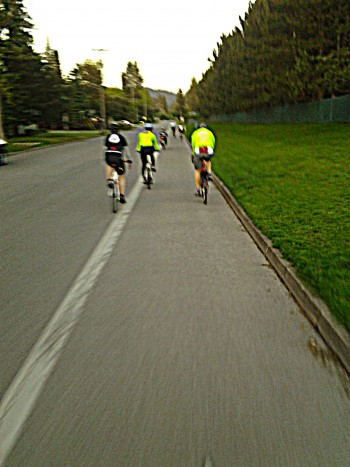 Bike to Work Week Coeur d'Alene
After several years riding in the spring rain and cooler weather, Coeur d'Alene has decided to celebrate its 2015 Bike to Work Week during the first week of June. Organizers are also partnering with the Centennial Trail Foundation and BikeCDA to increase participation. Events will include the annual kick off morning ride (Monday, June 1); a moonlight ride (Tuesday, June 2), a bike film and free bike checkups at Pilgrim's Market (Friday, June 5), and the incredibly fun Roots Pursuit team bicycle challenge to benefit Community Roots Local Food Share program (Saturday, June 6). To register your team for the Roots Pursuit, visit Kealliance.org/rootspursuit.
Bike commuters can also participate through the Corporate Challenge if your employer is a partner. Each participating company is judged on the percentage of employees who ride their bikes to work during that week. Prizes are presented on Saturday during the Roots Pursuit award ceremony. Visit Cdaid.org for more info.
This year, the community is also getting more involved with bike events all month, including a bike rodeo, educational events and possible bike film showings at a couple local breweries. Find out more at Bikecda.com. //  (By S. Michal Bennett)