We at Out There have demystified the psyche of the Northwest bicyclist. Our findings? The Northwest bicyclist is never satisfied with an epic ride. At the other side of each finish line, a longer, steeper, crazier journey always awaits.
For every insatiable cycling appetite, someone is dreaming about a new way to tear the tread off the tires of any rider willing to take on the challenge. The Northwest trails map looks like a child's coloring book—so many squirrelly lines as to be scarcely intelligible—and still, riders are forging new adventures.
From a lunchtime escape to a months-long journey, we sought out the toughest, most breathtaking and the craziest rides for Northwest riders to attempt.
#1: RONDE VAN PALOUSE (71 OR 48 MILES)
"Epic is a debated term," says Alan Jacob, the secretary and treasurer for Spokane Rocket Velo, a local race team promoting bicycle riding and racing in the Spokane area. "Some folks will define it as a long, grueling ride. That's too easy." Unless there's imminent danger of death, he says, you haven't got epic.
Ronde van Palouse (Tour of the Palouse) fulfills Jacob's criteria for the word. "It's not a charity ride. It's not a tickling contest. People are out to hurt each other," he says.
This 71- and 48-mile USA Cycling-sanctioned course is not for beginners. Spokane Rocket Velo has aimed to create a highly competitive race to attract racers from all over the country.
Four miles of gravel road makes the 23-mile circuit a mind-bender. "People have this kind of weird fear that road bikes can't go on gravel," says Jacob. Although the course is ride-able, it's scary.
"Sprinting on gravel is a challenge because you're throwing your weight side to side and your bike isn't really tracking as well," he says.
Riders who are not prepared for the gravel, as well as other obstacles presented by this course, will not fare well. "If you're not mentally sort of ready for gravel, and the wind, and the rollers, you're just going to beat yourself up in 10 miles," Jacob says.
That's just what happened to many seasoned riders last year, he says. "When they finished, they were crushed. They were demoralized. They were whooped. Riders who were great riders got dropped."
Since the inaugural race more than 10 years ago, Ronde van Palouse has gained legend status among local riders, who now use it as a reference point for the difficulty level of other races, says Jacob. "Many people seem to be racing it this year with a vendetta."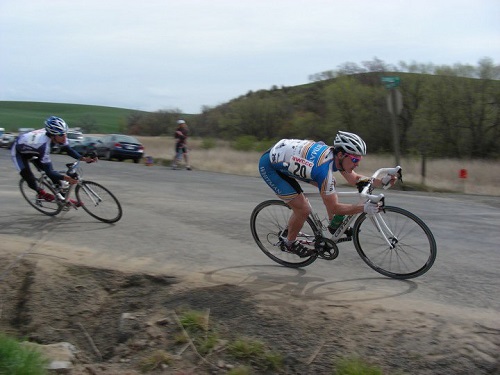 #2: SAN JUAN ISLANDS (296 MILES)
For a Choose Your Own Adventure-style distance trek, tour the San Juan Islands, located 80 miles north of Seattle in the Puget Sound. The four ferry-accessible islands in the sound—Lopez, San Juan, Shaw and Orcas—give riders plenty of options for distance, level of difficulty, and amenities.
Spokane journalist Carey Williams and his riding partner, Ross Jonak, spent seven days exploring the islands by bike. At the Anacortes ferry terminal, they parked their vehicle and bought ferry tickets. Bikers are charged the same as foot passengers, and island hopping is free for both bikers and walk-ons.
They rode 269 miles along the islands' quiet two-lane roads, spotting deer, seals, a bald eagle, and other wildlife along the way. "You're pretty much guaranteed to see a whale," says Williams. "On the main island, San Juan Island, we were just riding trying to get to our campsite and noticed a bunch of cars—there was just a big pod of [orca] whales there."
Each island is topographically different, he says. On Orcas Island, they grinded their gears up Mount Constitution (2,500' elevation), with the payoff being an awesome 360-degree view of all the islands. Lopez Island, which Williams describes as a cycling paradise, is almost totally flat. "You're kind of working your tail off riding your bike, but then you arrive at this beautiful beach and you can put your feet in the sand," he says.
The San Juans attract tons of cyclists and kayakers. "The cool thing is, the islands are kind of geared toward doing something like this," says Williams. But be advised, summer is high season on the islands so expect lots of cars trying to share narrow roads with bikes.
On Orcas some off-road trails are not open to biking in the summer. The county and state campgrounds available on the islands allow you to make reservations online from five to 90 days in advance, which is a good idea in the busy summer tourist season. However, some campsites may be available on a first-come, first-serve basis, especially the walk-in sites for campers without cars, which have special reduced fees. Each island has at least one grocery store, so riders don't need to load up their panniers with food at home.
Since each ride virtually forms a circle, riders can stay at the same campsite two nights in a row. "On three of the islands, we stayed for two days, so we were able to drop off our gear at the campsite and then go around the island without our gear," Williams says.
To begin planning a trip to the San Juan Islands, go to visitsanjuans.com.
#3: COLVILLE NATIONAL FOREST (20-50 MILES)
Trying to ride around in Colville National Forest goes something like this: Take a left at that tall tree; look for the tiny numbered sign; expect trails to end randomly.
Spokane cyclist John Speare, and former Out There Everyday Cyclist columnist, has undertaken the task of finding and mapping what isn't generally findable or mapped: the forest's best bike rides.
"One pain in the arse about riding in National Forests is that generally you are following old logging roads, which were not optimized to provide connectivity in a predictable and grid-like fashion," he wrote on his Cycling Spokane blog after a ride there last fall. "Add to that the fact that there's just not a single good authoritative online map for most of these areas."
On that particular trip, Speare and a couple of buddies parked somewhere on Highway 395 and made their way to Boulder Pass Road, which eventually led them to a "proper" Forest Service road, which led them to a less proper trail that climbed 1,200 feet in about a mile. They rode the "Thomson Ridge" to Davis Lake, then headed back downhill.
"When you come into Boulder Pass, and you go up and over, it's just a killer ride," says Speare. "You could spend—and I plan to spend—a lot of time [there] this summer."
Speare rides in Colville National Forest because the views are beautiful and there's hardly anyone around. "Every time you go somewhere, there's just a parking lot of cars," he says, but not here. Well-maintained roads and smooth dirt makes riding safe and easy enough for kids.
For information about the Colville National Forest, visit fs.usda.gov/colville. Visit John Speare's blog at cyclingspokane.blogspot.com to read about his adventures in Colville National Forest and view route maps.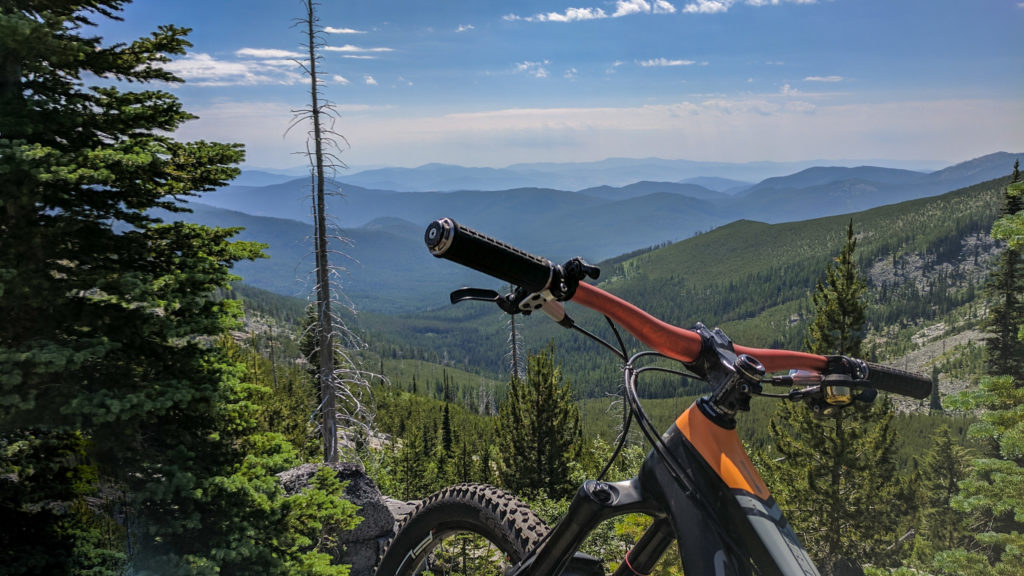 #4: EAST TO WEST (300 MILES)
Do this trip for street cred. Dropping "yeah, I rode my bike across the state" into as many conversations as possible can only result in good fortune. Aside from earning major bragging rights, cyclists see a lot more than they would on a cross-state car ride.
The 300-mile trip from Spokane to the West Side can take anywhere between three days and a week. John Speare says he's done the trip in two days, but he doesn't recommend it. (No really. Don't do it.) To enjoy the experience, he says, plan to take your time.
Of a few options for riding across the state, Speare recommends Highway 20 for road riders and the John Wayne Pioneer Trail for hardcore trail riders. Highway 20, the northerly route across the state, is "not as interesting" as riding the trail, he says, but it can be done in fewer days.
Not to be taken lightly, says Speare, the Palouse to Cascades Trail (formerly called the John Wayne Pioneer Trail/Iron Horse State Park) offers mountain bikers a cross-state route, sort of. "There are all kinds of chunks and pieces that are missing," he says. "It's definitely an adventure." Make sure to plan your water sources carefully as services are very sparse.
On the trail, Speare says there's an easier way to a good night's sleep than lugging around a motel room in panniers: "Ride a s—load of miles, so you don't need much to be comfortable, you just collapse."
In exchange for enduring unnecessary hardship, trail riders get to ride along the old Chicago-Milwaukee-St. Paul-Pacific Railroad through tunnels and over trestles with incredible views of the Columbia Basin. A 100-mile stretch of the trail runs through Iron Horse State Park, which takes riders along the Yakima River and over Snoqualmie Pass. Later, riders enter the Yakima Firing Range, which Speare identifies as an especially tough section of the route.
Crossing the Columbia River requires advanced planning. Speare says that section of Interstate 90 cannot be safely biked.
When Speare rode the trail with a friend, they threw in the towel at Othello and completed the trip on pavement. "Be happy with where you get," he says. "You can always bail out. There's always a road you can go to."
For more information on the Palouse to Cascades Trail, visit the Washington State Parks website.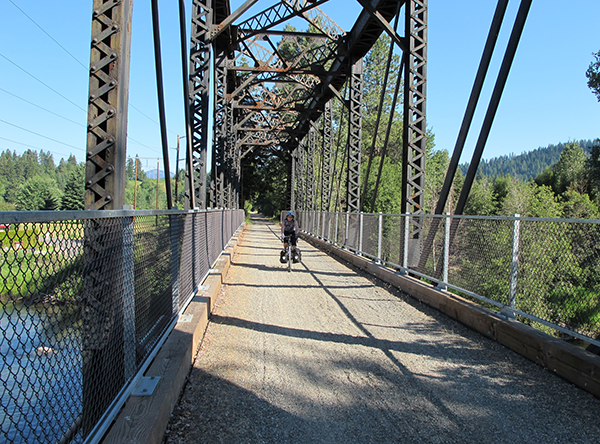 #5: BITTERROOT LOOP (186 MILES)
In October 2010, both the Trail of the Hiawatha and the Trail of the Coeur d'Alenes were named in the Rails to Trails Conservancy's Hall of Fame for converted rail lines.
The Bitterroot Loop connects these two dedicated bike trails with two multi-use trails—the NorPac and the Milwaukee—and a 12-mile stretch of SR-5 along Lake Coeur d'Alene. Spokane riders should start the loop at a trailhead on the Coeur d'Alene Indian Reservation in Plummer, Idaho, 45 miles from Spokane.
Estar Holmes, author of the Trail of the Coeur d'Alenes Unofficial Guidebook, recommends that riders plan to stop along the way to explore the small towns along the way, including Harrison, Wallace and Kellogg. (See this month's Roadtrip for an in-depth look at Wallace, Idaho.)
The Route of the Hiawatha passes through old railroad tunnels, so riders should equip their bikes with a front light and bring warm clothing layers. A camera will come in handy, too—trestles along this portion of the route offer spectacular views of the Silver Valley.
For more information on the Bitterroot Loop, visit friendsofcdatrails.org.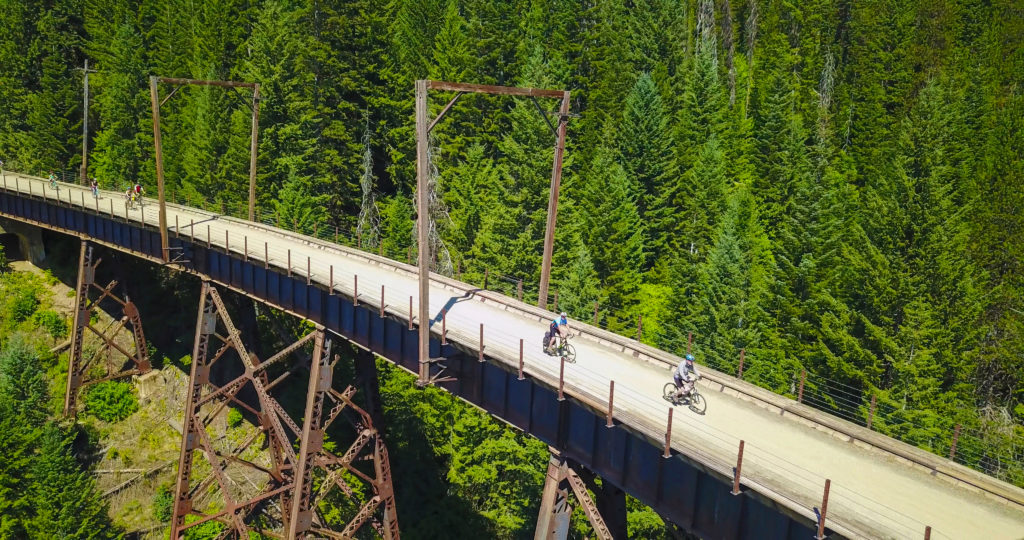 #6: MIDNIGHT CENTURY (100 MILES)
As the name suggests, the Midnight Century starts at midnight and goes for 100 miles. No water stations. No strategically-placed Honey Buckets. Just the rider, some buddies and the night.
The Midnight Century takes off from The Elk Public House in Browne's Addition the first Saturday of August each year. Local chef David Blaine originally organized the ride. Now, however, it's simply a "if people show, it happens" sort of affair. Last year's ride had about 20 participants. The top finishers completed the ride in just over six hours.
"I have to be honest. I haven't actually finished it," says The Shop barista Joe Thomsen, who has started the ride three times. In 2010, he turned around at Liberty Lake, which is the point where riders leave the Centennial Trail. "I'm gonna finish the damn thing this year," he says.
All the reasons most people would never attempt a ride like this—that it sounds miserable, for example—are why Thomsen loves it. "I'm not a big organized bike ride kind of guy, and for me it's just sort of the challenge of doing that," he says. "It's like a marathon—you either want to do it or you don't."
The Midnight Century route goes to Liberty Lake, through the Palouse to Spangle, then follows dirt roads almost to Cheney before heading back to Spokane. The first rest stop only comes after 75 miles, in Spangle. And the one gas station and one restaurant in town don't open until 6:00 am.
Riders should assume they will be on their own for the entire ride and bring a GPS, tool kit and plenty of food and water. "You need to be able to deal with some sort of crisis," says Thomsen. "You definitely need to be able to change a tire."
One year, he says, another rider's derailleur malfunctioned and had to finish the ride using only one gear. Another rider was almost hit by a deer that she didn't see in the pitch black. "Your lights are really what you've got," says Thomsen.
He recommends riding the course in daylight before attempting the midnight ride, as it is easy to take the wrong turn at a dirt road intersection in the dark.
Learn more, including details about the next organized event and any route changes, at midnightcentury.com.
#7: TIP 2 TIP (14,000 MILES)
It's just as nuts as it sounds. In summer 2010, Catalina Andaluz and Peter Adams set out to ride from northern Alaska to Argentina.
So far, they've made it to the Mexico Border. "After talking with a few other cyclists that were coming up from the south, we decided that it would be best to wait [to complete the trip]," says Andaluz. Almost all the riders they met either had been mugged or encountered other dangers related to unrest in Latin America. They returned home to Spokane and plan to resume the journey next summer.
"You have to be flexible with that kind of a trip," says Andaluz. "It was kind of a really hard decision, especially when you've been geared up to bike for a year."
In a span of time just shy of three months, Andaluz and Adams rode from Fairbanks, Alaska, to the Mexican border. They averaged about 85 miles per day, six days per week, and rested on Sundays. Some sound advice? "You have to have a rest day for sanity," says Andaluz.
The other six days a week, Andaluz and Adams woke up around 5:00 am, packed all the gear back onto their bikes, then rode up to 50 miles before taking a long rest. In the afternoon, they took breaks every 20 miles or so.
Andaluz recommends setting weekly mileage goals to stay on schedule. That way, completing each day's mileage goal means not having to put in extra miles later on. "If you've been climbing for 15 miles, and you're like, 'this is lame,' it really helps to think 'well, I have to get [insert: goal] by the end of the week,' " she says.
A few weeks into the ride, they elected to lighten their load by ditching the electric stove and a few other non-essentials. From that point on, they relied on dried fruit, muffins, salami and Ritz crackers, and three daily doses of Amazing Grass protein powder for the rest of the ride.
To Andaluz's surprise, walking around filthy and haggard elicited sympathy—and generosity—from strangers. "Sometimes people bought us meals or gave us 20 bucks and said, 'Here. Go eat a full meal,' " says Andaluz. In Alaska, someone they met in a coffee shop offered them a place to sleep for the night.
Through Warm Showers, a website linking cyclists on long trips with hospitality, they occasionally connected with people willing to put them up for a night in their homes. "One time, this guy let us stay in his house in Oregon and he wasn't there," she says. "We didn't want to sleep in the beds because they were so nicely made, so we just threw our mats down in the front room."
Andaluz and Adams' Tip 2 Tip ride helped support Active:Water, a non-profit organization that supports clean water projects through athletic fundraising. Active:Water's partner organizations in Africa build and maintain wells, and provide sanitation education, to communities in Zambia.
#8: FISH LAKE TRAIL (15 MILES)
It probably can't be proven, but the Fish Lake Trail definitely goes downhill both ways. Almost eight miles of impossibly smooth-paved trail, accessible from just west of downtown Spokane, makes for a lunchtime ride that Spokanites once only dreamed about—and fought for years to complete. Phase two of the paved route was finished in 2009 with federal and state grant money and dedicated last May.
Before being paved, the abandoned Union Pacific rail line stood by as an old favorite for local mountain bikers and trail runners. Now it gets tons of traffic from walkers, runners and bikers of all skill levels. If you ride the entire trail east to Cheney be advised that you are trespassing on railroad property once the paved trail stops at the double railroad track crossing not far from Fish Lake. This section can be avoided by taking the Cheney Spokane Road for a few miles to Fish Lake.
As soon as riders get on the trail a block south of the intersection of Government Way and Sunset Boulevard, they forget they were just in the city. Riders can tune out work and traffic and everything else—except, perhaps, for an occasional loose llama that escaped through a neighbor's fence. This is a trail to conquer again and again.
Story originally published in the April 2011 print issue (updated online April 2021).
[Feature Photo: Palouse to Cascades Trail, photo by Robert Yates.]