Rumor has it, some of the tundra swan scouts have been spotted around Calispel Lake, aka Swan Lake, in the northeastern corner of Washington State. That can only mean the tundra swans will soon make their annual migration pit-stop in the Pend Oreille River Valley. Witness it for yourself at the Pend Oreille County Swan Festival on March 19 this year.
The tundra swans are sometimes called "whistling swans" ever since Meriwether Lewis noted the characteristic whistling sound made by their wings. Uniquely, the tundra swan's bill is mostly black, often with a spot of yellow at the base. Their legs and feet are all black as well.

Their annual migration only takes them through this area in the winter months, as they head to their breeding territories of Arctic North America. From about 2 to 3-years-old, tundra swans tend to pair for life, feeding and roosting together throughout the year. It is easy to understand why swans have been closely associated with ideals of romance and commitment in tales and symbolism throughout history.
While it is something of a calculated guess when exactly the swans will be at their most abundant on Calispel Lake, the spectacle of flapping wings and sparkling, all-white plumage is always memorable. Easily numbering in the hundreds, the cacophony of bugling calls and water slapping can be heard from far away.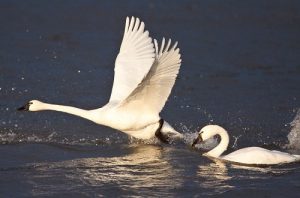 Attendance at last year's event was well over 100, and reservations have already been coming in for this year. The cost is $10 per adult, $5 for children 12 and under, and includes a bus tour starting from the Kalispel Tribal Camas Wellness Center in Usk to the privately-owned Calispel Lake and back plus lunch and an afternoon nature presentation. Additionally, a free, round-trip shuttle from the Walmart parking lot at the "Y" (north Spokane) is being offered. (8 a.m., by reservation only).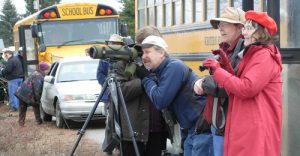 As part of the swan festival, there will also be several speakers on nature/wildlife topics back at the Center after lunch, including Gonzaga University's Dr. Stephen Hayes who will be speaking on wood ducks and on a project in the works in the Pend Oreille Valley and John Baumann, President of the Washington Butterfly Association, who will present on butterflies in the area, mainly in Pend Oreille County.
For those who have more time in the day, the Camas Wellness Center has two swimming pools plus a wading pool that can be used by guests for a day-use fee. Buffalo are often seen grazing around the Center's grounds and are quite a site to behold.
When traveling to the area, keep an eye out for the varied wildlife in the countryside; wolves, moose, elk, mountain lion, plus several species of deer and bear, just to mention a few.
For more information, contact Sonya Scauflaire of Pend Oreille River Tourism Alliance at info@porta.us or 509-589-1224. You can register online via PayPal at www.porta.us to secure your reservation.
What to Bring:
binoculars
camera
weather-appropriate clothes
hat
plenty of water
birding guide if you have one (you might spot some of the over 200 species of birds reportedly calling Pend Oreille County home)
Logistics:
The buses to Calispel Lake depart at 10 a.m. from the Camas Wellness Center at 1981 N. LeClerc Road in Usk, Washington. (You can plan for about an hour and a half drive from Spokane.) The tour will return to the Center for lunch by noon, followed by the presentations. Space is limited, so register soon to guarantee your spot. The event is co-hosted by the Natural Resources Department of the Kalispel Tribe of Indians and the Pend Oreille River Tourism Alliance (PORTA). //