Sunshine, snowy slopes, retro parties and tons of fun for everyone – it's how Fernie rounds out the winter. Less than 5 hours from Spokane in the eastern corner of beautiful British Columbia, spring is the perfect time to head north to discover small mountain charm and big mountain adventure in the Canadian Rockies.
There's one month left to experience Fernie Alpine Resort this winter, and dozens of reasons to go! It's been an amazing ski season with over 24 feet of snow to date. Whether you have Spring Break, Easter or spring fun in mind, the final weeks of the season are packed with events you just can't miss.
On March 12-13 – Helly Hansen Scavenger Hunt. This is geocaching like you've never seen it before! Search for 'Helly Hansen' in the app store and download the 'winter duel' app, then explore all 3,500 feet of vertical on Fernie Alpine Resort's 2,500 acres, hunting for clues and codes as you go. Claim your finds in the app and then watch your mailbox for mountain goodies! It's that easy! Celebrate your finds in the Griz Bar with The Deadstrings live after your day on the slopes. Little ones can enjoy free crafts, games and fun at the annual Griz Kidz Winter Carnival in the Plaza from 11am-3pm on March 12.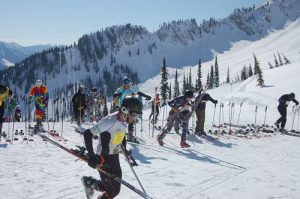 On March 19 – Monster Energy Boarderstyle Event. As legendary snowboarder Terje Haakonsen claims, this is "the sport that boardercross should be." Watch as groups of four snowboarders compete head-to-head on the custom built course for a spot in the World Championships in April. Expect spins, flat out speed and huge crowd-pleaser jumps at the bottom. The Griz Bar is the place to be after the event for a party with Monster Energy.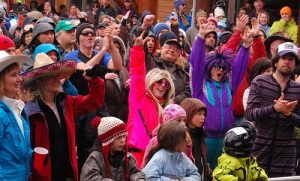 On March 26 – Kokanee's Retro Ski Day. Celebrate 'Hot Tub Time Machine' (filmed partially in Fernie) with your best retro gear and a plaza party with DJ Rocswell, the Kokanee Glacier Girls and Sasquatch! If you can't make it in March, there's another chance to show off your neon style on Hot Dog Day, Wednesday April 6, when the slopes will once again be awash with pink, yellow and sky blue. The Pub at Park Place Lodge is the place to be for après.
On March 27 – Griz Kidz Easter Activities – Send out the kids for a free Easter egg scavenger hunt, crafts and more!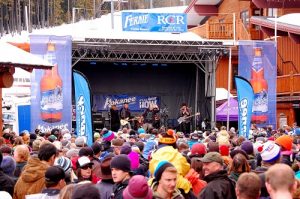 On April 2, rock out to the sound of BCDC – these legendary BC rockers have been imitated by bands from as far afield as Australia, but there's no denying the authentic sound of the Rocky Mountains. Tickets will sell out so call Guest Services to reserve yours – 250 423 4655.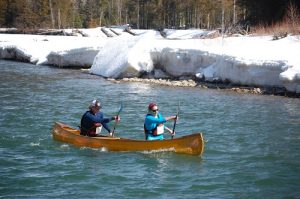 Fernival Closing Weekend on April 9-10 is packed with fun for the whole family. If you're feeling energetic, the Raging Elk Powder Pedal Paddle Relay Race kicks things off bright an early. This annual race has taken place for over 30 years and attracts wild and wacky costumes along with some competitive, and not-so-competitive spirits. Ski (or snowboard) then bike, paddle and run as a team or solo competitor or just cheer on the racers as they take on the challenge. After the race, Fernival takes over the plaza with a rock concert of epic proportions. Legendary 80's Canadian Synth-pop icons Platinum Blonde will take to the stage with hits like 'Crying over you' and 'Situation Critical.' On Sunday 10, the Coca-Cola Slope Soaker returns for splashing good times. A massive pool at the bottom of the Timber Chairlift challenges you to make it across in style – it's time to skim or swim! A fantastic event for competitors and spectators alike to round out the season!
There's lots more to experience in Fernie this spring! For a full list of activities, events and attractions, visit tourismfernie.com. #Ferniestoke
Helpful links for planning your next trip to Fernie:
Main Tourism Fernie Event Calendar: tourismfernie.com/events
Helly Hansen Scavenger Hunt: tourismfernie.com/events/helly-hansen-scavenger-hunt-2016
Griz Kids Winter Carnival: tourismfernie.com/events/griz-kidz-winter-carnival
Monster Energy Boarderstyle: tourismfernie.com/events/monster-energy-boarderstyle-at-fernie-alpine-resort
Kokanee Retro Day: tourismfernie.com/events/kokanee-retro-day-2016
Griz Kids Easter Activities: tourismfernie.com/events/griz-kidz-easter-activities
BCDC Concert: tourismfernie.com/events/nightlife-bcdc-at-the-griz-bar
Hot Dog Day: tourismfernie.com/events/hot-dog-day-at-fernie-alpine-resort
Powder Pedal Paddle Relay Race: tourismfernie.com/events/powder-pedal-paddle-relay-race
Fernival with Platinum Blonde: tourismfernie.com/events/fernival | platinumblondeworld.com/
Coca-Cola Slope Soaker: tourismfernie.com/events/slope-soaker
Fernie Alpine Resort: skifernie.com
FWA Catskiing spring discount: tourismfernie.com/packages-offers/FWA-catskiing
Island Lake Snowcat-Assisted Guided Touring: tourismfernie.com/activities/ski-touring/island-lake-catskiing
Historic Downtown Fernie: http://tourismfernie.com/history/historic-downtown
Facebook: www.facebook.com/Fernie.Canada | www.facebook.com/FernieAlpineResort
Instagram: www.instagram.com/tourismfernie | www.instagram.com/ferniealpineresort
Spring Skiing Video: https://www.youtube.com/watch?v=F-OUctn4QwQ