While fresh, powdery snow on a crisp, cold morning may seem like the perfect conditions for a ski day, many people look forward to hitting the slopes during the spring when the sunshine is warmer, the snow is softer and the days are longer. March and early April usually bring plenty of powder dumps and cold nights, but during the day, temps often rise, creating windows of excellent, sunny spring conditions.
Spring is often a slow season for Inland Northwest ski resorts. Lift lines are shorter and the slopes are often calmer and less crowded. That doesn't mean the resorts go out quietly – they make sure to end winter with a bang. These spirited spring events make an excellent last hurrah to winter.
Lookout Pass
Crazy Costume Day, in conjunction with the 10 Barrell Brewfest on March 26, is going to be a fun blast into spring at Lookout Pass. Skiers and snowboarders are encouraged to assemble the most insane outfits they can think of to win fabulous prizes. "We'll also be hosting a Battle of the Beers for the public to taste test and choose their favorite," says Jason Bergman, Marketing Director. The Slush Cup Pond Skim on April 2 is "one last splash to end the season on a fun note," says Bergman. By this time, the pond is getting rather slushy, and the challenge is to get to the pond and hope to get across. In addition, there will be a Big Kahuna Downhill on the Huckleberry Ridge Trail, with prizes for the first woman and man who finish both races. "We'll also be barbequing on the deck," says Bergman, "and luau attire is highly recommended."
Mt. Spokane
Saturday, March 12, is not only Retro Day at Mt. Spokane. It is also your last chance to go night skiing. So bust out your straight skis and retro one-piece snow suit! "You know it's in the back of your closet!" says Brenda McQuarrie, Guest Services Manager. They will wrap up the day with a vintage-style party at the Foggy Bottom Lounge, which will include music and prizes for the best "retro rags." The Mt. Spokane 7th Annual Slush Cup Pond Skim contest will be hoppin' with fun on the bunny hill on March 26. The contest will begin at 1 p.m., and entry is only $5 per person – helmets required for all. Fun prizes will be awarded for the best skim, best costume and more. It's also Military Ski Free Day and Hawaiian Day, so throw on those flowery shirts, leis and hula skirts, and have a fabulous time!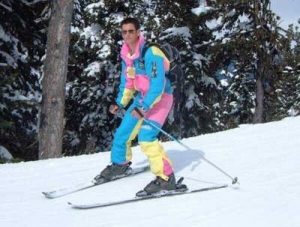 49 Degrees North
"We do spring right here," says Eric Bakken, General Manager at 49 Degrees North. Their Hawaiian Days event on March 12 kicks off the arrival of warmer weather in northeast Washington. It is a big fundraiser for the ski patrol, and includes BBQ on the deck, several entertaining competitions, and, this year, the possibility of a famous local DJ. "It's everything that a goofy, super good time, spring-area ski event ought to be," says Bakken. The next weekend, March 19, they are hosting their classic Bavarian Race, sponsored by Lost Falls Brewing. Teams of four, drawn at random, start on the deck chugging a pitcher of "near beer," then take the longest chair lift in Washington state to the top, downhill it through a few obstacles back to the mountain house and chug a pitcher of real beer. The team with the fastest time wins. However, one of the coolest spring happenings at 49 Degrees North is the resorts Free Ski Week (April 4-10). Everybody gets free lift tickets, all day, all week. "It's a zoo," says Bakken, "but it is super fun!"
Schweitzer
24 Hours of Schweitzer returns for its eighth year March 25-26. This all-day, all-night fundraiser held in honor of 9-year-old Hank Sturgis of Sandpoint and others suffering from the rare, fatal disease Cystinosis will feature DJs and bands playing while skiers and snowboarders ride for 24 hours. More information is available at www.24hoursforhank.org. The final weekend of the season, April 9 and 10, Schweitzer will host its Schpring Finale, featuring The Big LeBrewski beer fest, the Ducky Derby, and new this year, a Duct Tape Cardboard Challenge, which will replace their Downhill Dummy event.
Silver Mountain
On March 19, Silver Mountain is launching a brand new annual event: The Wardner Peak Uphill Downhill Uphill Downhill Race. "It's basically a touring race," says Neal Scholey, Director of Sales and Marketing. The event includes 1,800 feet of climbing split between two ascents over a 2-mile course with three transitions. "Then we have BBQ and beverages at the finish line," adds Scholey. Set on the signature terrain of Wardner Peak, this is a short, friendly race open to alpine touring, telemark, split board, snowshoe and snowboard. "It will be a fun kick-off to spring," says Scholey. Silver's Spring Carnival on April 2 will feature a pond skim, rail jam and an outdoor BBQ with live music. "Usually," says Scholey, "there is some crazy mayhem, and snowball fights end up happening among everyone!" //