During the 2018 winter Olympics, an Associated Press article gained notoriety among many in the Nordic ski community, due to the author's assessment of our chosen winter activity as the worst Olympic event. He dissed it as an unrewarding slog—an assessment based mostly on how it looked when he watched it and on a single experience from his childhood.
Those of us who pursue the joy of gliding along the snow on long sticks have a hard time reconciling that writer's low opinion of Nordic skiing with the endorphin-fueled highs we experience on the trails.
"When I raced triathlons professionally, Nordic skiing was a way to cross train and avoid the winter doldrums," recalls Spokane triathlete Haley Cooper-Scott. "Instead of lamenting the fact that I couldn't ride my bike outside, I looked forward to the change of scenery and challenge that Nordic skiing provided."
Many other local athletes point to the massive training benefits of Nordic skiing. Fitness Fanatics owner Robin DeRuwe, herself an avid triathlete, says that getting out on the winter trails works "muscle groups that would not get worked if all I did was swim, bike, and run." Cooper-Scott expands on that benefit, saying that it "[strengthens] the body in different planes of motion… Skate skiing works the external hip rotators and abductors, which are notoriously weak in runners and cyclists.'' Her husband Aaron broadens that list to "every part of the body… back, abdomen, arms, glutes, thighs— and especially the heart and lungs. Even your fashion sense is challenged."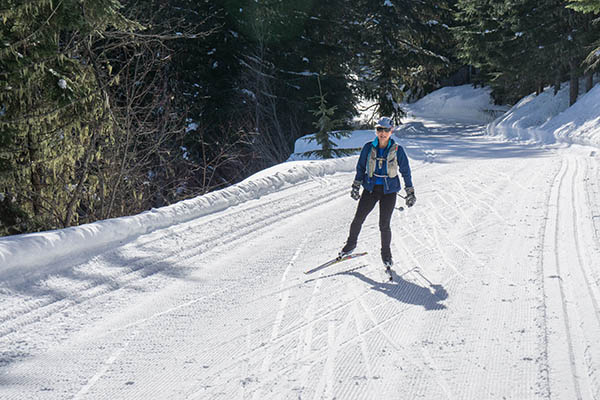 Lisa Sunderman leads Spokane Nordic's adult lessons and bikes and runs during the off-season. One huge benefit she points to is that "Nordic skiing is super low-impact so your body can rest from a summer of running and hiking. I never get bruises like I do while mountain biking."
The warm-season athlete looking to cross-train faces the question of which form to start with: classic, with its parallel forward-and-back motion, even in set tracks, or skate style, with its side-to-side motion on a wide groomed deck.
Chris Sharman runs Spokane Nordic's Cross-Train Ski Team, which introduces high school-age athletes to Nordic skiing, specifically as cross-training. His program starts the skiers out on classic skis, so they can figure out the balance required and gain proficiency using only one ski at a time. From there, they quickly move to skate skiing.
He points out that "skating takes more time to figure out the basics initially, whereas you can get up and moving with classic right away. But true mastery of classic style skiing can take a lifetime and sometimes be fleeting even after you've mastered it; whereas once you "get" proper skating technique it doesn't tend to disappear."
The most commonly-mentioned hurdle from summer athletes is the challenge of getting up to trails. A coalition including the Spokane Parks and Recreation department and other parties began a city-level grooming effort last winter on area trails such as Dwight Merkle, Antoine Peak, and Rimrock, which is a good option when snow is adequate. Long-term plans are in place to develop a trail system around Mica Peak. Still, the Mt. Spokane Cross-country Ski Park remains the most reliable option close to Spokane; and with its 35 miles of groomed trails, it is an enviable training ground for the cross-training athlete and casual skier alike.
For most athletes in any pursuit, their chosen activity is about more than just performance. Haley Cooper-Scott sums up her love of Nordic skiing in a way that points beyond physical results. "The greatest benefit is psychological. I can spend my winter staring at power numbers on a bike computer while riding the trainer, slogging through ankle-deep slush on Spokane's poorly-plowed roads, or I can spend the morning on a snowy mountain top, often above the fog that settles in town, (enjoying) the fresh air, the sunshine, the workout, and the wonderful community of Nordic skiers."
For information on introductory lessons, Spokane Nordic's new Masters Ski Program training group, and the Mt. Spokane Cross-Country Ski Park, visit spokanenordic.org. If you're a high school athlete looking for winter cross-training, look up the Cross-train Ski Team. While you're on the website, check out Winterfest on Jan. 13 and sign up for a $5 ski lesson! //
Brad Thiessen is a runner and Nordic skier. He last wrote about electrolytes and hydration in the July edition.