4 Easy Steps To Get Started
Whenever another parent tells me they've never been skiing, I recommend they try cross-country skiing. It's easy to learn and relatively inexpensive. Also called Nordic skiing, it's said that if you can walk, you can learn to cross-country ski.
The traditional classic style is easiest to learn and has a relaxed pace, making it best for beginners and families with varied fitness levels. Skate skiing is faster, more strenuous, and requires different gear and a different type of groomed trail.
You can become acquainted with the basic technique by watching the 13-minute video on REI's YouTube channel called "Classic Cross-Country Skiing for Beginners: Everything You Need to Know to Get Started," created in collaboration with Professional Ski Instructors of America.
If your family is willing to give it a try, here are four steps to make that happen.
1. Ensure you have proper base layers and outerwear for winter weather.
Every family member needs waterproof outerwear and other winter clothing to stay warm, dry, and comfortable. Visit the Spokane Nordic Ski Association (SNSA) website for a list of essentials.
The key is to dress in layers—you'll get warm while skiing, but get chilled when you stop and rest. Be fully prepared.
2. Make an easy plan for where to go.
The younger your children, the easier you need your first day to be—meaning less drivetime, maximum fun, and a way to warm-up and get dry. Cold, unhappy kids are an adventure joy-kill.
For max simplicity and ease, I recommend visiting a Nordic ski area that offers rentals on-site.
3. Rent gear in town and ski at a local park.
If there is snow in town and you don't want to drive to a mountain, rent gear at a local shop and visit a park with (or without) groomed trails. Shop employees can help figure out the sizes you need, and SpokaneNordic.org also has tips for fitting XC ski gear.
SPOKANE: Daily rental packages are available from Fitness Fanatics and REI. Spokane Parks & Recreation groom trails at city parks (no fee required to use) as well as Riverside State Park—see my.spokanecity.org/recreation/outdoor/groomed-trails. Or head to any local snow-covered field in a park and break your own trail.
NORTH IDAHO: Ski Shack in Hayden and the Tri-State Outfitters and Vertical Earth stores in Coeur d'Alene rent XC gear. Groomed trails are available at 4th of July Recreation Area, Trail of the Coeur d'Alenes (start at trailheads in Heyburn State Park or in the cities of Kellogg or Wallace), and Priest Lake.
PERMITS REQUIRED FOR PUBLIC LANDS: Find out the requirements to park at your chosen trailhead.
For Washington public lands, in most cases you will need a state parks Discover Pass or Sno-Park Permit and Groomed-Trail Sticker.
For Idaho, a Park N' Ski permit is required for the Trail of the Coeur d'Alenes, Priest Lake State Park, Priest Lake Golf Course, 4th of July Pass Recreation Area, and Palouse Divide (permit also valid in Oregon).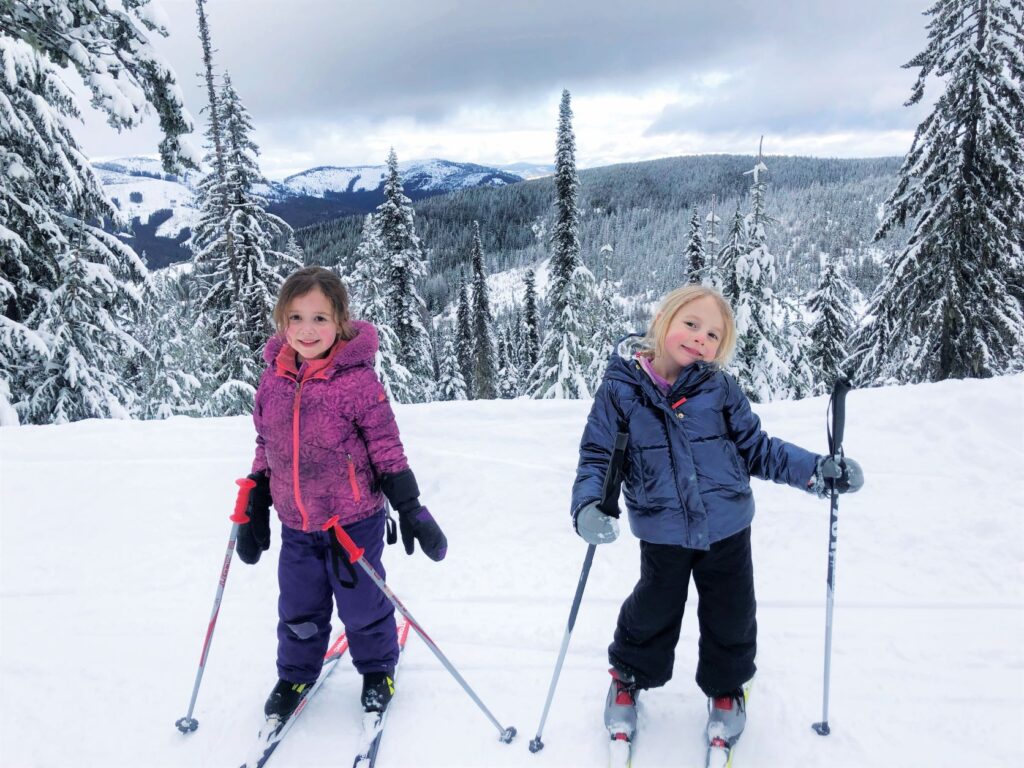 4. Before you leave home…
Prepare a backpack with a stash of hand-warmers, snacks, water bottles, and extra, dry clothes for the trail. Bring a thermos of hot water to make hot cocoa on the go, whether you drink during a rest-stop along the trail or leave in your vehicle to enjoy upon return.
Nordic Ski Lessons
If your family enjoys Nordic skiing and wants more, then consider taking lessons. Spokane Nordic Ski Association (SNSA) offers private and group lessons, a Nordic Kids program, and also partners with City of Spokane Parks & Recreation and Fitness Fanatics to offer weekday evening lessons in town. SNSA also hosts an annual Winterfest, every January, offering inexpensive lessons.
Additionally, Schweitzer and 49 Degrees North offer Nordic ski lessons.
Find more stories about cross-country skiing in the OTO archives.