Whether skiing or snowboarding, making sure your child has the right gear to stay warm and happy on the slopes is crucial. I once made it all the way to Mt. Spokane with our four-year-old before realizing I forgot his socks. Turns out a kid can ski without socks, but I wouldn't recommend it.
Another time, I brought thin gloves and his fingers froze. (There were tears.) I've made the opposite mistake too, piling on way too many layers until he could barely move and looked like the overdressed Randy in "A Christmas Story."
These gear tips should help you do a better job of dressing your little shredders for a day in the mountains.
Helmet: Not optional anymore. Add a stocking cap under the helmet when it's cold.
Goggles: Help protect eyes from glaring sun, wind, and blowing snow.
Neck Gaiter: Prevents cold from creeping down the neck and keeps faces warm.
Gloves / Mittens: Choose wind and waterproof/water-resistant gloves or mittens with plenty of insulation. Mittens are warmer for littler kids, while gloves let older kids adjust their gear.
Base Layers: Synthetic thermal underwear tops and bottoms are breathable, wick moisture, and keep their core warm.
Mid-layers: Fleece, puffy, sweatshirt, or long-sleeved t-shirt up top and fleece pants or sweatpants for bottoms.
Ski Jacket & Pants / Snowsuit: The outer layer should have insulation and be waterproof/water-resistant. A hood and pockets are ideal, and the jacket should be long enough to keep snow from creeping into their britches. A snowsuit rocks at this, but can make potty breaks challenging for younger kids.
Socks: Warm wool or synthetic-blend socks that fit well in ski boots. (See photo below for an example of socks available from Spokane Alpine Haus.)
Skis / Boots / Bindings / Poles: Ski or snowboard gear that fits well will help your little one learn faster and have more fun. You can buy used gear from swaps, but leasing gear each year as kids grow from a local ski shop, such as Spokane Alpine Haus, is ideal. A small investment gets your child quality gear that's fitted by an expert each season.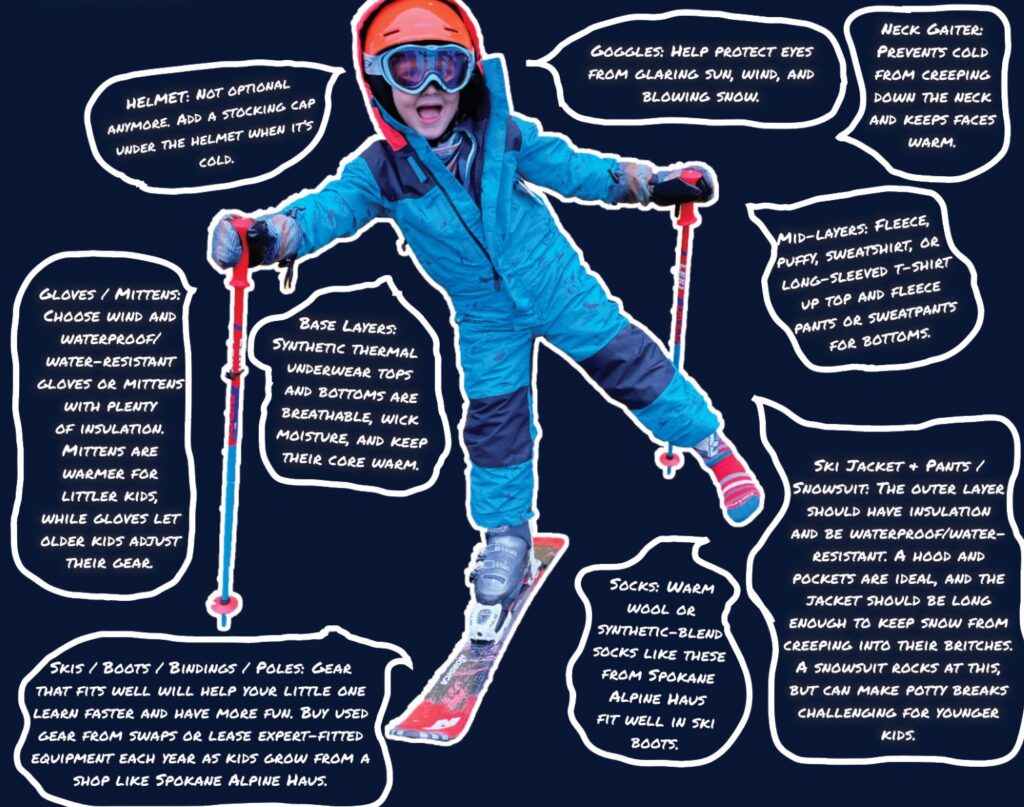 Read more stories from OTO's annual Family Winter Sports Guides.