Last year, six of us from Out There Monthly signed up for the Spokane to Sandpoint Relay, and we all came away from the experience stoked to do it again in 2016. Relays, especially ones like S2S that involve teammates driving to and from many exchange points along a beautiful 200-mile course in sometimes cramped vans for over 24 hours, make for some unique, memorable experiences. Sarah Hauge and I were on the same team (Team Out There) but in different vans, and OTM contributors Janelle McCabe and Erika Prins were on a second Spokane to Sandpoint Relay team (Team Bolts). Our experiences were all so different that it makes S2S sound a lot like a choose-your-own-adventure book. You can run fast or slow; plan out every logistic or wing it; approach it with stoic seriousness or like a wild, sleepless, all-night party. And even then you never know what adventures await along the 200-mile path to that finish line arch. (Derrick Knowles)
Janelle McCabe: I love relays. The group planning and training, the collective suffering and celebrating, and the continuous motion of the event amount to much more than a start line, slap-bracelet baton, and finish line. I had participated on triathlon, marathon, and trail-running relays before, but last summer was my first experience with the 200-mile Spokane to Sandpoint race, and it only expanded my fondness of the format.
I was the captain of a team of 12 amazing, proudly Type-A women (go Bolts!). We held meetings in February and March to divide responsibilities: van rental, t-shirt design and procurement, event contests and leg assignments. We also gathered for a pre-race BBQ in August.
Most large teams drive two big vehicles to transport the runners, and as a Van 1 member, I got to enjoy the early dawn Mount Spokane starting line and subsequent descent into town. Many of our team members were also S2S newbies, and we didn't realize how seriously the other, more seasoned teams would take their fun and shenanigans. Right away, our vans were tagged by rival teams with magnets, erasable markers, balloons, candy, stickers, colored chalk, noisemakers – any playground item or prank was fair game. When we finally made first contact with our Van 2 teammates at Sontag Park in Nine Mile Falls and handed them the baton, we already knew what they were about to learn: This is a special race.
Over the next several hours, we tailgated and leapfrogged our way through the heat, wind, and dust storms while our time-trial contestant, Rachel Jaten, was the first-place woman with her lightning-fast 6:13 pace. Over to Coeur d'Alene and up to Sandpoint, we at last welcomed our final leg runner by linking arms red-rover style and then running across the finish line as a team. In similar unison and with identical enthusiasm, we raced (well, hobbled) over to the beer tent, oblivious to the universal body odor but keenly aware of the nearly 31 hours that had passed since we started. When I finally crashed on my own bed, it was with equal parts relief, happiness and nostalgia.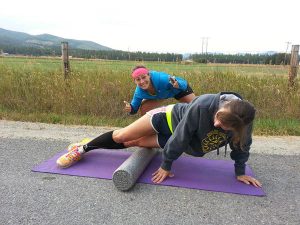 Erika Prins: Mutual suffering accelerates the formation of deep bonds of friendship, as someone wise probably once said. Most people on my team were strangers to me, but they immediately embraced me as part of the crew and offered me anti-chafing lube. 
I joined up with our all-woman team after work on Friday. The team had already hoofed it to Spokane Valley, so they were thrilled to add a fresh set of gams to the mix. After my first two legs – 8 miles in the Valley and Liberty Lake with one runner in between – I loaded into the van to wait for my next turn. Running felt better than sitting in the van. I shifted between every pretzel shape I could to stretch out an achy right leg. Our van of women and all the other teams following their runners cheered and hollered to encourage us. Even other runners seemed as if they were on my team – cheering me on and sending silent "we could totally be sleeping right now" solidarity vibes my way.
The moment of panic came before my final leg, when I realized that nobody who sells coffee in Middle-of-Nowhere, Idaho, opens at 4 a.m. The ceaseless leg cramping I could handle. The no sleeping was no big deal. But no coffee? I was a wreck. Within minutes of total meltdown, my sweet teammate took notice of my despair (crankiness) and passed over her precious jar of cold brew. Yes, I wrote her into my will.
My last leg, an 8-mile stretch of gravel road, began in the wee hours of the morning. The sun began to rise just as I reached a stunning lake view. The gorgeous view gave my tired body the boost it needed to finish strong. It was my first S2S, and I came ill-prepared, but my teammates had my back. One lent me a belt for my number. Another packed Wet Wipes to share. We shuffled our lineup to make sure everyone could finish without burning out. We helped each other in other strange ways, like stretching each other and sharing lube. That's how you run 200 miles.
Derrick Knowles: The six runners in my van didn't have the most auspicious start. Our second runner had to bail with an injury at the top of Doomsday Hill. Our third runner ran extra hard in the scorching heat to make up for lost time after getting off course, and he nearly collapsed from the heat and dehydration at the end of that leg. Thanks to help from the S2S medical team and his determination, he recovered and rallied to finish his remaining race legs. Despite the apocalyptic-looking weather that afternoon and evening, which included August heat, crazy winds and blowing dust that turned the sky an ominous blood red, our fortunes improved as the race went on. See Sarah Hauge's account of our 11-person team's fortunes below — she was in the other van with the crazy-fast runners who kept my van's breaks so short that we started conspiring to slow them down. At the finish line at Sandpoint City Beach Park, we enjoyed the break from the road and the surprise of finishing far earlier than expected. (It was almost too early in the morning for post-race beers. Almost.) Without a doubt, running S2S was one of the highlights of my summer.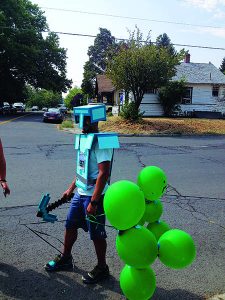 Sarah Hauge: Leading up to Spokane to Sandpoint I was anxious. This would be my first team relay and my first overnight race; plus, several of the people I was about to spend 30+ hours crammed in a van with were strangers. Would we all get along? Would I have access to enough coffee? How would my body handle the lack of sleep and the heat and the short turnaround between the three legs I was about to run?
There was no need to worry. Spokane to Sandpoint is all about teamwork, and my teammates were not only incredibly talented runners but also supportive and encouraging humans (as I was slower than most of them, this was huge). We shared leg massagers and toiletries and snacks, goofily cheering for each other by forming human tunnels for each leg's runner to race through. There were moments of awe, such as watching our teammate Will run a double leg in the middle of the night to cover for an injured runner, cheerfully cranking out an unexpected 12-miler at sub-6-minute pace in the dark. There were beautiful moments, such as wading in the frigid Spokane River at Mirabeau Park to calm raging muscles. Later, high winds rolled in and created an eerie, apocalyptic haze of dust and smoke, whipping much-needed directional signs off the racecourse. There were surreal sections, such as the 9 miles I ran somewhere in Idaho, able to see only as far as my headlamp illuminated, with our team's van cruising alongside me, blasting – per my sleep-deprived request – Beyonce's "Love on Top."
It wasn't glamorous. We slept, very briefly, with dozens of other runners in a noisy high school hallway. There was gastrointestinal distress. We exchanged sweaty safety gear without a second thought. We ate badly, slept badly, and smelled terrible, but we ran hard and finished far better than we'd anticipated (our team, to our great surprise, took third!). The race was a reminder to me that when you let down your guard and take risks, weird and wonderful things can happen. It was exactly what I needed.
Learn more about the Spokane to Sandpoint Relay at Spokanetosandpoint.com. //