Everyone can have a "lake place" if you consider all the public campgrounds and backcountry alpine lakes that are available for little to no cost. Only a two-hour drive from Spokane, Priest Lake is one of mine. It provides an easy, low-cost retreat even for minimalist outdoor recreationists—you don't need a boat to have fun. While resorts like Hill's and Elkins are nice and comfortable, these don't exactly encourage an adventurous, barbaric yawp experience.
For anyone unfamiliar with all that Priest Lake has to offer, start with the Idaho Panhandle National Forests (IPNF) Priest Lake Ranger District website, www.fs.fed.us/ipnf/priestlake. There is also a Priest Lake Visitors Guide, distributed free by the Priest Lake Chamber of Commerce (available at REI). You can also find information online at the chamber's website, priestlake.org, except not all the links work properly.
Swimming, hiking and mountain biking are the main activities when the weather is nice, in addition to water sports and fishing. The infamous huckleberry picking season is late July through August. In the winter, there are trails for Nordic skiing and snowshoeing.
Because the lake is 19 miles long, totaling 23,000 acres, and is surrounded by 523,000 acres of federal and state public lands, it is best to choose a campground that is close to your land-based activities, such as desired trailheads. Otherwise, your water-earth-sky vacation can feel dominated by fossil fuel consumption and drive times.
And there is a plethora of camping options within this forested bear country. Six U.S. Forest Service (USFS) campgrounds are available on the west side of the lake, while the east side has three separate campground units that are each considered part of Priest Lake State Park—Dickensheet (actually situated along Priest Lake River), Indian Creek and Lionhead (for tents only).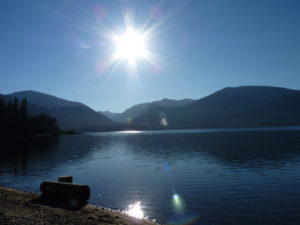 If you want to hike to the summit of Lookout Mountain, you should stay at Lionhead. But if you want access to trails for both hiking and mountain biking, the west side of the lake is where you should be. Beaver Creek Campground is closest to Upper Priest Lake and even connects with the Lakeshore Trail (#294), 7.6 miles one-way. This is one of the more popular ones, especially for mountain bikers, with access to some isolated beaches. Not all the trails, however, are open to bikers—such as the 9-mile Beach Trail (#48) that extends from the Kalispell Bay boat launch area to Outlet Bay (passing through the Luby Bay Campground). For complete trail details, go to this IPNF site: www.fs.fed.us/ipnf/rec/activities/trails/d8trailintro.html. Mountain biking specific details can also be found online at mtbpriestlake.com.
For the adventurous with water transport, there are a limited number of USFS primitive, non-reservable campsites available on three of the lake's islands—Kalispell, Bartoo and Fourmile. There are also four campgrounds at Upper Priest Lake, which are free to use but only accessible by paddling or backpacking. The primitive Stagger Inn campground, nowhere near the lake but at the trailhead to the Roosevelt Grove of Ancient Cedars, is serene and small with only four campsites.
Priest Lake camping loyalists are known to make their reservations a year in advance and even reserve two-week blocks. Beaver Creek (the most northern on the west side of the lake), Reeder Bay and Luby Bay campgrounds are the most popular. Sixty percent of the sites at these are available to reserve through www.reserveUSA.com, or by phone, (877) 444-6777. Reservations must be made at least four days in advance and a two-night minimum stay is required on weekends (three nights on holidays). For peak season, mid-May through Labor Day, nightly rates start at $12. (For 2009, peak season is May 22-Sept. 7.) However, this past year some of the campgrounds were not open by Memorial Day because of lingering snow and damage caused by spring flooding. Outlet and Osprey campgrounds are always available on a first-come basis. Reservations for Priest Lake State Park, the Indian Creek unit only, can be made by phone, (866) 634-3246.
For current conditions of trails and campgrounds, including availability during off-peak times, you can call the ranger district at (208) 443-2512 or go to www.fs.fed.us/ipnf/rec/yourplace/cgguide/list.html.
For those seeking less rugged accommodations, there are also private RV campgrounds, B&Bs, lodges and resorts. The latter two have rooms and cabins that range in price from $69 to $450, according to the chamber's visitors guide.
Each month has something unique to offer visitors. September is considered "Indian Summer – Wild Mushroom Season" at Priest Lake, according to the chamber, while October is notable for the spawning Kokanee salmon and eagle watching. In November, the bears hibernate, and in December the snow starts to fall. January is when the 400 miles of groomed trails get busy, and in early February 2009 the U.S. Pacific Coast Championship Sled Dog Races will take place.
While summer is the ideal time for a camping-centered Priest Lake road trip, as a well-developed year-round destination it can be as rugged and active or as luxurious and relaxing as you want it to be.
WHEN YOU GO:
From Spokane, drive Highway 2 east through Newport to Highway 57 and turn north at the junction. Stay on Hwy 57 to access the west side of the lake. For the east side of Priest Lake, turn east off Hwy 57 onto Dickensheet Rd and then north on E. Shore Rd.