It's our second day in a row hiking in the high Pyrenees, and the French woman I'm with is still wearing the chic blue sundress and khaki canvas ankle boots with braid details she wore yesterday. Her bronzed arms are sculpted from roller derby, local meats and veggies, and life in the mountains. I'd almost forgotten how the French do backcountry fashion, which is the same way they do every other kind of fashion—unapologetically, with a roll-out-of-bed-and-look-good-in-five-minutes approach and the attitude that, if you can't appreciate how sexy they are, it's not their fault. It's yours.
Before we had set out the first day, I'd changed out of my favorite Patagonia do-everything dress, which is the one I wear to conferences, to the beach and yes, for hiking. I had felt a little weird wearing a dress to shimmy through nettles. Apparently I shouldn't have bothered. Americans wear yoga pants everywhere, but apparently French women do the reverse and wear dresses to march through beech forest undergrowth on their way up a mountainside.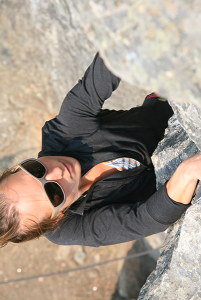 Here are a few tips to backcountry fashion we'd do well to take from the French:
Superior fabric is your friend. I swear by fine-spun Merino wool for anything that requires layers. I have a perfect-fit black Icebreaker shirt that I've worn to meet with clients as well as across multiple days on a backpacking trek through Glacier. As a natural antimicrobial, wool staves off stink better than most, and it retains heat when it's wet.
Ditch the sale mindset. The French know not to buy things just because they're on sale. If you wouldn't buy that hot-pink-and-neon-green tank full price, then don't buy it just because it's 60% off.
Find flattering cuts on the stuff you need. Investigate the styles and brands that work best for you and then search for deals on those. I'm not going to say that your performance in the backcountry will automatically be better if you think you look great, but it never seems to hurt.
Think outside the box. Who said that your favorite hiking pants have to be sold as hiking pants? Maybe the right yoga outfit or running shorts would chafe less and look better if you scored them in a different department.
Don't forget the practical things. Wear sunscreen, get enough sleep and eat well. You'll feel better all-around if you're not sporting sun blisters and bags under your eyes.
Purge your closet. Life is too short to wear clothes that don't feel great, look great and smell great under pressure.
Consider your feet as your ultimate base layer. After sustaining more blisters than I can count, I've moved away from hiking boots and towards more minimalist approach shoes. For most hiking in the summer, I wear Earthrunners — foot-hugging sandals that look good enough that I regularly get compliments when I wear them around cities.
Own it. If my French friend can get up and rock the same outfit for her administrative job three days in a row with a swagger in her step, then you can clearly do the same thing in the backcountry. //
Katie Botkin wrote about exploring local creeks in August last year.