This Booty has been found!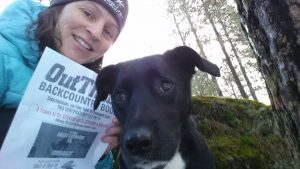 Play the OTM Backcountry Booty treasure hunt contest and you get to explore different trails around the region and possibly win gift certificates for cool outdoor gear and other prizes. Here's how it works along with a few rules you need to follow to play:
We hide a booty certificate, that's good for whatever prizes are up for grabs, near a trail somewhere in a park or recreation area in the greater Spokane area.
We name the general location and offer up a few clues and photos on Facebook and the Out There Monthly website (scroll down on this page for the clues and pics).
You "like" Out There Monthly's Facebook page to keep in the loop when a new booty is up for grabs, and then check the contest page at OutThereMonthly.com to review all the current clues.
You take care not to trample native plants/wildlife while you're searching. No digging, turning over rocks or disturbing shorelines, logs or brush that provide important wildlife habitat is required to find a booty and is highly frowned upon and will bring you bad booty karma! Walk, look around and pay attention to the clues and forest/nature around you. We also encourage you to take along a garbage bag for picking up trash whenever you're out hunting for booty.
We keep giving out clues on Facebook and on our website until someone finds the booty and wins.
Winners take a victory photo at the location where they find it and post the photo on Out There Monthly's Facebook page to confirm that the booty has been found (letting us know that you found the booty right away is important–email us with questions).
Follow the instructions on the booty certificate and we will let you know where to pick up the prize(s)!
Great Outdoors & Bike Expo Tickets & "Owl: A Year in the Life of North American Owls" Book by Award-Winning Photographer Paul Bannick

THIS BOOTY HAS BEEN FOUND!
Spokane Great Outdoors & Bike Expo Tickets (February 18-19, 2017): This Backcountry Booty prize also includes 4 tickets to the Spokane Great Outdoors & Bike Expo ($40 value). Discover the best outdoor recreation and travel opportunities the Inland Northwest has to offer at the Spokane Convention Center February 18-19, 2017. Cruise over 40 exhibitor booths featuring a huge selection of bikes (for sale and demo), paddleboards, kayaks and other outdoor gear; check out travel destinations, zip line tours and outfitters; win outdoor gear; and take part in free outdoor recreation oriented activities and clinics, including slacklining, bike demos, yoga, geocaching, fitness demonstrations, and more. Find all the details on the expo website here or on Facebook here.
"Owl: A Year in the Life of North American Owls" Book by Award-Winning Photographer Paul Bannick
Find this booty and take home a copy of the amazing new wildlife photography book from award-winning photographer Paul Bannick, who uses intimate yet dramatic images to follow owls through the course of one year and in their distinct habitats in some of the most remote parts of the continent. His new book "Owl: A Year in the Life of North American Owls," covers all 19 species found in Canada and the United States. "Owl" is a stunning follow-up to his bestselling title, "The Owl and the Woodpecker."
Bannick will also be presenting photos, video and narrative from his book at a live presentation at the Spokane Convention Center on Sunday, February 19 at 1:30 p.m. as part of the Spokane Great Outdoors & Bike Expo. The presentation is free with your purchase of a ticket to the expo. Audiences will witness the four seasons as each stage in an owl's life is chronicled through rare images: courtship, mating, and nesting in spring; fledging and feeding of young in summer; dispersal and gaining independence in fall; and, finally, winter's migrations and competitions for food. Bannick's program shows how owls use the unique resources available to them in each habitat to face those challenges. This will be the first time this presentation has been given in Spokane.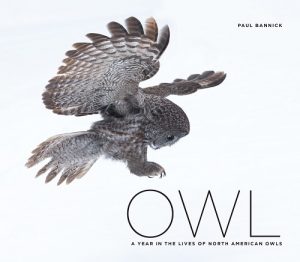 This Booty Has Been Found!
Backcountry Booty clue #3: Or  you can take this path. A little further and you're real close.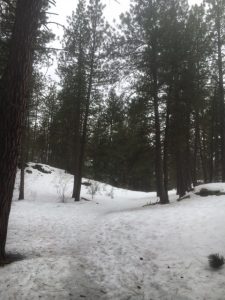 Backcountry Booty clue #2: On the path to the booty. At least this is one of the possible "trails" you can take to find it.

Backcountry Booty clue #1: Start your search for this awesome booty prize package at one of Spokane's favorite spots for hiking and enjoying nature. The Dishman Hills also happen to be great habitat for owls and other birds. This booty was stashed between 200 and 400 steps from the lower parking lot pictured below (which is super icy, so be careful and consider bringing traction devices for your boots and/or trekking poles). We will keep dishing out clues until it's found no later than this Friday afternoon so that the winner can take advantage of the tickets to the Spokane Great Outdoors & Bike Expo and go to Bannick's presentation on Sunday to get the book signed. Keep checking back for more clues daily.