The Winter Solstice has past, and Old Sol returns. The bitter cold temperatures of January and February have been endured. Thankfully, colorful seed catalogues once again choke the post office boxes. And the tundra swans are coming!  The Pend Oreille County Tundra Swan Festival is scheduled this year for Saturday, March 4.
The swans historically favor the Pend Oreille River Valley with a brief stop as they journey to ancestral breeding grounds on the Arctic tundra, hence their common name. A medium-distance migrant, the Cygnus columbianus may travel from as far away as New Mexico, the California coast and Colorado River or as near as southern Idaho. Whatever the distance, they are a welcome sight and sound, a herald of spring.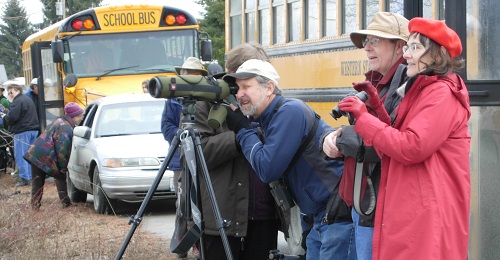 The tundra swan is an elegant bird. In flocking with its larger cousin, the trumpeter, the tundra is distinguished by just a bit of yellow above the bill and an erect neck posture observed during takeoff and initial flight.

This year's Tundra Swan Festival will feature two talks: Stan Mrzygod of the Spokane Canoe and Kayak Club with a theme of paddling the Pend Oreille with an eye to local geology, and Mike Lithgow, Information and Outreach Coordinator for the Kalispel Tribe Natural Resource Department, who will highlight improvements to the new 2017 Water Trail maps (maps will be handed out to registered participants). Lithgow will also address Seattle City Light projects along the river, notably Metaline Park, the Forbay Recreation Area and the Sullivan Creek portage. As part of the event, the Camas Center Deli will provide an excellent pot roast dinner with all the trimmings.
To secure a reservation, register online via PayPal here. Tickets are $20 each for adults; $15 for seniors, veterans, law enforcement and first responders; and $10 for children.
For more information, contact Pend Oreille River Tourism Alliance at info@porta.us or 1-844-PORTA-US (509-767-8287).
What to Bring

Binoculars
Camera
Weather appropriate clothes (including hat and gloves)
Water
Birding guide
Festival Schedule
Whether serious birders looking to add to your collection, or you just need a break from winter's doldrums, don't miss the Tundra Swan Festival on Saturday, March 4! Busses depart at 10 a.m. from the Camas Wellness Center located at 1981 N LeClerc Road in Usk, Washington. Allow for at least an hour and a half drive from Spokane or Coeur d'Alene. The tour will return to the Center for lunch by noon, followed by the presentations. Space is limited, so register soon to guarantee your spot. This event is co-hosted by the Natural Resources Department of the Kalispel Tribe of Indians and the Pend Oreille River Tourism Alliance. //