The Mystery of the Ringer Chairlift Carrier
In 1938, a young German ski racer named Karl Ringer was touring the United States with a youth group when he learned about the world's first chair lifts that had been installed at Sun Valley, Idaho. He must have sensed an opportunity, because a few years later, Ringer, an engineer by education and training, developed an idea for a chairlift that included a swivel system that enabled the chair to open up as riders were about to unload from the lift. The two passenger seat was cut in half and each hinged side was weighted and cantilevered to open when the passengers stood up and created resistance against the seat. The chair simply passed by and then would swing back together again. Karl laid the groundwork for patenting and selling this innovative design, but had to wait until the conclusion of the Second World War to put his plan into action.
By 1950, Ringer was ready to introduce his device to the blossoming ski industry in the United States, and it did not take long to find his fist customer. In 1951, Ringer sold his first carriers to Chewelah Mountain (now 49 Degrees North), which used them on the new 3,800 foot long chairlift that was installed later that same year two miles from the site of today's main lodge area. Six other mountains in the West also purchased Ringer's carriers in the early 1950s, including Holiday Hill (CA), Mt. Baldy (CA), Snow Summit (CA), Mt. Rose (NV), and Terry Peak (SD). No chairlifts that utilize Ringer's design are in operation today.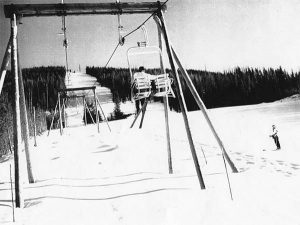 Chewelah's chairlift operated until 1968, when the area was forced to close due to the chairlift's obsolescence and a lack of revenue created by a decline of the conditions of the facilities in the base area. And this is where the mystery begins. No one knows what happened to the unique chairs after the original lift was torn down. "As far as I know, no one has a Ringer carrier from the original chairlift. I have had lift engineers and other history buffs contact us over the years and ask if we physically have a carrier to examine. But I have never been able to track one down," says Eric Bakken, General Manager at 49 Degrees North.
Maybe Ringer's carriers are stashed in a barn somewhere in Stevens County, hiding under a half a century's worth of dust. Or perhaps they were simply discarded, and time has reduced them to nothing more than a pile of rotting wood and tangled metal. Could also be that they were roasted in a massive bonfire after their removal, with the area's operators witnessing their demise as they went up in smoke. For history's sake, let's hope the former is true, and Ringer's long-lost carriers are simply waiting to be discovered. //