Jennifer Van Cott talks faster whenever she talks about Pantry Fuel. She is an athlete, a coach, and a chef, and Pantry Fuel merges her love for good food with her passion for fitness and adventure. A few years back, to train harder and be more competitive, Van Cott took a hard look at her own diet, and she started training with the Spokane Swifts running team. Her personal diet didn't raise any red flags, but she knew she could improve. She started Pantry Fuel, and the biggest reason was her Tutu. "Yes, 'tutu' means grandparent in Hawaii where my dad's side was raised," says Van Cott. "My grandmother lived a full life. She loved cocktails and parties and she traveled the world."
About five years prior to her passing from pancreatic cancer, Tutu adopted a healthier lifestyle. She was working out regularly with a trainer and limiting her calories. But being a single 76-year-old, she had a hard time cooking for herself. Van Cott noticed she ate a lot of frozen dinners and drank protein shakes. Eating good food was never convenient for her. Numerous studies link lifestyle choices, such as poor diet, to chronic disease and cancer. Nearly everyone agrees that eating healthier meals and changing food habits can be difficult. Van Cott started Pantry Fuel a year after Tutu passed away to conveniently provide the Spokane community — young and old, healthy or not — with proper nutrition sourced from local farmers.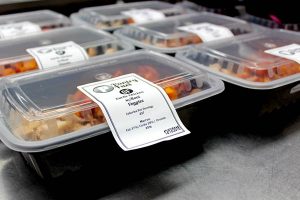 Pantry Fuel deviates from the generic meal plan formula in three major ways. First, it sources food from more than 50 Northwest farms, giving customers the best nutritional value, since food spends less time deteriorating in transit or in grocery store displays. Second, the shopping and the portions are prepared and handled in advance, which saves time, and more importantly, reduces food waste. Third, Pantry Fuel recipes are chosen for their seasonal ingredients and macro-nutrient requirements, and they take food pairing into account, which includes appropriate portions of fat, carbs, and protein to help you stay fuller, longer. Right now, Pantry Fuel delivers to Spokane, Coeur d'Alene, Cheney, Nine Mile Falls, and Airway Heights, and it's still growing.
More meal plans and diet fads pop up every month. Many of these nutrition plans are admirable, and most of them have good intentions. Van Cott knows all about the ballooning market of diet plans, and she doesn't belittle anyone who's found success with something like, for example, Weight Watchers or juicer machines. Van Cott prefers to let her actions speak for her, so she teaches cooking classes at the Second Harvest Food Bank and coaches cross-country at Shadle Park High School. She's also finishing her first cookbook. Busy is an understatement, but she genuinely enjoys empowering people with healthy and convenient meals.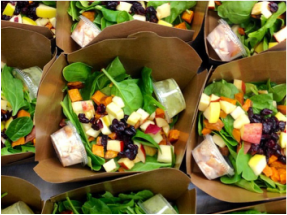 Initially, Van Cott thought her clientele would be stressed and overworked athletes like herself, but she quickly discovered that Pantry Fuel makes a great gift. Customers often purchase the meal plans for their friends and family members who are training for a specific race or fitness goal. Also, it's a healthy choice for anyone overcoming an injury or enduring treatment for a debilitating illness. Best of all, Pantry Fuel can eliminate those unhealthy meals that come out of a drive-thru window and replace them with the proper fuel to eat healthier, recover faster, sleep better, and feel good about supporting Inland Northwest farms.
Van Cott says, "Keeping your diet simple in terms of eating whole foods is a no-brainer, but planning meals based on the portions of macronutrients in those foods becomes tedious. Pantry Fuel crunches the numbers for you, so all you have to do is eat and keep doing what you love." Learn more at www.pantryfuel.com. //
Jon Jonckers wrote about the Dirtbag Diaries podcast in December.