The four Ski the Northwest Rockies-affiliated ski resorts within 90 minutes of Spokane all possess their own character and champions: Silver Mountain Resort, with deep Silver Valley powder at the end of a scenic thirty-minute gondola ride; laid-back Lookout Pass on the Idaho/Montana border, with its bountiful Bitterroots powder and backcountry access; Mt. Spokane's reliable and easy-access quality turns with plenty of hidden stashes; and the expansive, gladed terrain of 49 Degrees North in northeast Washington. But if you're new to the area, or if you're a long-time pass-holding partisan to a particular mountain, it can be difficult to maximize your ski time at a new ski area. So, below is a handy primer to each of the resort's must-ski runs.
Glades feature prominently in this ski-run pantheon. In the absence of big-mountain bowls and steep rock faces, the key runs of the region take advantage of the thickly timbered hills for high-speed thrills and quality time on the snow.
B-29 – MOUNT SPOKANE 
This run off Chair 1, immediately below the communications towers, boasts one of the region's best ski-run vistas, with expansive views of Spokane, Spirit Lake, the Rathdrum Prairie, and the bulwark of the Cabinets to the east. A handful of fanciful snow ghosts punctuate an otherwise open, occasionally wind-buffed run with numerous high-speed rollers. The south-facing, sunbaked slopes corn up nicely for late-morning laps in the spring. Dawn patrol skiers can also easily skin up the open slopes adjacent to the run for quick touring laps before the lifts start running.
Runner Up
The steep bumps of Two Face directly under Chair 2 are the perfect place to show off your old-school mogul technique. The south-facing run's moguls are slightly more forgiving in spring corn.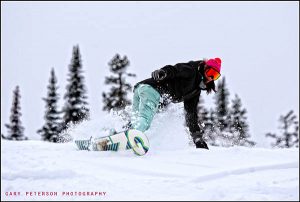 UPPER PEACEMAKER – 49 DEGREES NORTH
Fitting for the timber town of Chewelah, its home-town hill does excellent glade management. Exhibit A: Upper Peacemaker. A short green-run jaunt from the top of Chair 1 drops skiers into the perfectly-spaced lodgepole boles of this short double-black run. This is true tight-tree skiing, demanding confident turns and quick reflexes (and a good helmet).
Runner Up
Upper Peacemaker's chairline neighbor Klondike replaces trees with speed. The open run, with its occasional double fall-line, combined with dips, holes and natural launch pads, rewards skiers with style—while its chairlift audience may jeer those who wipe out.
NORTH FACE GLADES – SILVER MOUNTAIN
There are few better freshies bragging rights than Silver's steep gladed double black. Immediately off the top of Chair 2, two entrances deposit skiers in steep, deep meadows that transition into ever tighter trees; the middle section requires good line selection to avoid getting "jailed out" in thickets of young timber. Hunt around—or beg a local to show you—for the steep chute shots hidden on far skier's right of the run. The run exits onto Lower Centennial for a final roller-coastering run to Chair 3. North Face Glades tends to collect wind-deposited snow; after a big storm, there are few better places in the region to ski.
Runner Up
When snowpack is good, steep, powder-packed Shaft makes an excellent finale to a top-to-bottom run of Chair 4.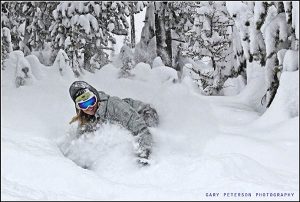 LUCKY FRIDAY GLADES – LOOKOUT PASS
Of the tree runs listed here, Lucky Friday's moderate-angle, northeast-facing glades offer the most open lines. It's a good run for skiers looking to dip a toe into tree skiing, with lines that touch on the thrill of skiing near trees without having to ski through them. Like Silver's North Face Glades, Lucky Friday Glades hoard powder; thanks to the wider, more open terrain, it's also a little easier to find untouched stashes. Off Chair 1, Lucky Friday offers quick-lap tree skiing; it's the one glade run where a skier can easily do double-digit runs in one day.
Runner Up
Directly under Lookout's Chair 2, Sundance gradually ups the ante into a steep, rolling run with plenty of tree-ski play in the margins. The heavily moguled lower section is the place you're most likely to get cat-called if you cartwheel. //