By Vince Hempsall
An easy four-hour drive from Spokane, the Arrow Lakes region—which includes Castlegar, the Slocan Valley, and Nakusp—is a family-friendly paradise complete with hot springs, lakeshore hikes, mountain bike trails, vineyards, innumerable paddling opportunities, museums, galleries, a ghost town, and plenty of fishing holes for every type of angler.
The best part of visiting the region from April to October is the lack of visitors. Popular destinations in Montana, Idaho, and Washington are overrun with people in the summertime, but in the Arrow Lakes region of British Columbia, you're more likely to spot wildlife than human life. It's simply the best-kept secret for American families who live within a day's drive of the border.
Named for the 144-mile long Arrow Lakes system and the 1,000-foot deep Slocan Lake, the region encompasses three valleys resting on either side of the Selkirk Mountains, connected by the Columbia and Kootenay rivers. Appropriately shaped like a diamond, the region's southern end is near the Canadian/American border just south of Castlegar and extends both northwest to Upper Arrow Lake and the community of Fauquier, and also northeast up the Slocan Valley to Nakusp and Halcyon Hot Springs.
Given the plethora of water, it's the perfect place for families to visit for a long weekend, a week, or an entire month. There are five provincial parks in the region including McDonald Creek, Rosebery, Summit Lake, Syringa, and Valhalla, as well as many private campgrounds and recreational sites where you can set up a tent or park an RV. If your basecamp needs to include more amenities, there are also many hotels, inns, lodges, B&Bs and cabins to suit a range of group sizes and needs.
Below are some suggested daily itineraries in the Arrow Lakes, based on your family's interests.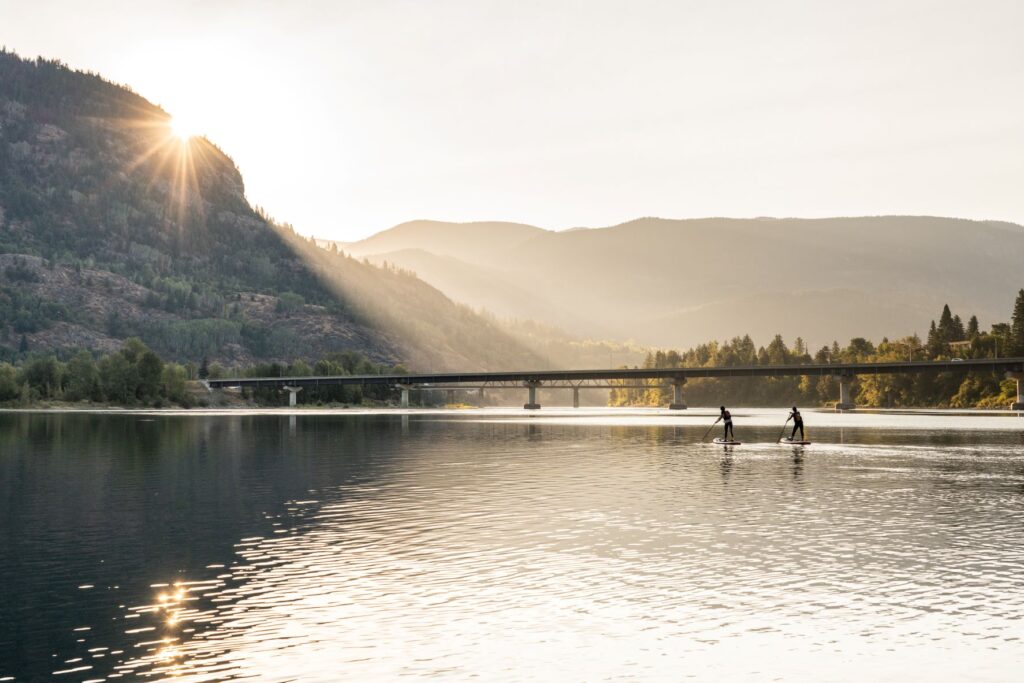 Water Ways
From lakes and rivers to streams, ponds, waterfalls and hot springs, there is no shortage of water in the Arrow Lakes region. Fishing, paddling, boating, swimming and beach-side camping opportunities abound.
Families with small children will want to start their visit with a swim in the natural ponds on the shores of Columbia River at Millennium Park in Castlegar. This is the largest urban park in the region where you'll find beach volleyball courts, a bike park and plenty of shoreline fishing spots.
Nearby, there are beautiful waterfalls and lakeside camping spots at Syringa Provincial Park on the shores of Lower Arrow Lake. This is where one of the world's largest Kokanee salmon was caught. You'll find excellent trout and walleye fishing here and on the Columbia River.
After exploring the Arrow Lakes near Castlegar, drive east to the Slocan Valley to join a guided rafting trip with Endless Adventure. You can also rent kayaks, paddleboards and safety equipment, then go play in the Slocan River or on Slocan Lake.
Continuing north, be sure to stop at Summit Lake and Box Lake, where you'll find excellent trout fishing. Then take your pick of hot springs to visit, including the community-owned Nakusp Hot Springs and the luxurious Halycon Hot Springs Resort.
Silvery Trail
Silver mining is what drove development in the Arrow Lakes region in the mid to late 1800s, leaving behind historical locations and mining memorabilia.
Start your adventure in Castlegar, the Sculpture Capital of Canada. Visit the perfectly preserved Railway Museum and Doukhobor Discovery Centre that is home to 10 historical buildings that recreate the culture of the pacifist farming people who profoundly shaped this region in the early 1900s.
From there, drive northeast along the Slocan Valley to the quaint former mining towns of Slocan, Silverton, and New Denver. Nearby is the ghost town of Sandon where you'll still see many of the old buildings, including the old city hall and powerhouse.
Finish your historical tour at the recently remodeled Nakusp Museum to view artifacts from homes impacted by flooding of the valley in 1960s when the Hugh Keenleyside Dam was built on the Columbia River.
Out and About
If outdoor recreation is more your family's speed, everything is offered in the Arrow Lakes from hiking and biking to golfing and climbing. There are a dozen rock climbing areas around Castlegar, Lower Arrow Lake, and Slocan City with hundreds of routes for beginners to experts, as well as a burgeoning bouldering scene.
For golfers, in Castlegar you'll find three courses (as well a disc golf course), plus two other golf courses in the Slocan Valley, one in Nakusp, and one in the tiny community of Fauquier.
Of the many hiking opportunities in the region, some of the best family-friendly ones can be found near the Nakusp Hot Springs. Simply pick one of the seven in the area that range from 0.5 to 5 miles in length, then enjoy a relaxing soak in the hot springs afterward.
There's also the Nakusp and Slocan Rail Trail, a gentle grade trail converted from a rail line that runs 28 miles from Nakusp to Summit Lake. Road bikers will love the stunning views and lack of traffic in the Arrow Slocan region. Mountain bikers have their pick of hundreds of miles of singletrack, including adaptive trails at Mount Abriel, south of Nakusp, and the Merry Creek Trails in Castlegar that are famous for their hand-built structures and stunts.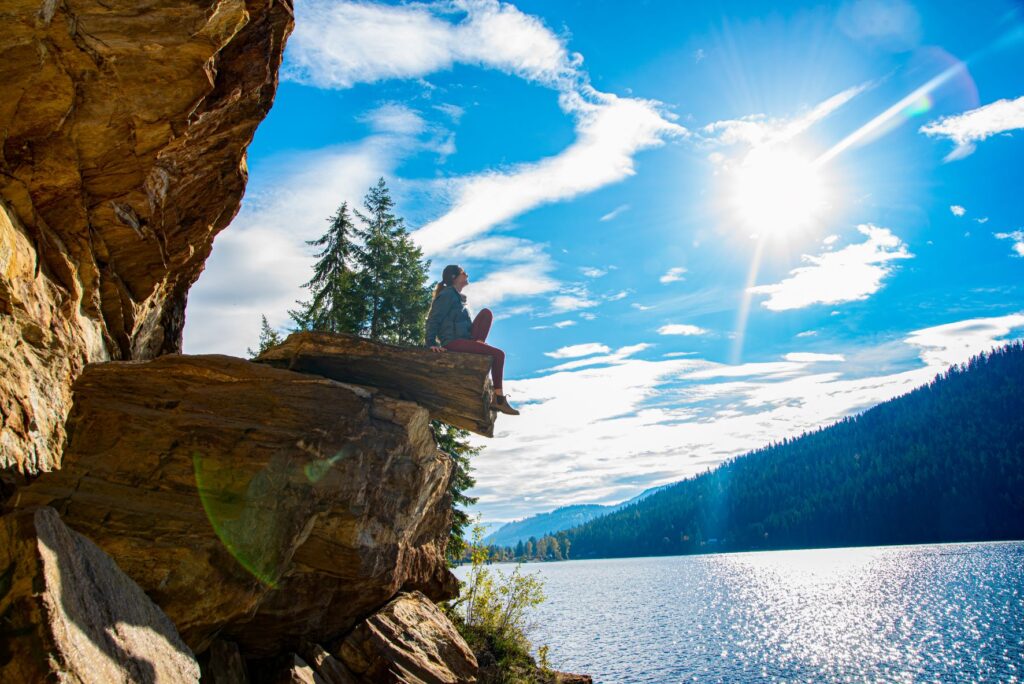 Vince Hempsall lives in the beautiful Kootenay region of British Columbia, where he spends his time rock climbing, backcountry skiing, and mountain biking (when not working). He is the editor of "Kootenay Mountain Culture Magazine."
Find more stories about adventure travel to Canada in the OTO archives.