A farmers' market is a community space where local farmers, producers, and crafters sell their fruit, vegetables, meat, eggs, dairy products, baked goods, and other value-added products to the public. It is an opportunity for customers to buy fresh foods, get to know your farmers, and connect with small producers in your area. It also allows farmers and vendors to bring their wares to a larger number of people than they would be able to impact on their own.
One summer, I took on the challenge of purchasing 90 percent of my diet from Kootenai County farmers' markets. Each week for two months, I discovered new foods and ingredients, challenged my culinary creativity, sipped locally-roasted coffee, and enjoyed a hot slice of artisan pizza. I also took home fresh flowers picked that day, savored the wide variety of live music, and built relationships with my neighbors. Many markets also offer cooking demonstrations, kids' activities, massage therapy, and more.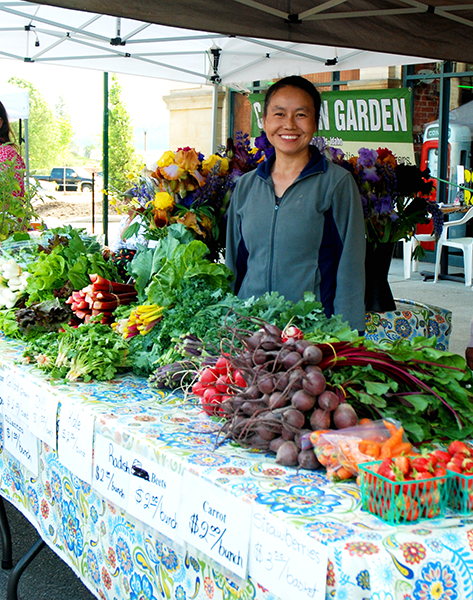 Our farmers' markets also make healthy foods more accessible to everyone. Some markets even have specific programs, like "Fresh Bucks" at the Emerson Garfield Farmers' Market, that make it easier for financially-challenged families to buy healthy foods. All markets also accept debit/credit cards and some take EBT cards, WIC, and Senior Nutrition Farmers' Market Coupons.
There are nine weekly markets in Spokane and the Valley, with additional markets in Cheney, Colville, Newport, and Chewelah. The Liberty Lake Farmers' Market is one of the most popular in the Inland Northwest, and the Kootenai County Farmers' Markets in Coeur d'Alene and Hayden are the largest in North Idaho. There are also fantastic markets in Sandpoint, Rathdrum, Post Falls, and Athol. //
Feature photo: S. Michal Bennett