When it comes to mountain bike parks, more is more. Unlike their ski-season counterparts, where the vagaries of winter weather guarantee the mountain is never the same two days in a row, mountain bike park operators have to build in the variety—quite literally.
"Our summer season pass holders have typically used their pass about double what a winter pass holder does," says Willy Bartlett, Marketing and Events Director at Silver Mountain Bike Park in Kellogg. How to cater to such a dedicated cycling clientele? New trails and facelifts to old favorites.
SILVER MOUNTAIN BIKE PARK
Recent years have seen Silver Mountain Bike Park evolve from simply offering top-to-bottom vertical runs of 3,400 feet to short and sweet (and steep) laps off Chair 3. This summer, riders will find a number of new and improved trails.
At the top of the mountain, trail crews gave Crescent Trail, their flagship beginner route, a full rebuild on the upper two-thirds, making it more approachable as a learn-to-ride trail. Meanwhile, for black-diamond bikers, Snake Pit—straight and steep like its hidden winter analogue—opened the final weekend of last season. Near the bottom, the trail crew built out Wide Open, adding deep berms, step-ups and step-downs to what was formerly a fast fire-road descent. "We took something that was just a few seconds of fully pinned straightaway and made it more fun and flowy," says Bartlett. Riders can finish off with Mourning Woods, a tight, flowing blue trail which re-enters the trail inventory after a major rebuild to bring it up to standard.
The bike park also continues to build its reputation as one of the premier racing destinations in the Northwest. Returning this year June 29-July 1 is the North American Enduro Cup, a national-level race, with up to one-hundred pro men and women competing for $12,000 in prize money. The NW Cup, the region's biggest race series, will bring in a strong beginner contingent in addition to the pros June 22-24. "We get everything from the fastest guys in the Northwest to little kids with mom and dad riding behind them," says Bartlett. New to Silver this year is the Sturdy Dirty, a women's enduro, July 14; Bartlett describes the scene at the event's other host sites—aid-station costumes and all—as "one of the rowdiest races of the year." Rounding out the season is the Silveroxx Mountain Bike Festival September 21-23, with night rides, group rides, a top-to-bottom race, and a big party in the village Saturday.
The big-name races and trail upgrades bolster the bike park's reputation for big-hit, full-commit expert lines. And it's a reputation the mountain doesn't want to dispel—it's what the park's pass-holders have come to expect. But, Bartlett notes, for first-time riders, a Silver Mountain Bike Park is also a safe, self-contained place to dip a tire into the sport. "We have a lot of people who show up, they rent a bike, they get a lesson, everything is easily marked," says Bartlett. "We always tell people who haven't been to the park that if you can ride Beacon, you can ride here." The bike park's goal, adds Bartlett, is to provide something for everybody, beginner to expert. That means constant creation and refinement of trails so that riders can find something suitable for them, whether it's their first time or fiftieth.
If you haven't ridden Silver in a couple seasons, it's probably completely different than last time you were there. "We used to say we wanted to be a place you'd be able to come for a three-day weekend, and I think we've achieved that," says Bartlett. "Now we say we'd like to have Silver be a place where you could come for a week."
Silver Mountain Bike Park Seven runs weekend operations until June 21 and then seven-day-a-week operations through Labor Day.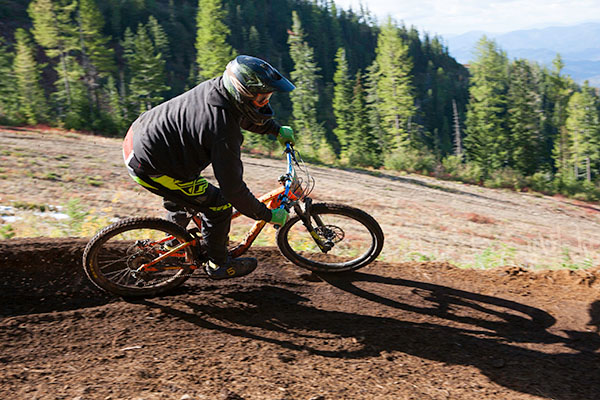 SCHWEITZER MOUNTAIN RESORT
Schweitzer Mountain Resort will have its own summit-to-city circuit, thanks to a partnership between the resort, the City of Sandpoint, the Selkirk Recreation District, and the Pend Oreille Pedalers.
In the last several years, the four groups have coordinated to manage and legalize a set of rogue trails below the resort that illegally broached the city's watershed when originally constructed. Now, from the top of the Great Escape chairlift, riders can descend the Highpoint Trail to connect to Uleda Ridge and the Selkirk Recreation District trails down to the valley floor—some 4,000 vertical feet and over 12 miles, almost all on singletrack. "This is a great step forward for mountain bikers in the region," says Sean Mirus, Sales and Marketing Director at Schweitzer Mountain Resort. Eventually the Highpoint Trail will be part of the planned Watershed Crest Trail, a multi-year project which will circumnavigate the watershed on some thirty miles of singletrack.
Schweitzer has also embraced sustainable trail design within the resort's boundaries. "There has definitely been a shift from the super techy gnarly downhill track to the super-fun, flowy trails that are fun for everybody," says Mirus. "We've really put an increased emphasis on flow and trail design and sustainability in recent years." For instance the resort's downhill trails "don't include a lot of built-up, manmade features," says Mirus, adding that they try to incorporate natural features as much as possible. Schweitzer, like the rest of the Selkirks, is a mass of decomposing granite, so trail builders here have plenty of rock features to work with—and around.
Meanwhile, the trails of the resort's lower-mountain cross-country network and Selkirk Recreation District boast a beginner-friendly mix of dirt-centric double- and singletrack riding. All told, the trails combine for close to 40 miles of riding; this season, a new combined trail map incorporates the now-integrated Schweitzer-to-Sandpoint trail system.
A record-breaking snowfall year meant a win for skiers but means a waiting game for bikers this summer. But, as any rider will tell you, it's important to keep up your momentum in the transitions. And the Schweitzer trail crew isn't slowing down. Says Mirus, "In past years, we've actually taken snowblowers down some of the trails to get them ready!" The projected opening date for Schweitzer's summer trails is June 22.
WHITEFISH BIKE PARK
Whitefish Mountain Resort, in Whitefish, Mont., is one of the grandaddies of gravity-assisted mountain biking. And its trails trace the changing face of bike parks. "The example of the style of trail-building of 20 years ago is our Summit Trail: it zigzags across the whole mountain, and as a downhill ride, it's really long—it's exhausting for someone who doesn't have a lot of experience," says Riley Polumbus, Public Relations Manager at the resort.
In 2008, adapting to the advent of big-hit bikes and a desire for more technically challenging descents, the resort built Runaway Train: a serious, straight-down, rowdy downhill. Then, in 2013, the resort added Kashmir, which the International Mountain Biking Association (IMBA) named as a Model Flow Trail. "After we added Kashmir, we realized we have a lot of options: from the steep, rocky downhill of something like Runaway Train to the fast, flowy, big turns of Kashmir and Freebird," says Polumbus. "We're not huge, but we have something for everyone."
But the big trail-related development for the bike park is happening just outside the resort boundaries. This winter, the community welcomed a new trail on a private easement between the resort's lower-mountain trails and the Whitefish Trail—a nearly 40-mile network of community-funded and -constructed non-motorized trails around Whitefish Lake. "It's a fun little connection," says Polumbus. "You could conceivably go from our summit down to pavement and be in town." They're that much closer to closing the loop with the long-desired goal of a system of dirt trails that circumnavigates Whitefish Lake.
The addition of the Bad Rock lift to the summer inventory several years ago also added a dedicated beginner/intermediate area for riders. "Having two lifts servicing the terrain is nice, especially because it spreads people out," says Polumbus. "We get riders on the Bad Rock lift who are either warming up for the day or don't have the skillset yet to drop into Runaway Train."
Although Runaway Train and Kashmir have become the park's signature trails, Polumbus hopes that the park's beginner-friendly programs provide a stepping-stone to step-downs and steeps. "Our Learn to DH Bike program has been quite popular, with a lot of both kids and adults taking it to familiarize themselves with the sport," says Polumbus.
The resort also offers a full calendar of bike events. A weekly race series has catered to cross-country riders the last 20 years, but this year downhillers will get their own separate Wednesday-night race series. And on August 24-26, the resort will host the NW Cup, which is projected to bring in up to five hundred riders from around the region. The event coincides with the Hootenanny, the annual fundraising event for the Whitefish Trail, which means riders won't lack for bikes-and-beer socializing.
Perhaps most exciting of all for some is the news that the Bierstube, consistently ranked one of the top resort apres-ski bars in the nation, will open for post-ride imbibing this summer. Whitefish Mountain Resort amenities move from weekend operations to a seven-day-a-week schedule June 16 through Labor Day. //
MORE BIKE PARKS AROUND THE REGION
Panorama Mountain Bike Park
Panorama Ski Area, west of Invermere, B.C., constructed many of its 30k of downhill trails during the peak of the lift-served downhill era, a resort-based arms race that chased bigger and bolder lines. Riders at Panorama—open June through early September—can expect a parade of technical features, from drops to gaps on runs such as Crazytrain. Recently renovated entries and exits embrace the flow-friendly modernized size of resort riding, and beginners can wade in on Let It Ride, a 3k, top-to-bottom beginner-friendly flow trail.
Bike Big White
Despite its proximity to the birthplace of free-riding, Big White Ski Resort, near Kelowna, B.C., didn't have a lift-accessed bike park until last season. But Big White has made up for lost time, applying decades of dirt-moving knowledge to the construction of its trails. And it shows: even green runs such as Pry Bar boast big, beginner-friendly berms and low-consequence doubles. Experts will find plenty of classic granite drops on double-black Rock Hammer.
SilverStar Bike Park
If you've watched a mountain bike film in the last 10 years, you've seen SilverStar Bike Park. This park, near Vernon, in the Okanagan of central B.C., goes big: the resort's Comet Six Pack Express—Canada's longest mountain bike chairlift—climbs 1,600 vertical feet and accesses over 600 berms and more than 300 jumps on 30 miles of downhill trails. The cross-country crowd needn't feel left out, though—the park features roughly the same mileage in pedal-friendly trails. Oh, and the wildflowers are legendary. Not that you'll notice.
Tamarack Bike Park
Built in the mid-2000s, the mountain bike trails at Tamarack Resort, south of McCall, Idaho, lay dormant with the rest of the mountain for several years following the resort's collapse into bankruptcy. But 2018 marks the third year of summer weekend lift operations, with some 60 miles of tight, technical turns sweeping down 1,700 feet of vertical. Long-time regional DH racers have fond memories of the steeps and wooden features of trails such as Hibernator. Check out why the park was once rated one of the best in the country. //
[Feature photo courtesy of Schweitzer Mountain Resort.]