Hoping to win an Olympic medal someday is not why kids join a ski team.
"It's a great way to learn how to ski well. Most parents put their kids in this program, not to become great ski racers, but to become great all-mountain skiers. And by the time the kids are done, the parents are having a hard time keeping up," says Dan Henry, executive director and head coach of Mt. Spokane Ski Racing Team (MSSRT), previously known as SSRA, or Spokane Ski Racing Association.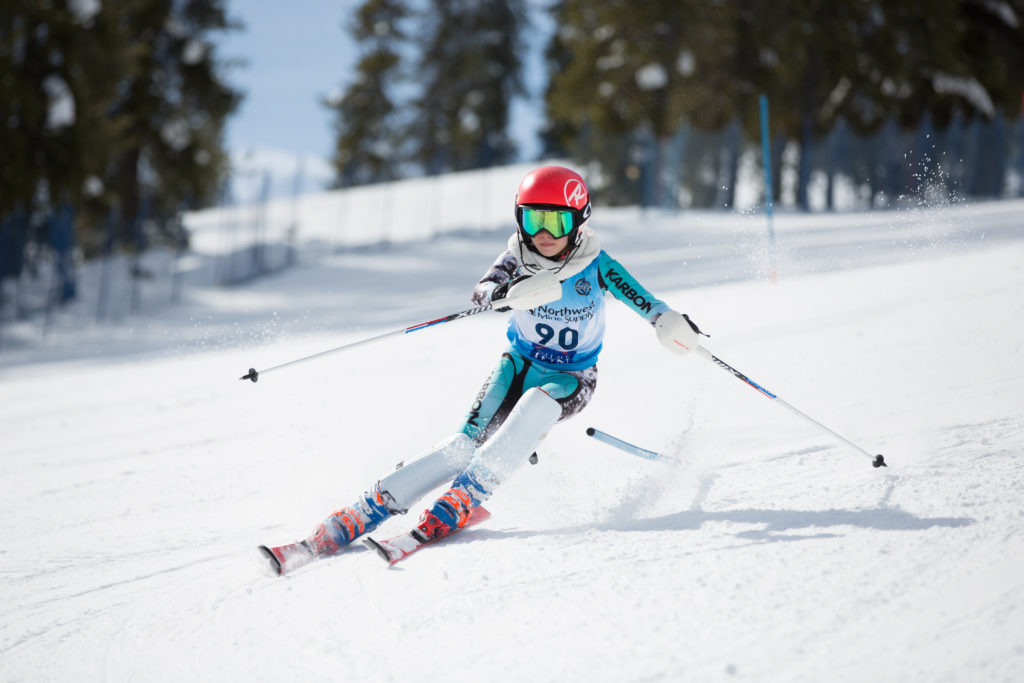 A misconception about racing is that a kid must already be a strong skier in order to join. "That's our job—to develop them into strong skiers," says Henry. In fact, kids as young as 5 can join.
"As long as the kid can get on their own gear, load the chair by themselves, and get down the hill by themselves, they can join," says Henry. "The primary goal with Youth Ski League is to become great all-mountain skiers, whether it's moguls or powder. It's not about fast—though they'll naturally go faster when they're proficient. Fast is a byproduct of skiing well."
Within two hours of the Spokane-Coeur d'Alene metro area, there are five club members of U.S. Ski & Snowboard (formerly known as USSA), each affiliated with a home mountain that take turns hosting competitions for the Emerald Empire Youth Ski League (EEYSL)—the Eastern Zone of the Pacific Northwest Ski Association (PNSA). Race series participation is optional.
"We have multiple programs that are designed around the commitment level of the parents, not the ability level of the kid," he says. All the local teams offer one-day programs. Traveling for competitions is not required. Some local teams also offer Holiday Camp sessions, which provides an introduction to the sport.
"There's not a lot of difference between what a ski school does and what we do as far as ski skills taught," says Henry. "But we spend a lot more time on the mountain—on skis with a coach and peers—and kids progress rapidly."
Check out these Inland NW Ski Racing Teams:
49° North Alpine Ski Team: Intro program (ages 5-11); youth ski league (ages 5-8); U14 (ages 12-13, elite team option); U16 (ages 14-15); Holiday Camps in December, January, & February.
Lookout Pass Ski Race Team: League (ages 6-11, 1- or 2-day program); junior program (ages 12-16, 2-day program); and Holiday Camp in December.
Mt. Spokane Ski Race Team: Intro (ages 5-11); youth league, YSL Team U8-U12 (ages 6-11); U14 (ages 12-13); U16-U19 (ages 14-18); IFS Team (ages 16+); Inland NW Mid-Week Training (ages 6-18, gate training offered to all regional racers); masters (age 21+, including parents who want to try ski racing); Holiday Camp (ages 6-11).
Silver Mountain Alpine Race Team: Silver Sliders (ages 4-8), race team (ages 5-17).
Schweitzer Alpine Racing School: Youth league includes STARS (ages 5-6); 1-day development program or 2- or 3-day competition program (ages 7-11); junior ski racing program (ages 12-19, includes U14 Team, U16 Northwest Cup Teams, and FIS Team); junior Freeride program (ages 12+; big mountain competitions); masters (ages 21+); Holiday Camp.