Not everyone grows up in a ski family. Or even loves snow. We get that, but "winters can be hard if you don't have something to do outside," says Spokane mom Courtney Yarber. The ski world can feel daunting for newbies—requiring lots of time, gear, mountain travel, lessons, and logistical planning to get the whole family involved.
Yet, outdoor adventures can help a family to better endure cold, snowy winter days. Spending time in nature provides positive mental health benefits, and outdoor winter sports are fun ways to exercise and maintain fitness habits year-round. "It's something we can all do together," says snowboarder Jami Ostby-Marsh, who lives in Colbert, Wash. "There aren't many other sports like that, with no age restrictions."
But which sport to choose and invest your family's time and money? All provide outdoor adventure opportunities. Mom and Dad, and even grandparents, aren't standing on the sidelines or sitting in bleachers—these are multi-generational sports.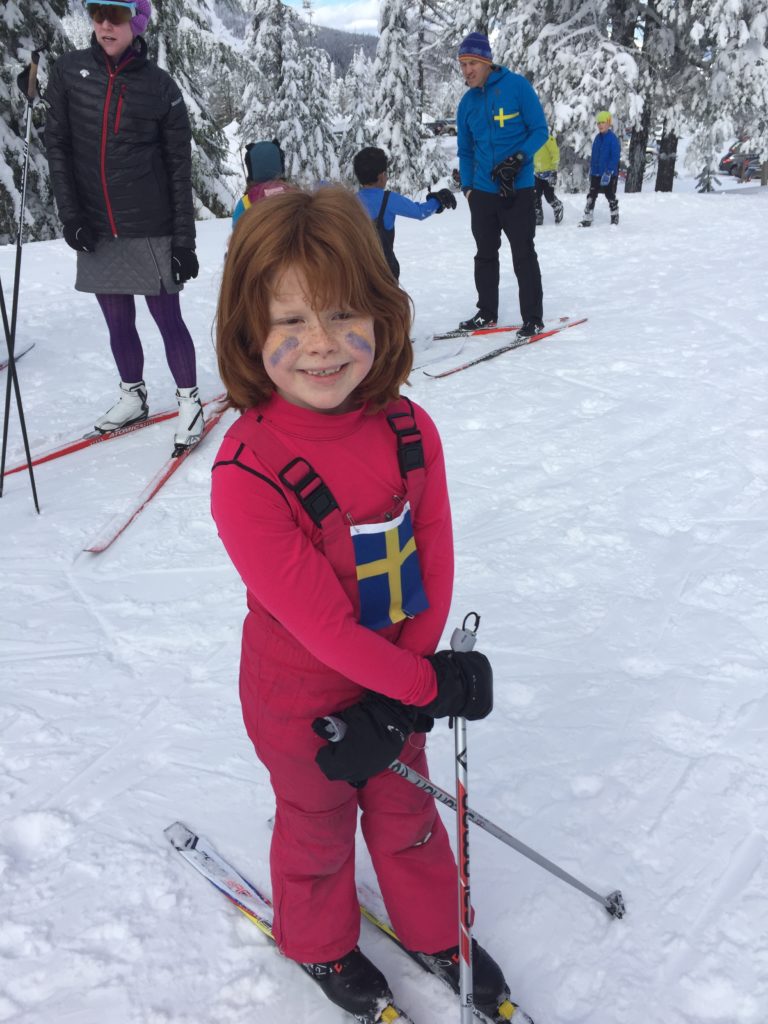 Cross-Country Skiing
Cost-efficient and easy to learn, cross-country or Nordic skiing is a great option for families just getting into winter sports. Gentler on the body than alpine skiing, one "lesson" from a friend or professional is really all it takes to learn classic XC-ski skills. A parent can ski with an infant secured in a front-chest carrier and older babies and toddlers can be carried in a sturdy, internal-frame backpack-carrier. If children can walk, they can learn to cross-country ski. Children younger than 5 years old can also be towed in a sled like the Thule Chariot.
Spokane mom Heather Easterling Ritchie grew up cross-country skiing with her parents and sister in New England. "My family didn't have the money for downhill skiing. Nordic skiing was a fun and inexpensive way for us to enjoy winter together," she says. Today, she skis with her husband, Gordon, and their 10-year-old daughter, Gemma—who has been cross-country skiing since age 6. (Gordon and Gemma also downhill ski, starting when she was a toddler.) With so many destinations in the Northwest, including the famed Methow Valley Trails in northcentral Washington—the largest cross-country ski trail system in North America—Easterling-Ritchie says, "We really live in a wonderland for Nordic." And when there is enough snow outside your front door, cross-country skiing is even more convenient.
Gear: Rent or purchase from local ski gear shops, such as Fitness Fanatics, which offers rentals in-store and on-site at Mt. Spokane's Selkirk Lodge; rent gear at the Nordic Centers at 49° North or Schweitzer Mountain Resort; and find deals at local ski swaps.
Lessons: City of Spokane Parks & Recreation; 49° Degrees North Nordic Center; Sandpoint Nordic Club; and Mt. Spokane Nordic Ski Association, which offers lessons for adults and has a Nordic Kids program for ages 5-15.
Groomed Trails for Beginners: Mt. Spokane Nordic Ski Park; 49° North; Lookout Pass Nordic Area; Schweitzer Mountain Resort; Trail of the Coeur d'Alenes between Kellogg and Wallace; Riverside State Park; Indian Canyon Golf Course and Dwight Merkel Sports Complex in the City of Spokane (no-fee groomed trails when there's enough snow); Methow Valley Trails.
Trail Permits: Requirements vary by location. Some type of day-pass is required for most groomed trails, whether at a mountain resort or state park. For Washington State, a one-day or seasonal Sno-Park Permit, Special-Groomed Trail Permit, and/or state park Discover Pass are required depending on location. All three are needed for Mt. Spokane State Park's Nordic trails. For Idaho, requirements may include a Park-N-Ski Permit and/or state park pass. 
Downhill Skiing
Want summit views and thrilling speeds? "There's more adventure with downhill skiing. You get to see more, and don't have to work as hard because you're going downhill. For kids, I think it's more fun," says Courtney Yarber, who lives in south Spokane with her husband and their two daughters. Growing up in northeast Utah, she didn't learn to ski until she was 19 and had moved to Park City. Her husband, Chris, grew up in St. Maries, Idaho, and started skiing as a kid. Once their girls were preschool-age and in lessons, Yarber says, "I got to ski all day while my girls were in lessons. Getting them into it was getting me back into it." The girls are now age 9 and nearly 7, and this winter will be the family's second with season passes at Silver Mountain Resort. "To be up there in the winter is peaceful. It's magical," she says.
If you feel intimidated to learn as an adult, you're not alone. Local resort ski schools offer adult group and private lessons—there's no shame in grown-ups snowplowing down the bunny hill. What matters is that you're out there. You can even schedule a private group lesson for your family and receive personalized coaching altogether.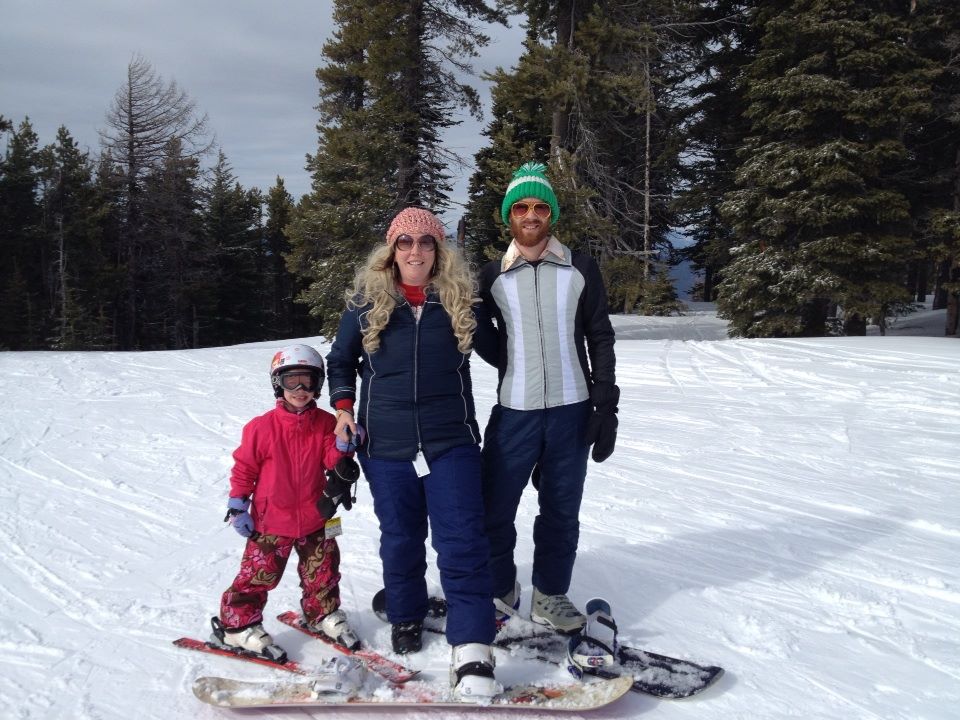 Snowboarding
Perhaps you've heard a variation of the adage, "Skiing is easier to learn but harder to master, while snowboarding is harder to learn but easier to master." Don't worry. Many snowboarders say learning how to downhill ski first provides a good skill base. It's not until about age 7 that a child is physically ready to learn fundamental snowboarding skills. To learn how to ride requires stamina and core-body strength for proper balance and turning, according to Snowskool.com ("Skiing vs. Snowboarding for Beginners").
After being a ski kid for 10 years, Jami Ostby-Marsh switched to snowboarding at age 16. More than 30 years later, she's still riding, along with her husband, Jordan Marsh—who has 23 years of snowboarding experience. Their two children started ski lessons when each was 3 years old. Jordan snowboarded behind his little snow-plowing kid while holding the training reigns—a challenging feat. The Marsh kids are now 14 and 11 years old and still prefer skiing. "Snowboarding is kind of a way to life—there's a different vibe to it. So maybe when my kids are older it will be something they do," says Ostby-Marsh.             
Some families are the opposite—kid wants to ride, parent wants to ski. "You have to be open to whatever your kid is passionate about and find ways to support it," says Ostby-Marsh. "We're mostly 'blue' people and my husband loves trees, so we choose runs that have variety…[And] it's nice that skiers and snowboarders can all be together in the terrain park…It's a joy seeing my kids learn something and be proficient at it."