Whether you prefer long road tours, short family-friendly rides, or bikepacking off the grid, the Inland Northwest offers an array of beautiful, fun, and challenging bike trails worth checking out this season.
Route of the Hiawatha
This 15-mile trail leads through 10 tunnels and across seven trestles (some over 200 feet high). The 1.6 percent gentle downhill grade follows the crest of the Bitterroot Mountains. Beginning near the Lookout Pass Ski Area, the trail drops 1,000 feet to the end point at Pearson, where shuttles can take bikers back up. The ride kicks off through the 1.66-mile St. Paul Pass Tunnel (also known as the Taft Tunnel) crossing from Montana into Idaho. The scenic and historic trail is fun for capable riders of all ages. "I describe the terrain as pedal…pedal…coast!" says Matt Sawyer of Lookout Pass. "Very easy and family-friendly." It's recommended to make online reservations for shuttle tickets and trail passes in advance. Gear rentals are also available at Lookout Pass Ski Area. Helmets and lights are required; mountain bikes or fat tire bikes advised. Opens May 26. Daily hours are 8:30 a.m. to 5 p.m. Details at Ridethehiawatha.com.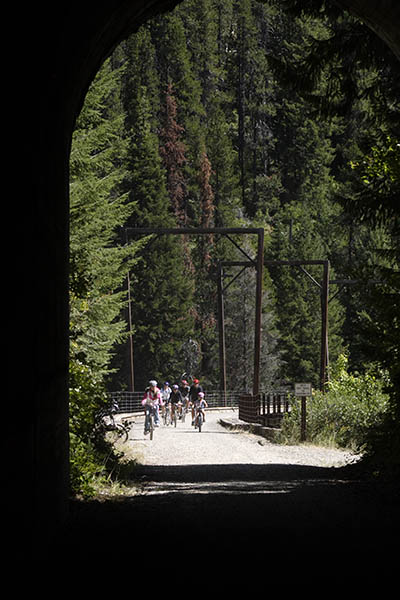 Trail of the Coeur d'Alenes
An award-winning rails-to-trails project, the 72-mile Trail of the Coeur d'Alenes extends across Idaho's panhandle from its western end in Plummer to Mullan on the eastern end. The railroad-grade elevation and smooth surface make for easy riding, whether exploring the full trail or tackling short segments. The 17 miles between Plummer and Harrison follow the perimeter of Lake Coeur d'Alene. The Chain of Lakes segment extends between Medimont and Harrison; past Cataldo, the trail follows the Coeur d'Alene River. Landon Crecelius, a Spokane area resident and regular recreational bicyclist, enjoyed riding the whole trail with a friend a few years back. "It was a great outing that included ice cream, swimming at Harrison, moose sightings, and a cold beer at a bar in Mullan," he says.
Ferry County Rail Trail
There are two hard-packed, smooth surface sections along this 25-mile rail trail in northeast Washington, which runs between Republic and Danville, near the Canadian border: 5.5 miles along Curlew Lake, and 7 miles from the community of Curlew and extending north along the Kettle River. "It's a near-wilderness experience on a flat, smooth surface," says Keith Bell, vice president of Ferry County Rail Trail Partners. Expect wildlife sightings and waterfront views, and be sure to check out 770-foot trestle at the north end of Curlew Lake. Impressive efforts by the Ferry County Rail Trail Partners to continue developing this as a non-motorized trail have earned praise and recognition in Ferry County and beyond, including "Trail of the Month" in October of 2016 by the Rails-to-Trails Conservancy, though they have faced opposition from the Ferry County Commissioners. Check progress reports regarding future development at Ferrycountyrailtrail.com.
Columbia Plateau State Park Trail
The Columbia Plateau State Park Trail extends 130 highly scenic miles between the trail ends at Ice Harbor Dam near Pasco and Fish Lake near Cheney. There are two developed sections fit for mountain or hybrid bikes: the 15 miles of the southern segment between Ice Harbor Dam and Snake River Junction (crushed gravel), and the 23-mile northern section between the Fish Lake trailhead in Cheney through Martin Road in Sprague (pavement and crushed gravel), which passes through Turnbull National Wildlife Refuge. The middle 90+ miles are largely undeveloped and recommended only for experienced bikepackers on fat bikes.
Ryan Griffith, an avid biker who works for Spokane's Parks and Recreation, rode the entire trail with friends this fall over 3 days and 2 nights. He says without hesitation that he would do it again, but he does caution bikers to consider the lack of water and rough terrain, including sections of railroad ballast, steep embankments, and trestles that need to be circumvented. A fat tire bike is a must for these sections. "It would be really, really difficult for a mountain bike," he says. Griffith enjoyed an up-close look at geologically significant surroundings, like canyons carved out during Ice Age floods. "I was just kind of mesmerized by the terrain," he says, particularly the section between Lower Monumental Dam and Kahlotus. For those interested in traversing the full trail, Griffith recommends the Rail-to-Trail Conservancy web site traillink.com for information including road bypasses, where to sleep, and gear. "If somebody's going to do it, they just need to do some long rides and get some miles under your butt," he says. "Bouncing on the railroad ballast is pretty intense; it's bone-jarring." Training with a fully loaded bike is also recommended. "Your bike acts pretty differently when it has a lot of gear on it," he says.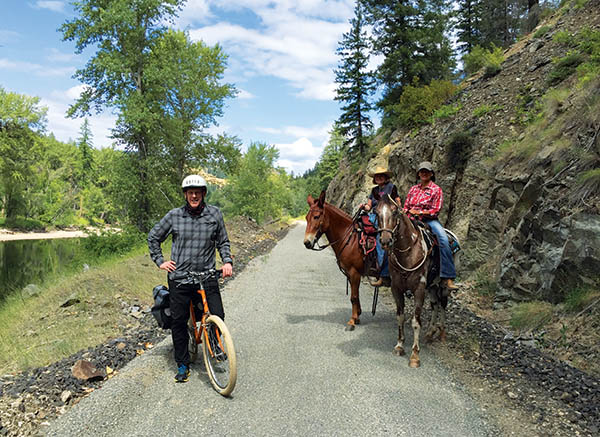 John Wayne Pioneer Trail
This 285-mile rail trail extends across Washington state from the Cascades to the Idaho border. Traveled as a whole, bikers will experience a spectrum of Washington scenery including mountains, rolling fields, dense evergreens, and farmland. "The section on the west side up and over Snoqualmie Pass is in very good shape, easy to ride," says Dan Schaffer, board member of the Inland Northwest Trails Coalition. "Riding the east section is an adventure and is best done with a fat tire bike rather than a regular mountain bike," he says. For the western section, the trailhead at Cedar Falls through the Columbia River, the trail is developed, with the exception of trail gaps through Ellensburg, and the Trenslow Trestle over I-90 east of Kittitas, which requires a detour. Highlights include canyon-spanning trestles and riding through the Snoqualmie Tunnel, which, at 2.3 miles, is the longest rail tunnel in the world. Overall, east of the Columbia River, "the surface is quite unfinished," says Schaffer. "Some sections are better than others. I've done parts of it with a mountain bike, and it wasn't terribly pleasant." Shorter—and more pleasant—segments east of the Columbia include Tekoa to Rosalia and from Rosalia to Rock Lake.
For trail maps and more—including info for those intrepid souls eager to ride the entire eastern section—check out friendsofjohnwaynepioneertrail.org which also posts permit requirements and notices about several sections of the trail that are closed to the public and require detours.
Fish Lake Trail
Access the family-friendly Fish Lake Trail from the trailhead near Spokane's downtown at Government Way and Milton Street. The paved section is about 9 miles long, running south and then west (paralleling the Cheney-Spokane Road). The trail currently ends at Scribner Road; future plans include extending the trail to Fish Lake. The trail has a very gentle uphill heading out of Spokane. In addition to plenty of bikers, walkers, and runners of all ages, "we get a lot of people out there pushing baby carriages, people on roller blades, that sort of thing," says Dan Schaffer. About a mile from the trailhead, the surroundings transition from more urban to wooded, rural terrain. Worth a visit for its easy accessibility, both in terms of ride-ability and proximity.
NPOV Lions Club Railriders
After the closure of the North Pend Oreille Valley Lion's Excursion train ride from Ione to Metaline Falls in 2016, a new idea was born: railriders! Now in its inaugural season, these pedal-powered vehicles cruise along the railroad tracks. Plan about 1.5 to 2 hours for the 12-mile ride, including some instruction time. Each group departs from Ione and is accompanied by a Lions Club host. Those familiar with the former train route should expect a fresh perspective on the area. "The route includes areas the train did not go through: pasture land, Little Muddy, Big Muddy, and Cedar Creek trestle," says Gayle Pollock of the NPOV Lions; you'll also pedal up to Box Canyon Trestle and have views of Box Canyon Dam. This is a very family-friendly excursion, with railrider seats adjustable for children (seatbelts required for all riders); infants worn in a baby carrier by an adult ride for free. Watch for bald eagles, osprey, white-tailed deer, and wildflowers. Advance reservations encouraged. Lionsrailriders.com.
 Selkirk Loop
This 280-mile international scenic drive or bike ride circles through the Selkirk Mountains of Washington, Idaho, and British Columbia. If touring by road, "for the most part you are riding in the valley with the mountains all around you," says Stephanie Sims, Executive Director of the International Selkirk Loop. "There are days with rollers, but not significant elevation gains. If you enjoy the climb, we do have some passes you can take to do just that, but there are other routes to avoid them if you wish."
There are many possible side trip rides, and it's easy to break the loop down into shorter segments, with something for everyone: road touring, rail trails, and fat tire trails. Wherever you go, expect amazing scenery: think wildlife, mountain and lake views, and river canyons. Landon Crecelius has biked two Selkirk Loop segments. "The Canadian section was pretty great!" he says. "We had a blast riding past the Glass House"—a castle-like structure constructed entirely of empty embalming fluid jars, which overlooks Kootenay Lake—"riding the Balfour Free Ferry, and then sleeping in Nelson at the Hume." More details, and the option to order a free cyclists' guide to the Selkirk Loop and offshoot rides, at selkirkloop.org. //
Take the Stress out of Bike Touring with ROW Adventures
ROW Adventures is now offering self-guided Inland Northwest bike tours, with options of four, five, or six-night packages. Rates include bike rentals (Marin hybrid bikes with front suspension), lodging, luggage transfer, route descriptions and maps, and trail side assistance and emergency support. The pre-set itineraries and prearranged accommodations mean you can take your mind off logistics and focus on enjoying each day's scenic ride. Legs range in length from 15 to 37 miles. Each of the three tour packages offer specific routes. All tours include the Centennial Trail from Spokane to Coeur d'Alene and sections of the Trail of the Coeur d'Alenes, and culminate in a downhill ride through and across the tunnels and trestles of the historic Route of the Hiawatha Trail. At the end of the tour, ROW provides transportation back to Spokane. Rowadventurecenter.com. //
Feature photos: Dreaded basalt rock along the infamous, undeveloped middle section of the Columbia Plateau Trail. // Courtesy of Mark Schneider