Idaho's Silver Valley is a choose-your-own adventure winter getaway destination. Over a few-days stay in the historic mining town of Wallace, you can pick your path each day based on changing weather, snow conditions, or the proclivities of your travel mates. Choose from alpine and backcountry skiing, snowshoeing or fat biking, history tours, and some of the most unique dining and nightlife options in the region. Load up your bikes, boards, boots, and appetite and have a blast in what might be the most fun, authentic mountain town in the Northwest. Read on to find winter adventures in Idaho's Silver Valley.
Experience the Historic Mining Town of Burke
A 15-20-minute winter drive from Wallace, Idaho, up Canyon Creek Road sits one of the most fascinating and enchanting historic sites I've seen in the Inland Northwest. I'd driven by those aging buildings countless times on my way to winter adventures, but it wasn't until I took a tour this winter with local Burke expert Charlie Mooney that I fully understood what kind of community had thrived in that canyon.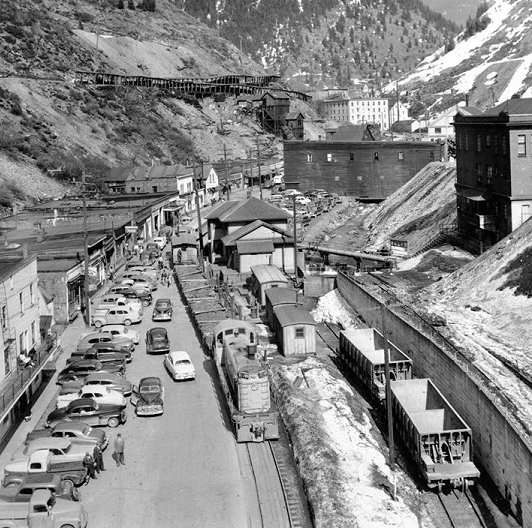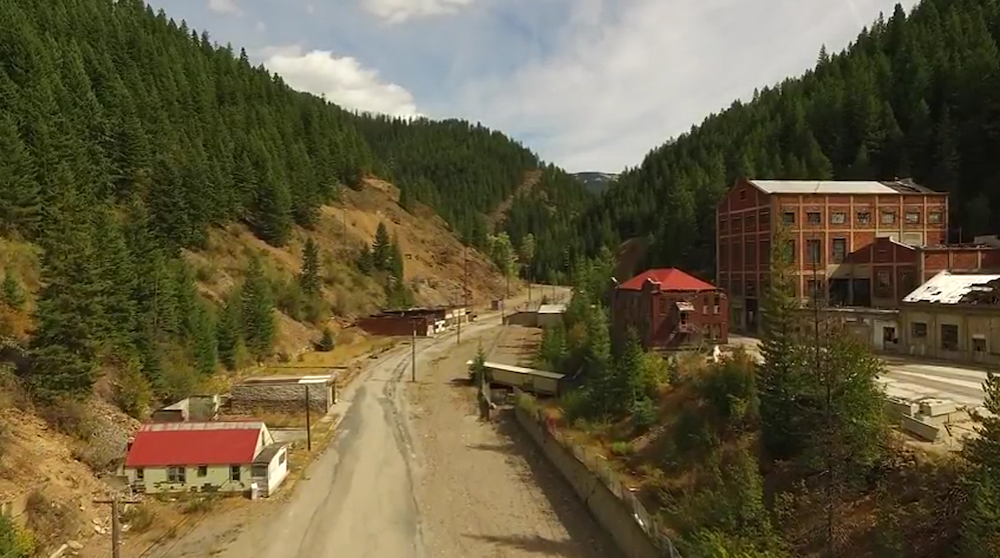 Once a flourishing mining town carved out of a tight, forested canyon, in its heyday the town of Burke sported a public pool, baseball field, and a ski hill with lighting and a rope tow (near the Burke substation; see our snowshoe recommendations). While prospectors searching for gold in the late 1800s were the first miners to begin poking around the area, it was lead, zinc, and silver deposits that kept them there and led to the development of dozens of mines and the town of Burke. By 1888, Burke had a population of 800, two railroad lines, and over 300 buildings, including 17 saloons.
But like many other mining towns throughout the West, eventually a fire tore through the area in 1923, burning much of the town to the ground. After the fire, Burke was quickly rebuilt and grew to have over 1,500 residents. Today, there are a handful of buildings where the once thriving mining town stood, the most impressive being the brick and concrete Hecla Mining Company buildings.
Locals have begun leading tours of the Burke area as part of the annual Fall For History event in Wallace in part to raise awareness that much of the remaining historic structures and mining infrastructure could be removed in the coming years. Ongoing Superfund cleanup of shuttered Silver Valley mining sites could soon make its way to Burke and take more than just mining waste from the canyon.
Visitors can take a self-guided driving tour up Burke Canyon year-round, although be prepared for winter driving into early spring. Wallace Chamber executive director Dave Copelan says that one of the best ways to get a feel for what life was like in Burke over the years is to check out the museums in Wallace. "You can see the people who were walking those streets and how they were living their lives." The Wallace District Mining Museum is open all winter (call 208-556-1592 for winter schedule details) and includes videos, historic artifacts, and photos that really paint a picture of life in Burke and other Silver Valley mining communities, he says. "The history of the community and people who lived there is richer than the ore that was in the ground. We can't just let that slip away." More info available from the Wallace Chamber.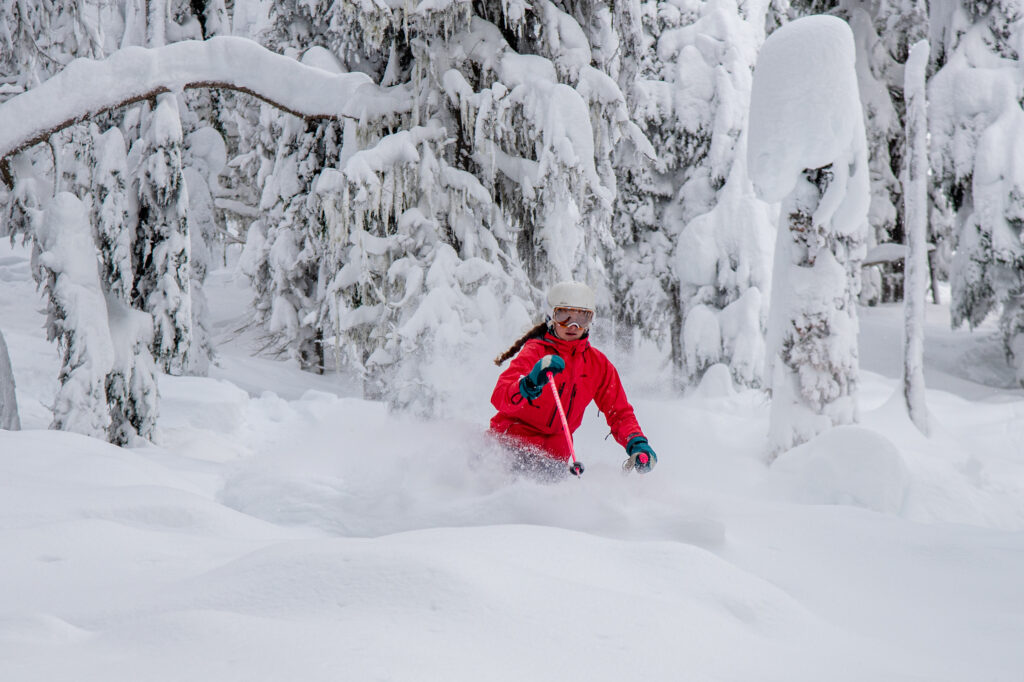 Ski or Snowboard Two Resorts from One Town
Basing your next ski trip out of the historic Silver Valley town of Wallace presents some unique benefits for skiers and snowboarders. With two resorts within a 15-20-minute drive from downtown Wallace, you can wake up early and check the snow reports to see if Silver Mountain (15-minutes west in Kellogg) or Lookout Pass (20-minutes east on the Idaho/Montana state line) have the best conditions. Or mix it up with a day or two at each resort. On February 26 up at Lookout Pass, don't miss the infamous Pacific Northwest Wife Carrying Contest. The winners take home a pile of cash equal to the weight of the carried spouse.
If you're booking your trip in advance, bring backcountry touring gear to chase powder between storm cycles in one of the nearby Silver Valley backcountry zones. Check out Panhandlebackcountry.com for more info and follow the avalanche forecasts at the Idaho Panhandle Avalanche Center.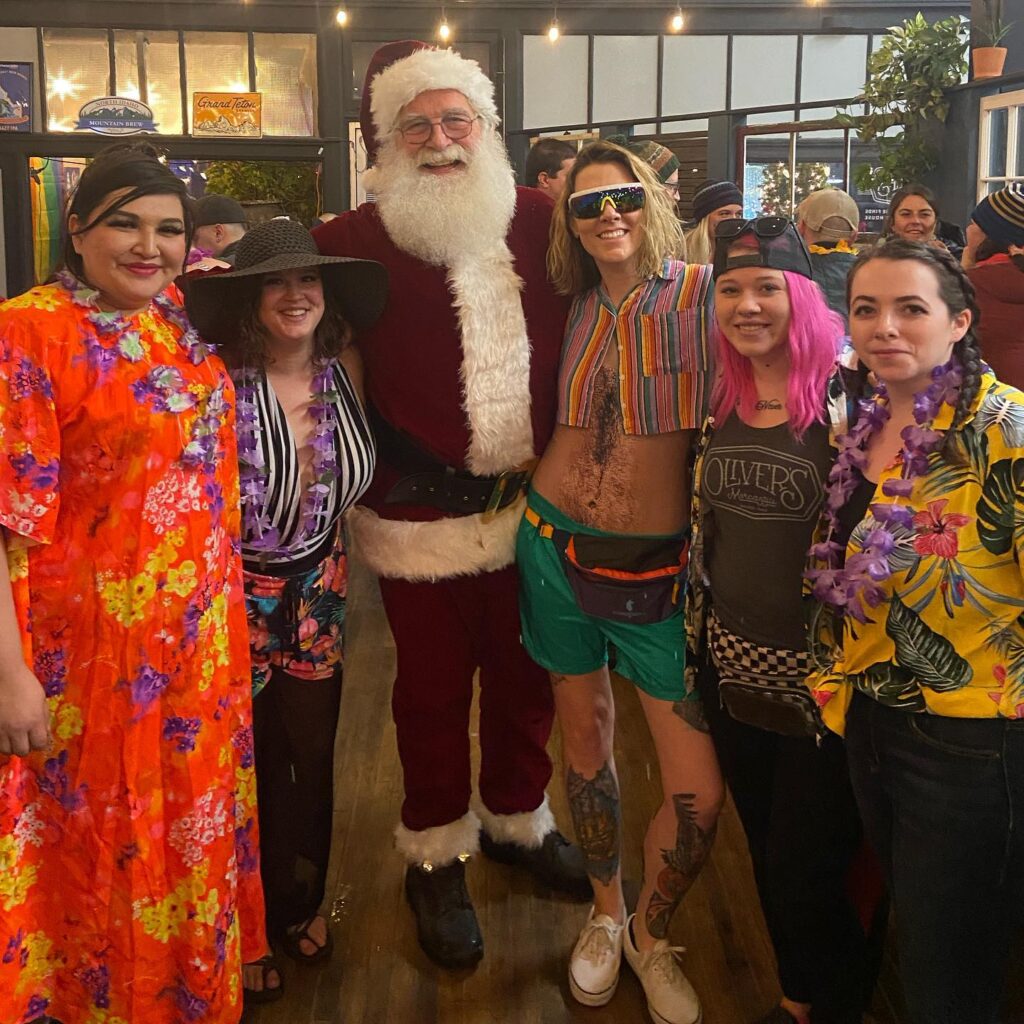 Strike Out on Your Own Wallace Grub & Pub Crawl
Newcomers and long-time locals alike continue to build a culinary and nightlife scene in Wallace unlike any other Inland NW mountain town. When you get back to your hotel after a day playing in the mountains, get ready to wander downtown Wallace for an experience that's part historic walking tour, full of gastronomic surprises, and includes enough breweries, wine-sipping spots, and late-night bars frequented by locals with a penchant to party that will keep you out later than you planned. These new, relatively new, and forthcoming dining and drinking establishments mentioned here are worth checking out but are only the tip of the iceberg.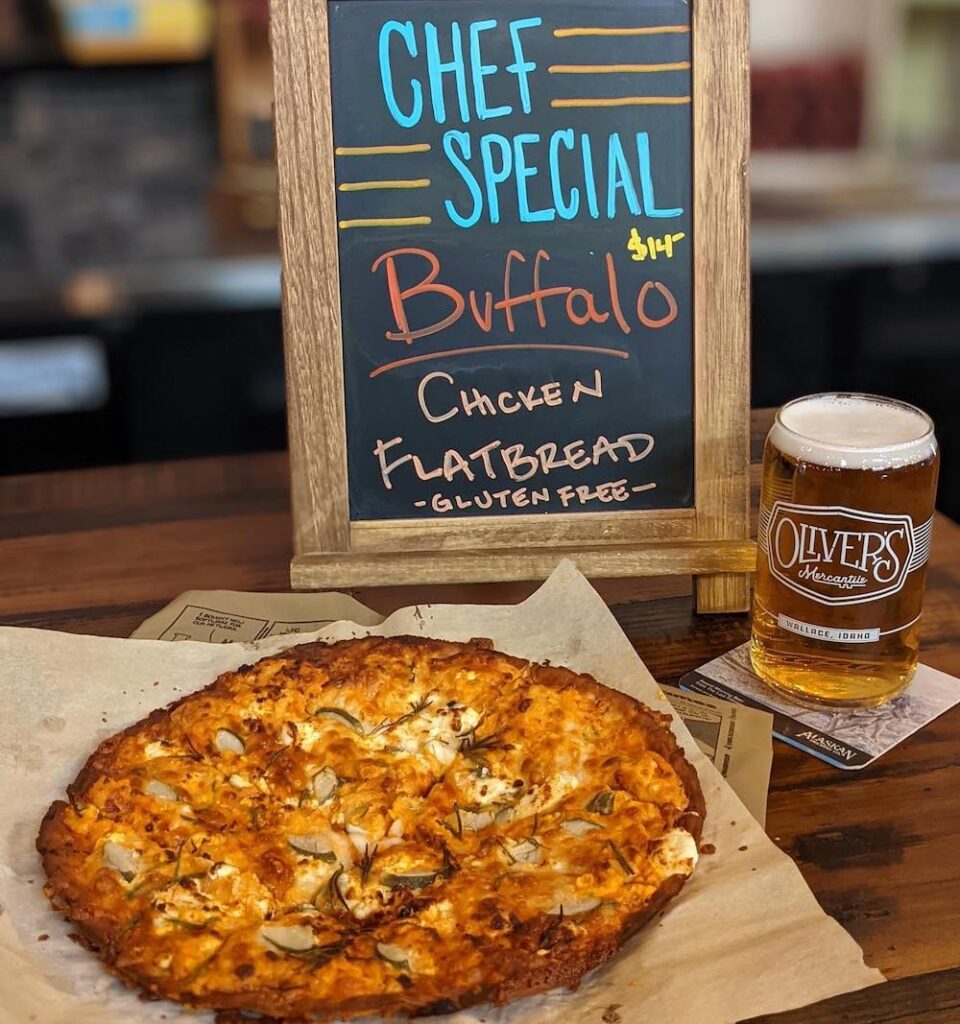 SLAB Meat Company: Authentic and creative barbecue and BBQ-inspired lunch and breakfast options out of a cool old bus (to-go only). Try the Bandito Bowl ($10) with brisket hash, chopped bacon and onion, and topped with cheese, lime creme, a fried egg, jalapeño, salsa and avocado.
W.T. Fowlmouth: A new joint in Wallace dishing up wings, tea, and fries, and not just any wings. Expect flavors you may not have tried but will love. They even have gluten free and vegan wing options.
Fainting Goat Wine Bar and Taproom: While Fainting Goat has been around for a while, the new owners have added brick oven pizza to their selection of casual fine dining fare, extensive wine selection, and variety of craft beers.
Mom's Vintage Eatery: Mom's specializes in huge-portion, homemade breakfast, lunch, and dinner options. Owner Candy Gilmore, whose grandfather ran a café in the same location, has fostered close to 20 children and during the pandemic provided food for free to those who couldn't afford it. A Wallace local assured me "You'll jones for their chicken fried steak," which he says is so big it comes on its own plate, with a full second plate for the biscuits, gravy, and everything else.
Muchachos Tacos: Under new ownership, Muchachos offers a fast, fresh, take on Mexican staples and is your Wallace stop for mucho types of tacos, margaritas and Mexican beers.
Drinkeries: Wallace has two excellent breweries, the City Limits Pub/North Idaho Mountain Brew and Wallace Brewing Company. Wine sippers will have their minds blown by the selection at Fainting Goat, or can share a bottle with friends at the Blackboard Café while looking through their eclectic selection of books for sale. For something harder, Wallace has no shortage of historic, late-night drinking establishments where you can toss back a few shots or cocktails and play some pool or swap stories with the locals.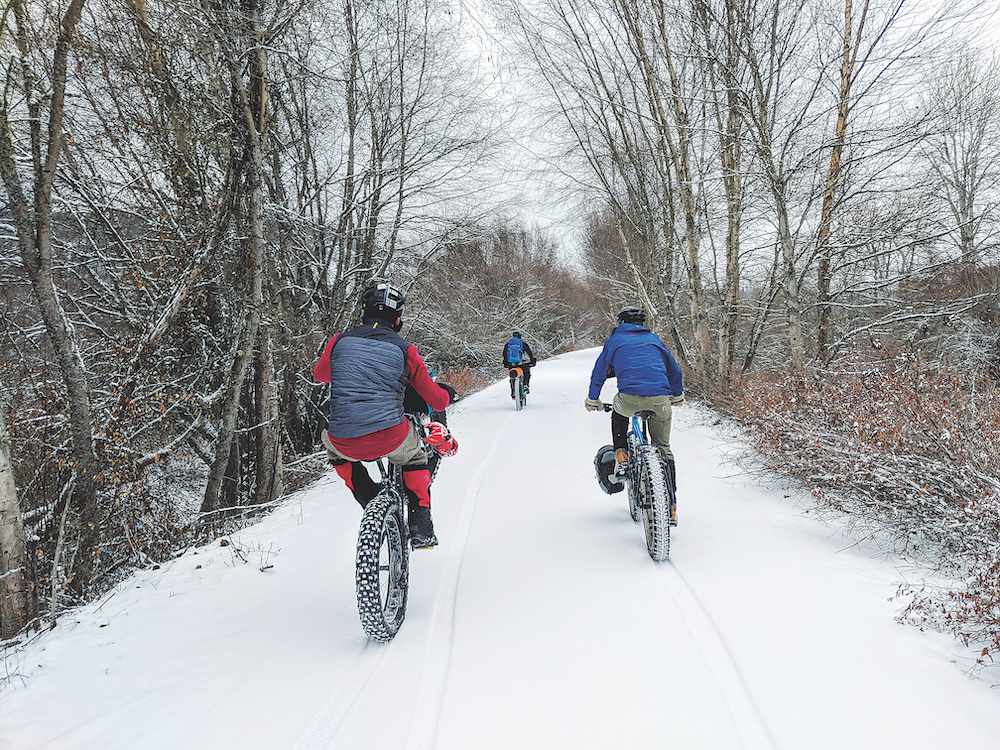 Go Fat Biking
Trail of the Coeur d'Alenes: The most accessible and all-ability-level-friendly place to ride a fat bike over the snow in North Idaho is on the 72-mile Trail of the Coeur d'Alenes. Come winter, the paved, pretty much flat rail trail is frequently covered in snow in the upper reaches of the Silver Valley. Between the towns of Harrison and Wallace, it also passes through a winter wonderland of wildlife-teaming wetlands, riverside forest, and rolling hills and meadows, all with few people and no motorized vehicles to buzzkill your quiet nature-induced Zen state.
Sections of the trail between Cataldo and Wallace reportedly get groomed from time to time, but deep or chunky snow is always possible and may make for more challenging riding. There are multiple options for out-and-back and shuttled rides on this stretch of trail. Read our story from 2019 for more info on fat biking the Trail of the Coeur d'Alenes in the winter. Or visit the Friends of the Coeur d'Alene Trail for more info and maps.
Rides Out of Burke, Wallace, & Lookout Pass: If you're looking for a more challenging fat bike ride with climbing, try one of these three routes near Wallace. From the historic and slowly disappearing mining town of Burke, ride from the trailhead at the end of the road up the groomed snowmobile trail that gradually follows the valley up to Cooper Pass. Return the way you came. Explore other groomed trails out of the same Burke trailhead to add miles and elevation. Another option is riding from the snowmobile trailhead south of Wallace up to Moon Pass, also on groomed snowmobile trails.
For an all-day adventure, try riding the Nor-Pac rail trail from Lookout Pass 12 miles downhill to Shoshone Park near the town of Mullan (or on into town to one of the watering holes) and then back uphill to your starting point. You can also extend the ride another eight miles each way by continuing on from Mullan on the Trail of the Coeur d'Alenes into Wallace for a bite and a beverage. The ride from Lookout Pass to Mullan or Wallace can alternately be completed as an all-downhill, one-way ride with a shuttle (call the Wallace Chamber of Commerce at (208) 753-7151 for shuttle suggestions).
Watch or Compete in the Extreme SkiJor Downtown Wallace (Feb. 19)
In traditional western skijoring, a galloping horse pulls a skier through a course with jumps and other obstacles. Wallace, Idaho, puts on a more fast-paced, ATV-fueled version of skijoring each winter on its downtown streets. "Sanity is definitely not necessary to take part in this," says Wallace Chamber executive director Dave Copelan. "We close off Cedar Street, fill it up with snow, and ATVs haul skiers and snowboarders through a course over jumps at speeds up to 30 mph." Participants compete for prizes and glory and are scored on their jumps. It's a great spectator event too, with about a half dozen drinking establishments a snowball toss away. This year's weekend festivities will include a family-friendly snowshoe softball tournament at the Visitors' Center on Sunday. Find details at Skiwallace.com.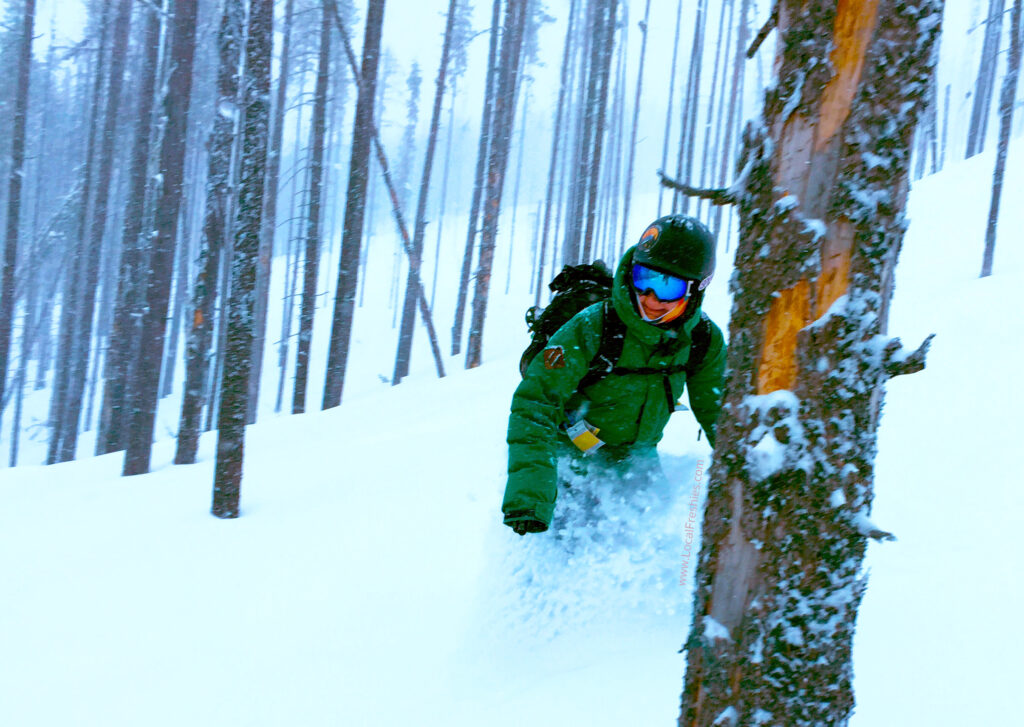 Take a Cat Skiing Trip at Lookout Pass
All the runs have been cleared for the Eagle Peak expansion at Lookout Pass Ski & Recreation Area, but until the resort completes the lift install for next season, this terrain will be the exclusive playground of those who pre-book trips with Lookout's new Cat Skiing Adventures. 12 guests at a time can book full or half day cat skiing sessions.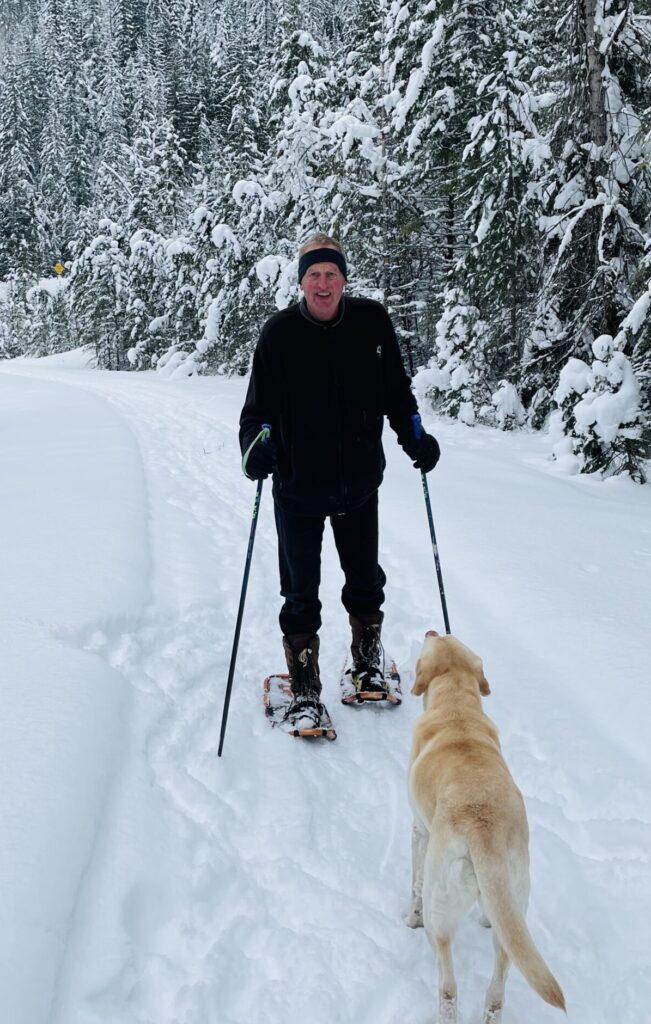 Wander the Woods on Snowshoes
If you're looking for a mellow walk in the snowy-white woods on snowshoes, here are a few options for out-and-back routes that avoid avalanche terrain.
The two-mile Pulaski Trail near Wallace is a popular hiking trail that's free of snowmobiles in the winter. Experience a bit of Wallace history and enjoy some scenic peace and quiet.
A third option up Burke Canyon includes a drive-by tour of the historic mining town of Burke (15 minutes from Wallace). The route starts at the end of the plowed road/parking area (look for the snowmobile trailers). Head past the substation and enjoy wandering around the beautiful forest and creek in the canyon flats. If you want a longer wander out of the deep snow, hop on one of the groomed snowmobile routes to gain elevation for views higher up the canyon.
Wallace, Idaho Lodging
In and around Wallace you'll find modern and historic hotels, motels, B&B's, vacation rentals, and RV parks, depending on the amenities you're looking for. And they're all just minutes away from downtown and recreation options, with many places to rest your head within walking distance from historic downtown Wallace's restaurants, bars, and breweries.