Living in the Inland Northwest, we are fortunate that skiing and snowboarding are still affordable family activities. Our local resorts offer plenty of deals, and your family doesn't need to look like you just stepped out of a Patagonia catalog to keep dry and have a day of fun sliding in the snow together.
While skiing as a family may be a little more challenging this winter due to the ongoing pandemic, the benefits of getting outside for fun and exercise will be more important than ever this winter. These tips will help you and your kids get out there this season and save money in the process.
1. Lift Ticket & Season Pass Deals
One of the easiest ways to save money if you plan to ski and snowboard several times this winter is to take advantage of discounted season passes. Fall season pass sales typically end by the middle of November or earlier, although you should be able to buy a full-priced pass after sales end. This year many local resorts may restrict lift ticket sales on busy days due to concerns about overcrowding, which means having a season pass that gives you and your family nearly guaranteed access, especially on weekends, will be more worth it than ever. Some resorts offer family season passes, too, with more savings. If you only plan to head to the mountains a couple times, check your local resort's website for any promotional deals. (Ski the NW Rockies offers a 5th Grade Ski Free Passport program.)
2. Buy Used Gear
Buying used ski and snowboard equipment and apparel is a no-brainer for cash-strapped families. In more normal times, ski swaps have been the place to go for great deals on everything from boards and boots to jackets, ski pants, and gloves. This year Northwest ski swaps have been canceled, so it may take more effort to find quality used gear. Try shops like Spokane's Rambleraven Gear Trader or Play It Again Sports that sell quality used gear, thrift stores where you can occasionally score incredible deals, and sites like Facebook Marketplace and Craigslist. For more details, check out the article on used gear by Amy McCaffree.
3. Borrow What You Need
If you have friends or family who ski or snowboard with their kids, ask around to see if any of them have old gear they've grown out of that you or your kids could borrow. Most people are happy to have a friend use old ski or snowboard equipment that would otherwise be gathering dust in the garage.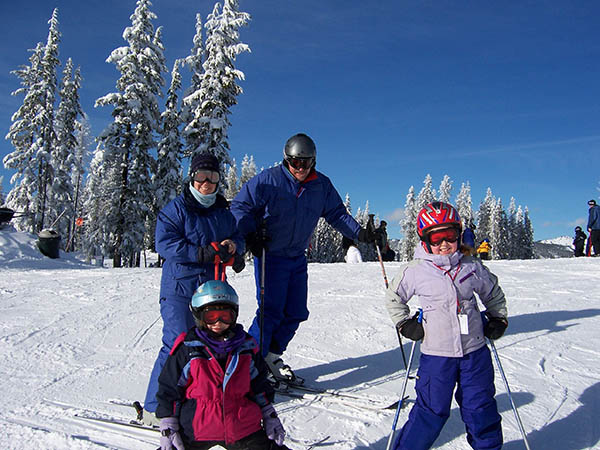 4. Lease or Rent
Several ski shops in the Inland Northwest lease or rent ski and snowboard equipment. Spokane Alpine Haus has a popular Jr. Ski/Snowboard Season Lease program that facilitates huge savings on needing to replace equipment that many kids grow out of after a season or two. Local resorts also rent equipment, although having your gear rental or lease lined up as early as possible will be more important than ever this season as more pandemic-weary people flock to the mountains.
5. Ski or Ride with What You've Got
Many budgets are tighter this year than they have been in years and buying new or even used gear may be out of the question for some of you. If that sounds familiar, this may be the year of making the old gear you have work. Spruce up old and beat-down boots with a new pair of insoles. Fix old jackets and pants with stick-on gear patches. Let the kids ride on boards that might be a bit too small for them and wear jackets and pants that might need some creative adjustments to fit right. Anything is better than forfeiting all that quality outdoor time a season on the ski hill provides.
6. Brown Bag It
With a fall surge in COVID cases and mask mandates and limits on the number of physically distanced individuals that will be allowed in lodges at one time, packing your own lunches, snacks, and beverages will help you save money and stay healthy. Get creative and think beyond brown bag staples. Bring an ice chest to keep tasty goodies from freezing, hot beverages and soup in insulated bottles, your own utensils and plates, several quarts of drinking water per person, garbage and recycling bags, a gas grill for some quick tailgate BBQ or heating up treats like frozen burritos in foil, and lawn chairs if the parking lot isn't full and the weather cooperates.