There are plenty of excellent mountain bike trails scattered throughout the dryer reaches of the Pacific Northwest surrounding Spokane, but these six destinations located in the Inland Northwest stand out as road-trip-worthy targets.
They each offer a concentration of trails for all levels of riders, active trail-building clubs hard at work on new trails, and mountain town or city amenities that make a multiday bike trip that much more memorable.
Hood River, Oregon
The town of Hood River sits in the transition zone where the Columbia River Gorge shifts from dripping hemlock to dry foothills, where the last stringers of wet westside weather blow themselves out on the river's legendary gales. It's long been known for its wind-surfing scene, but the tailgates and trailheads around Hood River tell a story about the town's rise to fat tire fame.
In the 1990s, trail builders began constructing rogue freeride lines—massive gaps and high-wire, high-consequence wooden features in the forested hills of Post Canyon, located 10 minutes southwest of downtown Hood River. But the tracks ran afoul of the county forestry department, which manages the land for its primary economic use of timber extraction.
After a catastrophic windstorm in 2012 toppled scores of trees onto the trails and the salvage logging that followed disturbed the area even more, local builders approached the county to plead their case for new trails.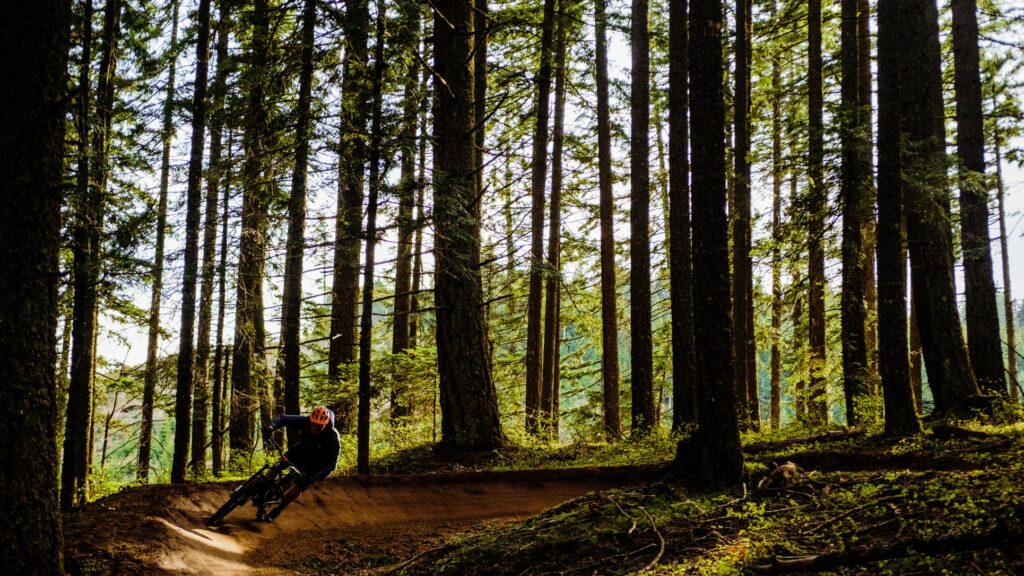 Thanks to the efforts of the Hood River Area Trail Stewards (HRATS) and its volunteers, the county acquiesced. And although the county continues to manage the area with timber top of mind, Post Canyon has weathered the storm and come out of it a stronger trail network, showcasing the trail-building transition from rocky, root-tangled tech to contemporary bench-cut jump and berm trails.
One look at Family Man Staging Area, one of the main portals to Post Canyon, shows that, although Post Canyon may have matured, there's still plenty of high-energy riding here. Come midweek and you're just as likely to see preschoolers on push bikes rolling out next to big senders.
The bidirectional trails, like Lower– and Upper Eight Track, are smartly laid out and rarely overwhelming to ride; riders going uphill aren't likely to hit a wall or stall out on steep climbing turns, but beginners can build their descending skills on the return trip.
Meanwhile, expert riders can descend from the top of Upper Eight Track on Bad Motor Scooter and Upper Grand Prix, where one immaculately crafted berm after another connects massive tabletops, step-ups and step-downs.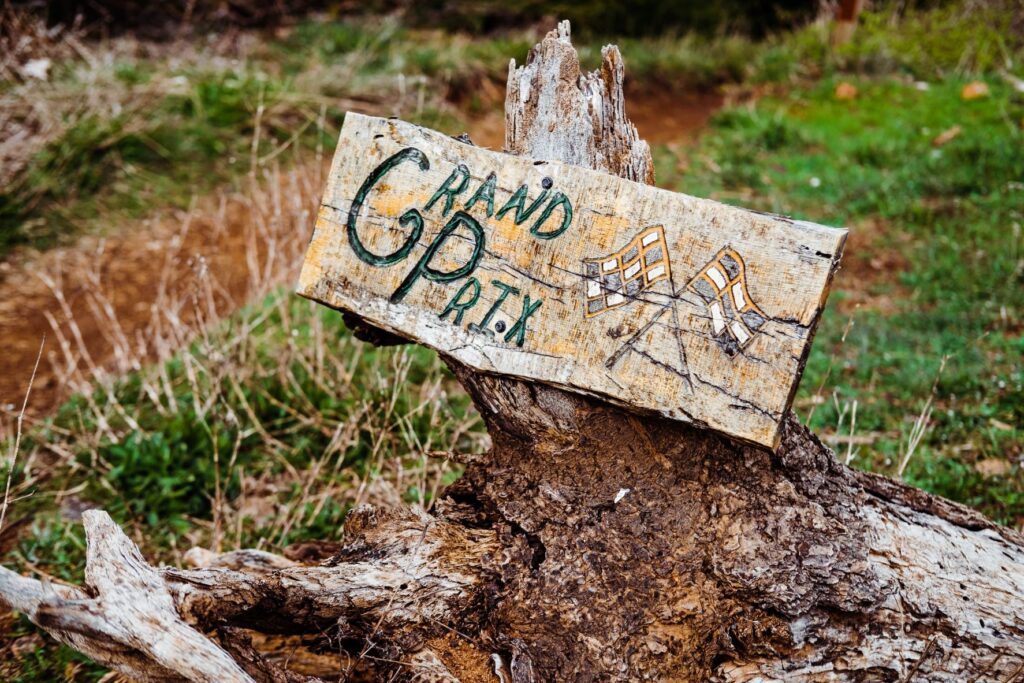 Upper Eight Track also ties into a broader network of singletrack and motorcycle trails that honor the area's legacy of chunky, suspension-testing tech. Now, though, the trails are legal and sustainable.
This year, HRATS has ambitious plans to give Family Man a facelift and expand Golden Eagle Bike Park and Pump Track in coordination with Hood River Parks and Recreation. It's all part of a plan to nurture a grander transition: from beginners to lifelong bikers.
Spring is an ideal time to visit Hood River: Passing showers give the trails a regular refresh but don't tend to be day-drenching affairs. When in town, don't miss the legendary Dirty Fingers Bicycle Repair, a Hood River institution and an all-in-one bike shop and pub. Next door, KickStand Coffee & Kitchen will get your caffeine and calories sorted.
HRATS, informally known as the Hood RATS, build and maintain the trails at Post Canyon in addition to backcountry trail networks along the Hood River and across the Columbia, so consider making a donation after enjoying their trails.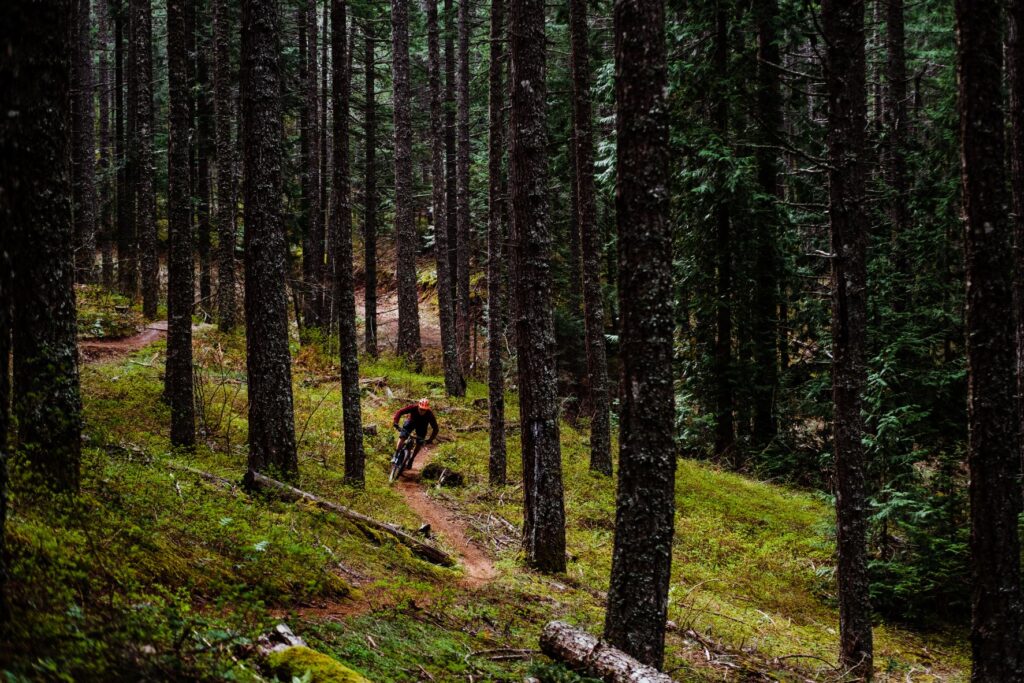 Wenatchee, Wash.
On the sunbaked east slope of the Central Cascades, Wenatchee has developed into a shoulder-season destination for riders on both sides of the state, thanks to the hallmarks of east-slope riding: towering pines and steep, flowing descents on the sandy ridgelines that separate the Wenatchee Valley from the Cascade Crest.
In the foothills on the west side of town, #2 Canyon has transitioned from a rogue riding network to a fully sanctioned and Forest Service-supported trail system. The Central Washington chapter of Evergreen Mountain Bike Alliance put the public's pandemic-inspired desire for outdoor activity to work for them, building out miles of new, buttery-smooth trail to connect to classics like Stairway to Heaven mtb trail.
The flowing berms on New Sundance replaced a heinous fall-line climb but kept the spectacular views of Mount Stuart and the central Cascades, while The Still added a swooping, 3-mile loop that flows equally well in both directions. And Evergreen has ambitious plans for even more miles this year.
Thirty minutes west, Leavenworth Ski Hill/Freund Canyon rewards riders with immaculate flow and a bird's eye view of the Bavarian-village vibe of Leavenworth—that is, if you can take your eyes off the sidehill gap jumps of Rosie Boa.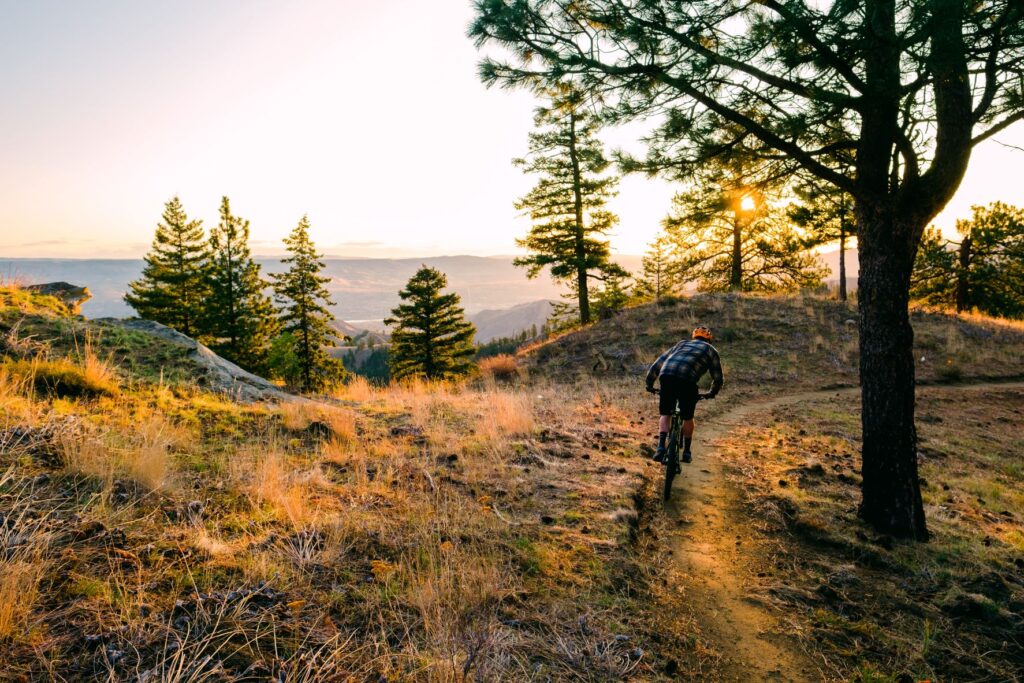 Methow Valley, Wash.
If you haven't ridden the Methow ("Me-tow"), go. Now. The wildflower displays on the open sage-covered hillsides, with the snow-capped battlements of the North Cascades in the background are second to none.
First, the bad news: The catastrophic wildfires that surrounded the Methow Valley in summer 2021 decimated the Chickadee trail system at Sun Mountain, where the Methow chapter of Evergreen Mountain Bike Alliance had just completed a three-year building campaign on trails such as Thompson Ridge—a trail that had opened the year prior and offered a backcountry mini-epic to the popular trail network's forested, flowered tracks.
The good news: The Methow Valley boasts a number of other trail systems, such as the classic singletrack loop on Buck Mountain and the Rendezvous Hut network outside of Mazama. Better news: The community in the Methow Valley is resilient and has already been hard at work raising money to rehabilitate its trails, which are a pillar of the recreation economy and the community's identity.
Support the Methow Valley's efforts to recover by shredding, sipping and shopping in the region—and go the extra mile by donating money or muscle to Evergreen's "Bring 'em Back!" rebuilding campaign.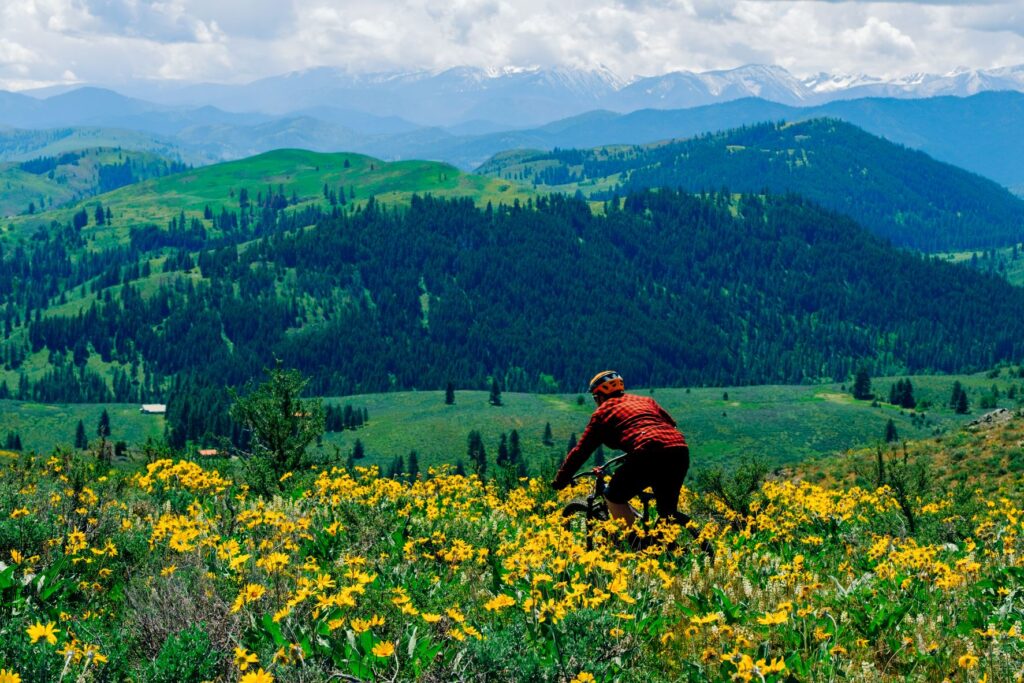 Sandpoint, Idaho
Despite being home to Schweitzer, one of the largest ski resorts in North America, Sandpoint locals and tourists alike often refer to the city on Lake Pend Oreille as a lake town that just happens to have great skiing. And although they share similar sentiments about the community's trail offerings, Sandpoint is quietly developing into a dirt destination.
The transformation is in large part thanks to the Pend Oreille Pedalers (POP) and their work on the Syringa Trail Network on the west side of town. Syringa, which encompasses a trio of public lands and private parcels—Sherwood Forest, Pine Street Woods, and Velo Tout Terrain (VTT)—offers a healthy mix of kid-friendly rollers and expert-level tech.
And POP continues to add new trail as fast as people can ride them; this spring, they have already opened two new trails in VTT, the newest acquisition at Syringa. Zen Garden and Chaos Theory trails add intermediate- and expert-level tech to VTT's entry-level berms and rollers.
Meanwhile, up on the mountain, Schweitzer is putting the finishing touches on three new flow trails, a beginner, intermediate and expert. With these new additions, Schweitzer adds some modern manicured lines alongside its notoriously gnarly old-school tech trails like Pinch Flat. And it's only the beginning: Like its neighbor down by the lake, Schweitzer is building them as fast as its guests can ride them.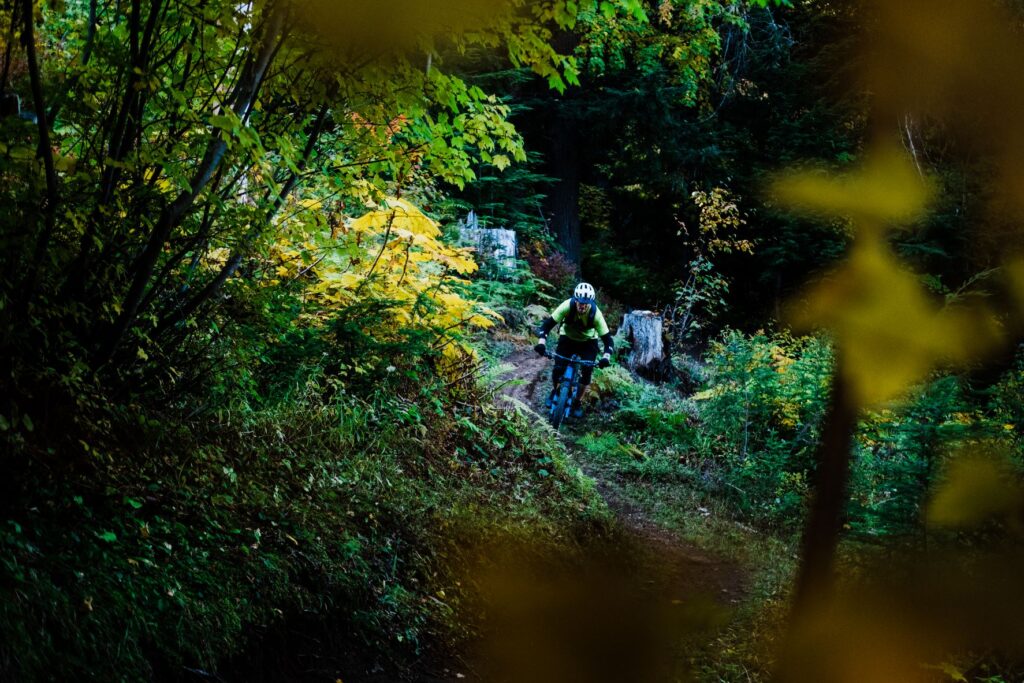 McCall, Idaho
Like Sandpoint, McCall is known first and foremost as a lake town. And like its North Idaho counterpart, this southwest Idaho community on the shore of Payette Lake boasts its share of excellent biking, with trails that bridge buffed-out flow to backcountry epics.
The Payette Lake Trail (PLT) aims to combine the two. Modeled after the Tahoe Rim Trail, the approximately 30-mile Payette Lake Trail will circumnavigate the mountain lake on mostly new, modern singletrack.
And, like the famed Tahoe Rim Trail, the PLT will feature near-constant views of the lake far below. So far, crews have completed the west leg, which ties in with the Payette Rim Trail, a McCall classic.
This season, Brundage Mountain Resort, in collaboration with the Central Idaho Mountain Bike Association, will build an 8.4-mile connector between the resort's 30-mile lift-served singletrack system and the Bear Basin trails, a 15-mile network of flowy machine-built trail on Forest Service land just outside town.
Bear Basin trail system connects with the Payette Rim Trail, which means that, in seasons to come, riders will be able to drop off the top of Brundage and circumnavigate the lake, all on trail—proof that McCall is truly both a mountain biking and lake town.
Boise, Idaho
Idaho's City of Trees is also the city of bikes. Centerpiece to Boise's biking bona fides is the Boise Foothills trail system, which encompasses some 200 miles of tread radiating out from two-dozen trailheads across a patchwork of private and public lands only minutes from downtown.
The urban trail network has earned the city the honor of being an International Mountain Bike Association gold-level ride center, one of only seven in the world. From the trailheads, often at the end of tree-lined residential boulevards, the singletrack curls and snakes through the scalloped ridges and ravines that border Boise to the north.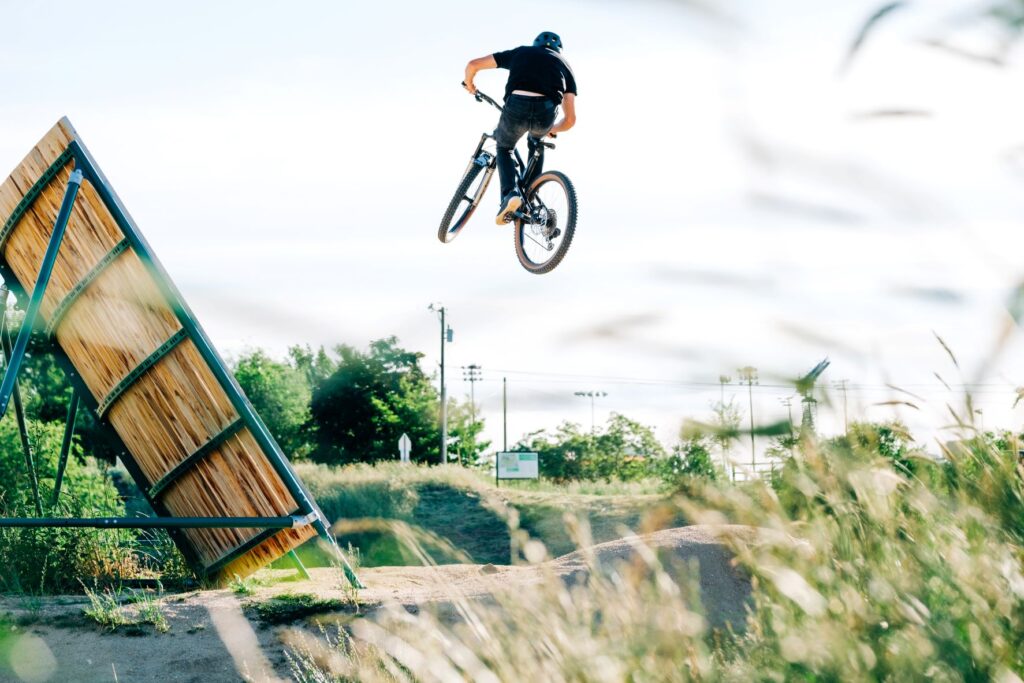 Ask a local for a favorite route, and they'll likely recommend the one closest to their driveway; they're uniformly good. And from most of those trailheads, riders can climb some 5,000 vertical feet to Bogus Basin Bike Park. Here, amid subalpine firs, a far cry from the dry sagebrush below, riders can circle the ski hill on Around the Mountain—Idaho's top-rated trail on Trailforks—or sample the lift-served trails that have received the input and manpower of the of the numerous pro riders that call Boise home.