Don't let the perfect spring and early summer cycling season pass you by without planning a few days in the saddle riding some world-class North Idaho trails and bike routes. The historic mining town of Wallace, Idaho, is an up-and-coming biking hub with its easy access to the 73-mile, paved Trail of the Coeur d'Alenes; 15-mile gravel-surface Route of the Hiawatha, and lesser-known paved and gravel bike routes that will have you marveling at the wild and scenic surroundings. Planning a Wallace bike trip in late spring or early summer will give you uncrowded access to some of the most scenic bike rides in the Northwest.
When you're not riding, Wallace provides the perfect base camp to explore local breweries, pubs, shops, museums, and restaurants all in a friendly, character-rich town that is listed on the National Register of Historic Places. Wallace Coffee House at 6thand Cedar will provide your pre-ride morning caffeine and breakfast boost. When you're done exploring the trails for the day, you can refuel at one of several craft eateries and watering holes like the Blackboard Cafè, Fainting Goat Wine Bar and Tap Room, City Limits Brew Pub, Wallace Brewing Companyor 1313 Club. At the end of the day, choose from many different lodging options the town has to offer.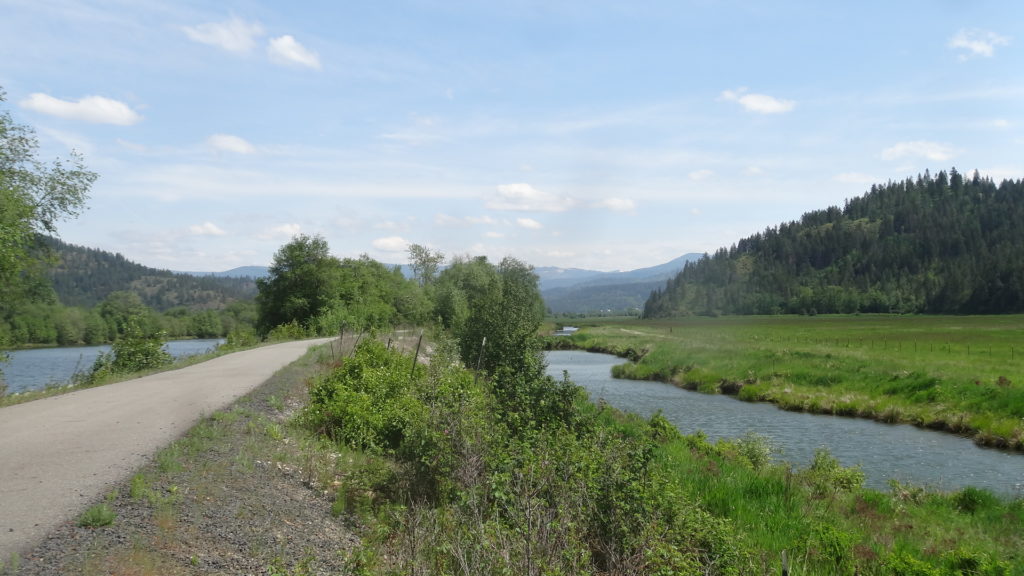 Trail of the Coeur d'Alenes
To say Wallace has easy access to the Trail of the Coeur d'Alenes may be an understatement since the 73.2-mile paved trail that runs from Plummer to Mullan goes right through town. The trail carves a path through rolling green hills of pine and fir, across wetlands and meadows that provide lake- and river-side views. From Wallace, you can schedule a shuttle with the Wallace Inn out to the town of Harrison, Idaho (about 56 miles away), for a challenging ride back into Wallace. For a shorter ride, arrange your shuttle to drop you off at one of several trailheads closer to Wallace.
Plot to take breaks in one or more of the towns along the trail for food and beverages (both Cataldo, Enaville, and Kellogg have pubs along the trail), or bring your own water and snacks (packing it in and out, of course). While you're riding, keep an eye out for local wildlife such as eagles, swans, hawks, moose, or elk. The Trail of the Coeur d'Alenes is open to bikes year-round and also makes for great winter fat biking trips.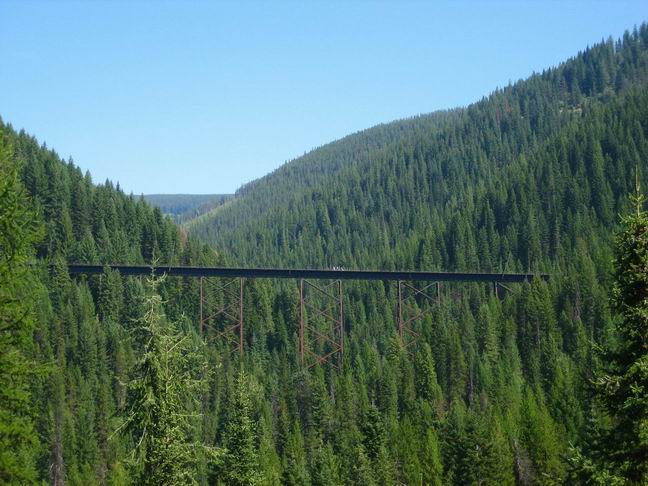 Route of the Hiawatha
Opening for the 2019 riding season on May 24, the Route of the Hiawatha is a breathtaking ride that's suitable for the whole family to travel from late May until late September. This rail-to-trail path will take you over seven historic, sky-high trestles and through 10 train tunnels on a slight downhill grade the entire way. Enjoy spectacular views of the Bitterroot Mountains on this 15-mile ride that is suitable for most adults and children who are comfortable riding a mountain bike or other bicycle with good traction tires for several hours. To complete the ride, a trail pass is required ($8 for kids and $10 for adults). Reserve your passes in advance online.
To make the ride easier, there is a shuttle service for a small fee ($7 for kids and $10 for adults) that will bring you and your bike back to the top of the trail after your ride is done. The route is famous for St. Paul Pass, or Taft Tunnel, which is a 1.66-mile long tunnel that goes under the Bitterroot Mountains at the state line between Idaho and Montana (bring your bike light!). You can also rent bikes and child trailers and other gear from Lookout Pass.
Lengthen your ride by beginning at Lookout Pass' parking lot (4,730 ft. in elevation) and following the old Northern Pacific railroad grade until you reach Taft Tunnel and the start of the Hiawatha (4,160 ft.) (note though that the shuttle service does not provide service to Lookout Pass). You can also head east from the Hiawatha further into Montana for additional riding. The route of the Hiawatha is a 7-mile drive from Lookout Pass (where you can rent bikes), which is just 12 miles east of the town of Wallace.

Lesser-Known Biking Routes around Wallace
Route of the Olympian—technically, this ride is a continuation of the Hiawatha Trail on the old Milwaukee rail bed, though it's totally separate from the Route of the Hiawatha. You'll continue to ride through tunnels and over scenic trestles, following the St. Regis River. This trail is a beginner level, flat, and free to ride.
Old Milwaukee Railroad Trail—Starting from Marble Creek and traveling 35 miles into the town of St. Maries, Idaho, this trail is great for gravel riders. Composed of compact dirt and country gravel roads, you'll ride along the beautiful St. Joe River.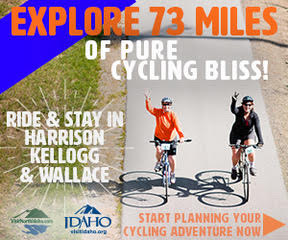 Northern Pacific Trail—This trail runs along the old Northern Pacific rail bed and goes from Mullan, Idaho, into Montana. It's a multi-use, 12-mile trail with multiple surfaces: pavement, compact dirt, and gravel. There are historic kiosks scattered along the route that climbs up and over Lookout Pass and connects the Hiawatha Trail and Route of the Olympian trail.
Milwaukee Scenic Alternate Trail—A compact dirt trail that is signed along the 23-mile route that takes you from Pearson (at the end of the Hiawatha trail) into Avery as you peddle along the St. Joe River.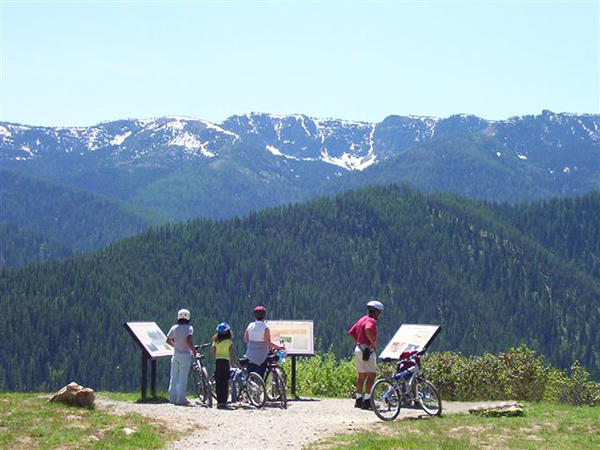 More Riding Resources
Check the Friends of the Coeur d'Alene Trail website for current trail conditions and closures depending on the season for all of the routes covered in this article. You can also purchase Digital GPS files for most of the above-mentioned trails. Then, go explore all of the stunning bike rides that the historic Wallace area has to offer! The Wallace Chamber of Commerce can also provide info on local events, dining, history, and options for where to stay.
(Sponsored Content)