By Tabitha Gregory
The road winds through a countryside blonde with wheat, then dips into a brush-choked gorge. Three of us—me, my husband, and my 82-year-old mother—let out a harmony of "ahs" at the sight of the lovely creek and decide this is the place to stop for a tailgate coffee break. We park in a gravel pullout, situate mom in a folding chair under a poplar tree, and pour coffee. While we sit, five species of songbirds sound off, accompanied by frogs and buzzing insects. It's a beautiful moment in an afternoon outing.
Over the past several years, my husband and I have formed a habit of taking mom on outings such as this. The challenges of aging—pain, dementia—are wearing on her and nature seems to give her a measure of relief and pleasure.
Experts agree that time outdoors is an important part of overall healthfulness for elders. That's exactly why Ryan Griffith, Spokane Parks & Recreation's assistant recreation director, partners with local senior centers to take groups of elderly patrons kayaking and snow shoeing. He says that seniors benefit from being outdoors in myriad ways including exercise, mental stimulation, getting away from the television, and social interaction.
Griffith observes that even seemingly simple occurrences like a bird singing or snow falling on a jacket sleeve help relax the mind. Griffith suggests taking along snacks, water, and trekking poles, and recommends approaching the activity with a flexible mindset.
Fortunately, the Inland Northwest provides a wealth of opportunities for older residents to get outdoors safely. Together, my husband, mother, and I have been to the summit of a mountain, explored a cave, lolled in green orchards, and wandered through wetlands.
Here are four outings around the Spokane area—field tested by mom—to consider planning with your elders.
Mukogawa Institute Stroll or Roll
Drive Government Way to Fremont Road and turn into the Mukogawa Institute (officially called Mukogawa U.S. Campus, an extension of Mukogawa Women's University in Japan). Park along Offut Road in front of McNally Recital Hall. Walk west 0.25 mile along Custer Drive under graceful Douglas firs. A row of beautifully maintained red brick officers' quarters line the way and placards note the year each building was built.
Rest on the benches at the roundabout, then either stroll back to your car on the opposite side of the sunshine-dappled parade grounds (along Randolph Road) or wander another 0.2 mile into the forest along paved paths to discover the tiny hidden chapel near Takaoka Hall.
Comforts: Shade trees, wheelchair accessible (advise keeping to the low-traffic road instead of the uneven sidewalks), benches at the roundabout and near the Nellie Garry Guest House, covered gazebo with picnic table at corner of Fremont and North Wright Drive.
Walking or rolling distance: 0.5 mile along quiet paved roadway with options to extend.
Sensory: Birdsong, busy squirrels, historic buildings and interesting architecture, towering pine and fir trees.
Cautions: No public restrooms along this route.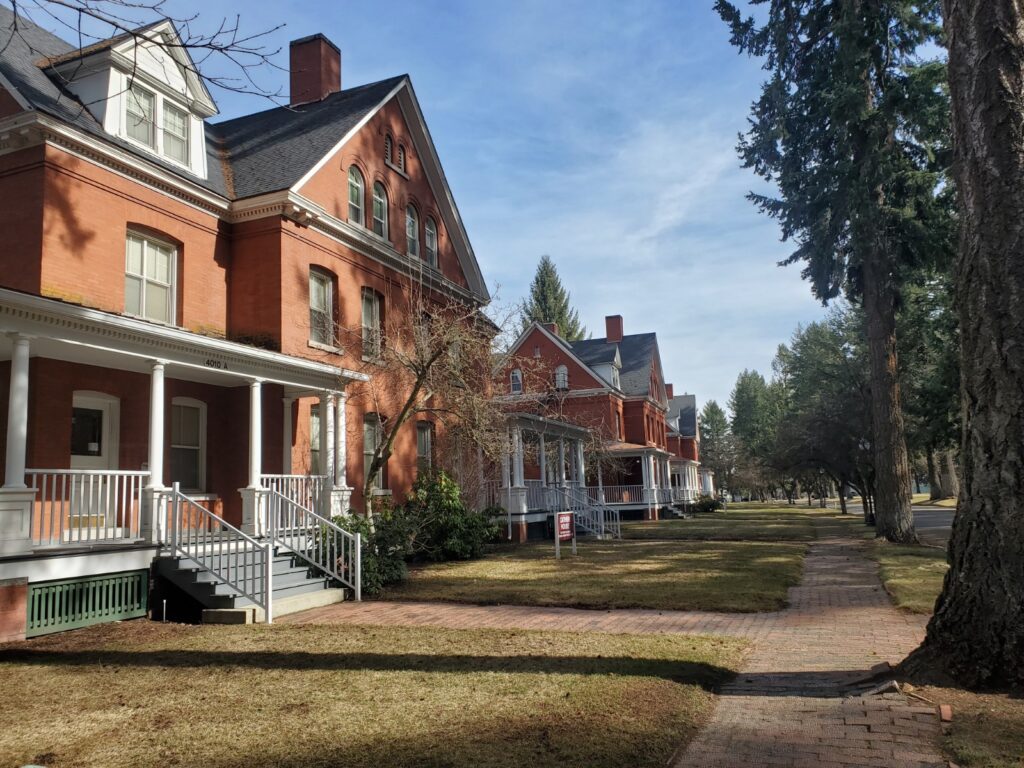 Mount Spokane Summit and Vista House
Drive north from Spokane to Mount Spokane State Park. At the entrance, stay on Mount Spokane Park Drive and continue uphill to North Summit Road. Follow the narrow strip of blacktop to the parking area. Walk up to Vista House.
Comforts: Wheelchair accessible outhouses along the road and at waysides and picnic tables at Bald Knob Campground.
Walking distance: 0.25 mile out-and-back gravel pathway to Vista House.
Sensory: Dense forest and undergrowth, broad views, sunshine, and an interesting stone house.
Cautions: Sections of narrow winding road with steep no-guardrail drop-offs, and it can be windy up top.
Valley Chapel Road Trip
From Spokane's South Hill, take Palouse Highway south to the intersection with South Valley Chapel Road. Travel along Stevens and Latah creeks and take a break at one of the pull-offs to enjoy the babbling water.
Stop at Mt. Hope Chapel (corner of East Valley Chapel Road and South North Kentuck Trails Road) to stretch legs and enjoy the quiet wheat fields.
Take a 4-mile out-and-back side trip drive south on North Kentuck Trails Road to Hanging Tree Historical Monument (watch for the marker pointing the way) and pause for a moment of silence to consider the gravity of events that occurred here. Then continue to the Highway 27 intersection.
Return directly to Spokane via Highway 27 or take a few more twists and turns through farm, field, and forest on rural gravel roads.
Comforts: Outhouse (not wheelchair accessible) and shade trees at Mount Hope Chapel.
Walking distance: As desired at chosen rest stops.
Sensory: Birdsong, frog song, rippling creeks, pastoral views.
Cautions: Limited restrooms, winding roads.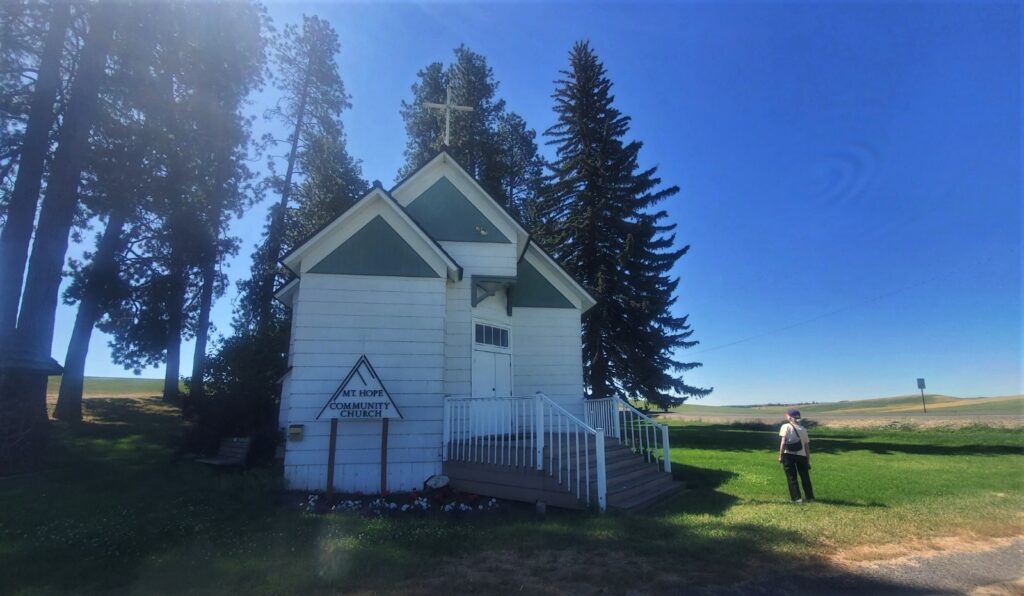 St. Aloysius Walk or Roll
Park on Astor Street in front of St. Aloysius church on Gonzaga campus. Stroll or roll along wheelchair accessible sidewalk to the church, then head east along the smooth brick and stone promenade to Rosauer Center.
Walk south between buildings, then follow the walkways, this time west, back to St. Aloysius. To extend the outing, continue on to the performing arts center, visit the Jundt Art Museum or cross the grass to the river's edge.
Comforts: Wheelchair accessible sidewalks and paths, numerous benches, shade trees.
Walking or rolling distance: 0.75-mile loop (expand or shorten as desired).
Sensory: Prayer Grotto (located east of the the church) and Gonzaga University campus's impressive rhododendrons, basalt-blocks, pocket gardens, statuary, rockwork and architecture, shoreline, birdsong.
Cautions: No public restrooms along the route.
Tabitha Gregory enjoys exploring, hiking, and skiing in the Inland Northwest. She's written for Out There Outdoors and North Columbia Monthly and is the author of the historical nonfiction book "Valdez Rises: One Town's Struggle for Survival After the Great Alaska Earthquake."