"I got a fish!" Every time a kid hooks one is exciting—just as much as the very first catch.
Spin (bait) fishing is simple and inexpensive recreation, making it a high-reward, low-barrier activity for the whole family, including anyone with limited mobility or neuro-diverse or sensory needs. Time spent at a lake as well as repetitive, predictable fishing tasks are calming.
Basic gear and lake access is all that's needed. Here are three ideas for your family to get started with this lifetime sport.
How to Get Started
1. Learn the Basics
Casting from the bank or a dock is easier than wrangling kids into a boat. Fundamental skills include learning how to cast a spinning-reel rod, set the drag, and set the hook. (Fly fishing requires different gear and skills, so it's best to take a class and do lots of casting practice before heading to a lake or river.)
Recommended resources: Idaho Fish & Game "Learn To Fish"; Trout Unlimited; and The International Game Fish Association (free online course for youth/beginners).
2. Visit a Family-Friendly, Fish-Stocked Lake
In Spokane County, good choices include Fish Lake, West Medical Lake, and Lake Spokane. In north Idaho, visit Round or Cocolalla Lakes. (Find more recommendations in the OTO story archives.)
Check online for your region's fish and game schedule for stocking local lakes with hatchery-raised fish. Thousands of rainbow trout are stocked in lakes every spring and summer in Washington and Idaho.
Fishing with Kids: Chatcolet Lake – dock at Hawley's Landing in Heyburn State Park, near Plummer, Idaho (left). // Photo: Amy McCaffree; Fishing derby at Klink's Resort on Williams Lake, near Cheney, WA (right). // Photo courtesy Klink's Resort.
3. Attend a Youth Fishing Event
Idaho Department of Fish and Game has a traveling "Take Me Fishing" Trailer that visits various lakes throughout spring and summer. All equipment, bait, and instruction is provided, and no fishing license is required while the trailer is on-site. Upcoming visits at Panhandle locations during May and June include Post Falls Park Pond, Hauser Lake, Round Lake, Cocolalla Lake, and Rose Lake. More information at Idfg.idaho.gov/fish/trailers.
Washington Department of Fish and Wildlife also hosts fishing events for kids including an annual event in May at Clear Lake, 16 miles west of Spokane. The registration fee includes a rod and reel for kids to take home too and a t-shirt.
Gear & Events
Where to Buy Fishing Supplies
Support locally-owned Inland Northwest businesses that sell fishing supplies, including The General Store in Spokane, General Store Outpost (Spokane Valley), and Silver Bow Fly Shop and Swede's Fly Shop (all in Spokane); North 40 Outfitters (multiple locations); and Orvis Northwest Outfitters and Fins & Feathers Tackle Shop (both in Coeur d'Alene).
Free Fishing Days
In most states, children under age 14-15 don't need a fishing license. For Washington State, those age 15 and older must purchase a fishing license, and younger children can fish regardless of if a parent has a state license. Idaho, meanwhile, requires a non-resident parent to buy a state license in order for a non-resident child, age 13 and younger, to fish. (Idaho requires fishing licenses for ages 14 and older.)
Take advantage of free fishing days, when all ages can fish without purchasing a license. Here are the dates for 2022:
Find events for other states at Takemefishing.org.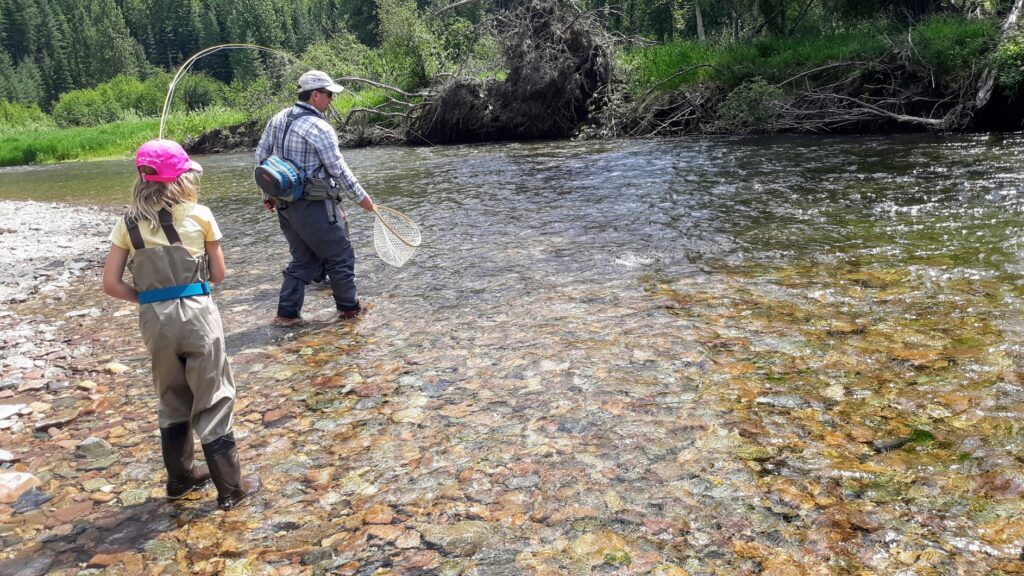 More Tips for Fishing with Kids
Wear life jackets. It's best practice for children to wear a correct-fitting life jacket for dock fishing, even if not planning to get on a boat or other watercraft. Northwest waters are chilly even on hot summer days.Life jacket laws vary by state. In Idaho, children age 14 and younger are required to wear one at all times while on a watercraft. In Washington state, the age requirement is 12 and younger. Many recreation areas have a life jacket loaner station, including popular lakes in north Idaho and eastern Washington.
Practice environmental stewardship. Teach kids how (and why) to minimize their impact on aquatic habitat and the plants and animals that live there.