Running a single marathon is a serious accomplishment. It takes dedication, mental discipline, and plenty of training to cross the finish line still running after 26.2 miles. Completing 100 marathons is something entirely different, a benchmark that relatively few highly goal driven, resilient athletes reach.
Elaine Koga-Kennelly, the current Race Director for the Windermere Marathon, didn't start running until relatively late in life (she was 36). On a whim, she joined a 2-mile lunch run with co-workers. Back at the office, her legs were stiff as boards and she felt like she might be crippled. She definitely wasn't and something turned on inside her after that first lunch-hour jaunt, and there was no turning back.
"From that day forward, I was totally hooked on running and started joining groups and clubs, and it just blossomed," says Koga-Kennelly. "Running became a true lifestyle for me and I've benefitted in so many ways." Three years after that first run, at age 39, she completed her first marathon. Thirty years and 99 marathons later, she crossed the finish line of her 100th marathon at age 69.
It may be hard for many non-runners or casual joggers to understand what drives someone to run that many marathons, but for Koga-Kennelly, it was simple. She needed a healthy outlet for dealing with the stress from her career working in financial management and running accounting departments for various large companies in San Francisco. "I'm a very intense, driven person," she explains. "As a result, I needed a stress reliever." And she found that relief in running and was soon setting goals for herself that built on that first 2-mile run, leading to one marathon after another.
For 30 years Koga-Kennelly ticked off some of the most high-profile marathons in 16 states and several countries: Boston, San Francisco, New York City, Chicago, Houston, Honolulu, Los Angeles, London, Paris, Victoria, B.C., and even the Great Wall Marathon in China. She also completed five ultras and ran with various running clubs and volunteered for other races and running causes.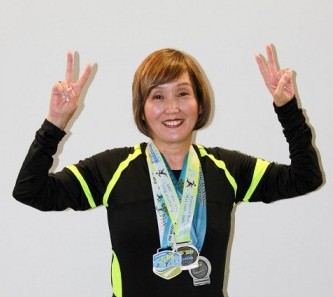 By the time she and her husband Paul moved from San Francisco to Spokane after he had retired, she was focused more intently than ever on reaching her goal before her 70th birthday, and the two of them often ran races together. "That was pretty much all we did when we first moved to Spokane was run marathons around the Northwest," she says. "We were literally running a marathon a month, and one time we ran two marathons back-to-back in one week." All-in-all, the couple has completed 37 marathons together.
The intense push to reach her goal finally led Koga-Kennelly across the finish line for the 100th time, achieving her decades-long dream at the Missoula Marathon on July 10, 2011, at the age of 69. To celebrate, she completed the Light at the End of the Tunnel Marathon near Seattle two weeks later, making it 101.
With membership into both the Marathon Maniacs and the 100 Marathon Club under her belt, Koga-Kennelly turned her attention and passion for distance running and the running community towards the Windermere Marathon, a local race that has evolved into the Spokane area's largest marathon. After running Windermere a few times and making connections with the race organizers through her second carrier as a real estate broker, she became more deeply involved with the Windermere Marathon as a volunteer.
Since the first race in 2008, the Windermere Marathon began developing a reputation as one of the most scenic marathons in the Northwest. The fast, largely flat, Boston qualifying course from Liberty Lake to downtown Spokane, mostly along the Spokane River on the Centennial Trail, appeals to both competitive runners aiming to beat their own personal records as well as everyday runners looking for a more pleasant marathon or half marathon experience.
Koga-Kennelly saw huge potential for the Windermere Marathon, which had seen little growth in participation for several years before she became involved, and she quickly set about overhauling the event first as the Event Director and later as Executive Director.
Under her leadership, the event has grown 31% in the last two years, with over 2,000 participants in 2014, and registrations this spring were already 9% ahead of last year, she says. Upon accepting the position of Race Director, she promised to bring the best elements and amenities of the San Francisco Marathon (which she completed 17 times) to Windermere, she says. And by all measures, it looks like she has delivered.
One of the first changes Koga-Kennelly made was to move the start of the race from an industrial area in Post Falls to the more aesthetic Rocky Hill Park in Liberty Lake and to shift the race date to the first Sunday in June. She then set her sights on bringing on the premier race amenities she'd promised: The race shirts are long-sleeved and high-quality, with "Seahawk-inspired" colors this year; there are "blinged-out," spinning flying shoe finisher's medals presented by Marines; long-stemmed white roses flown in from South America are distributed by the Ladies of the Spokane Lilac Festival Royal Court at the finish line; and each finisher receives a "Victory Stand Photo" to memorialize the accomplishment. To top it all off, there's a post-race celebration and party with hot food, a beer garden and music, and the whole event is a fundraiser for the Windermere Foundation, which backs local non-profit groups that support low-income and homeless families in the Spokane area.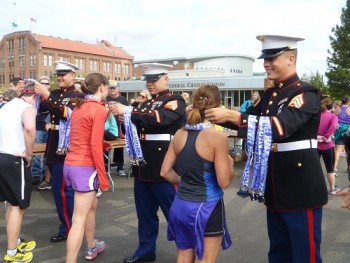 While running 100 plus marathons may not be for everyone, Koga-Kennelly's passion for the discipline is inspiring. "There is such energy in a marathon experience," she says. "Everything from the expos, pasta feeds, travel, the social aspects and the personality of each individual race, there are such wonderful memories with each different marathon." Having goals and running marathons has made life richer, says Koga-Kennelly. "It's the moments that I've experienced in marathons that are the most memorable to me and give me a great sense of satisfaction. These are peak moments that I treasure." //