Mountain as metaphor; snow as symbol. Reading good literature for après ski relaxation or while nestled at home on a long winter night is a healthy indulgence. It forces you to slow down, consider imagery.
Five local writers, whose books are worthy of winter reading, share their recommendations with OTM. Unlike a summer beach book list, these are better suited for fireside contemplation.
Spokane Poet Laureate Thom Caraway, author of "The Visitor's Guide to North Dakota" (Finishing Line Press, 2007), recommends "Winter Tenor," a poetry collection by Kevin Goodan, who grew up in Montana and now lives in Idaho. "Goodan's poems are like a good winter day: crisp, sharp, breath-taking," says Caraway. "Relentless and beautiful, these poems will echo through the long nights and keep you in good company."
EWU Writing Professor Jonathan Johnson has written two poetry books, "Mastodon 80% Complete" (Carnegie Mellon, 2001) and "The Land We Imagined for Ourselves" (Carnegie Mellon, 2010). His poems typically include nature imagery and evoke landscapes with personal connections. North Idaho is the primary setting for his memoir, "Hannah and the Mountain: Notes Toward a Wilderness Fatherhood" (University of Nebraska Press, 2005).
"Rick Bass' book "Winter: Notes from Montana" renewed my relationship to the woods and mountains I'd loved since I was a child," says Johnson about his recommended reading pick. "In a chronicle form reminiscent of Thoreau's 'Walden,' Bass composed 'Winter' as a journal during his first winter as a young man in remote northwest Montana. More than any other, the book taught me to see my own beloved north Idaho landscape anew. Indeed, it changed the course of my life in the way that only the right work of art at the right time can. Something hauntingly familiar and necessary in Bass' vivid joy and reverential physicality sent me back to Idaho, inspired me to build a cabin there, and shaped my understanding of myself, my writing, and the natural world. Even now, years later, I think I still owe him a little for what it's like for me to walk in the woods when it snows."
Jess Walter is revered for his fiction's wry humor. "We Live in Water" (Harper Perennial, 2013) is his latest book – a collection of 13 short stories set in Spokane and elsewhere in the Northwest. He recommends two poetry books: Maya Jewell Zeller's "Rust Fish" and Laura Read's "Instructions for My Mother's Funeral". "Both are lovely and show writers with great voices, rich with images and stories about growing up in the Northwest," he says.
Shawn Vestal, author of the short-story collection "Godforsaken Idaho" (Little A/New Harvest, 2013) and columnist for the Spokesman-Review, recommends "Boneland" by Nance Van Winckel, a book of linked stories.
"Van Winckel's stories take up the history of a Spokane woman and her family – with a particular connection to a Montana ranch where rich archeological artifacts are being harvested – in a style that is radically and satisfyingly inventive," he says. "The stories come from different points across a span of decades, but by the end of "Boneland," Van Winckel has assembled the story of a family that has a novelistic wholeness and sweep. One of my very favorite Spokane works of fiction."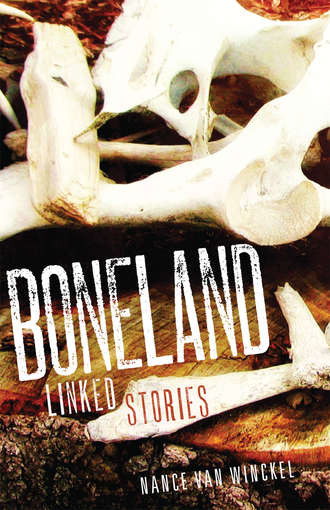 Poet Maya Jewell Zeller – whose poems from her first book, "Rust Fish" (Lost Horse Press, 2011), are set in the Pacific and Inland Northwest — recommends three books, each with its own compelling winter tie-in.
"Marilynne Robinson's novel 'Housekeeping' because it is creepy in the beautiful way that the Inland Northwest can be creepy/beautiful in winter. And because it reminds us that there are many ways of living, and because many of our winter excursions often end in a warm house, something for which we should be daily grateful," says Zeller.
"Connie Voisine's book of poems 'Cathedral of the North,' because 'Glaciers dragged their ribs/ against the mountains creating/ and the pines grew extreme, black knives against a moon' (from 'Invisible City/In the Beginning'), and because the book brings a loveliness and quiet into the chill of a northern Maine winter.
Laura Read's 'Instructions for My Mother's Funeral' because her poetry, based in Spokane, will take you on a narrative tour of some of our strange common history; and because when you're out and about in town, you could run into the author."