Nestled in the heart of the Kettle Range Mountains in Northeast Washington's Ferry County, the historic mining town of Republic is an authentic, Old-West-looking mountain town that's the perfect place to enjoy endless winter recreation activities without the crowds. The nearby Kettle Range features six of the highest peaks in the eastern half of the state, with the highest point reaching just over 7,000 feet (Copper Butte), and mountains, meadows, lakes, rivers, and public land abound throughout Ferry County.
Entwined with old-growth forests and sagebrush meadows, the mountains surrounding Republic offer a wide range of winter opportunities, from snowshoeing and Nordic skiing to groomed snowmobile trails, ice fishing, and winter events.
Snowshoeing, Cross-Country Skiing, and Backcountry Skiing around Republic
Snowshoeing and backcountry skiing don't require groomed trails and are a great way to enjoy the tranquil Ferry County backcountry. Renting snowshoes and skis is fairly inexpensive too if you don't have your own (try Rambleraven Gear Trader and REI in Spokane).
Sherman Pass: Situated along the Sherman Pass Scenic Byway on Highway 20 are three notable snowshoe and ski areas that wind through remote forest and peaks: Sherman Peak Loop Trail, Columbia Mountain Loop, and the Kettle Crest Trail. Please note that there are avalanche prone slopes along the Kettle Crest, so avoid traversing on or below steep slopes or come prepared with the gear and avalanche risk information and safety and rescue experience necessary to safely ski or splitboard in the backcountry. (A WA State Sno-Park Permit is required.)
Deer Creek Summit: To the north of Sherman Pass, Deer Creek Summit Sno-Park located along County Highway #602 northeast of Republic in the Colville National Forest offers 12 miles of groomed cross-country ski trails, as well as thousands of acres of recently burned forest that have made excellent terrain for backcountry ski touring. (A WA State Sno-Park Permit is required.)
Curlew Lake State Park: East of Republic, Curlew Lake State Park is family-friendly with ice fishing and sledding in addition to snowshoeing and Nordic skiing. The adjacent Ferry County Rail Trail is a relatively flat, non-motorized 24-mile trail that runs through the Ferry County countryside from near Republic north toward Canada, traversing Curlew Lake, crossing over the water on a trestle bridge, going through a tunnel, and following the Kettle River for a while. (Washington State Discover Pass required at the state park but not required to access the Ferry County Rail Trail)
Snowmobiling
There are well over 100 miles of groomed snowmobile trails in Ferry County. When the area gets a foot or more of snow, Washington State Parks grooms the trails. The Sno-Parks are great for family outings, and usually have ample parking lots with restrooms. Washington State Sno-Park Permits are required for parking and playing December 1st through March 31st. You can find maps and more information at the Washington Sno-Park site or at Newashingtontrails.com's snowmobile trail page.
Sno-Parks with Snowmobile Routes Near Republic:
Empire Lake (57 miles of groomed trails and parking for 15 vehicles and trailers)
Albian Hill (32 miles of groomed trails on the eastside of Sherman Pass)
Hall Creek and Quartz Ridge (38 miles of groomed trails with parking for 20 vehicles with trailers)
Swan Lake (63 miles of groomed trail but limited parking)
Find Washington State snowmobile trail maps and more info here.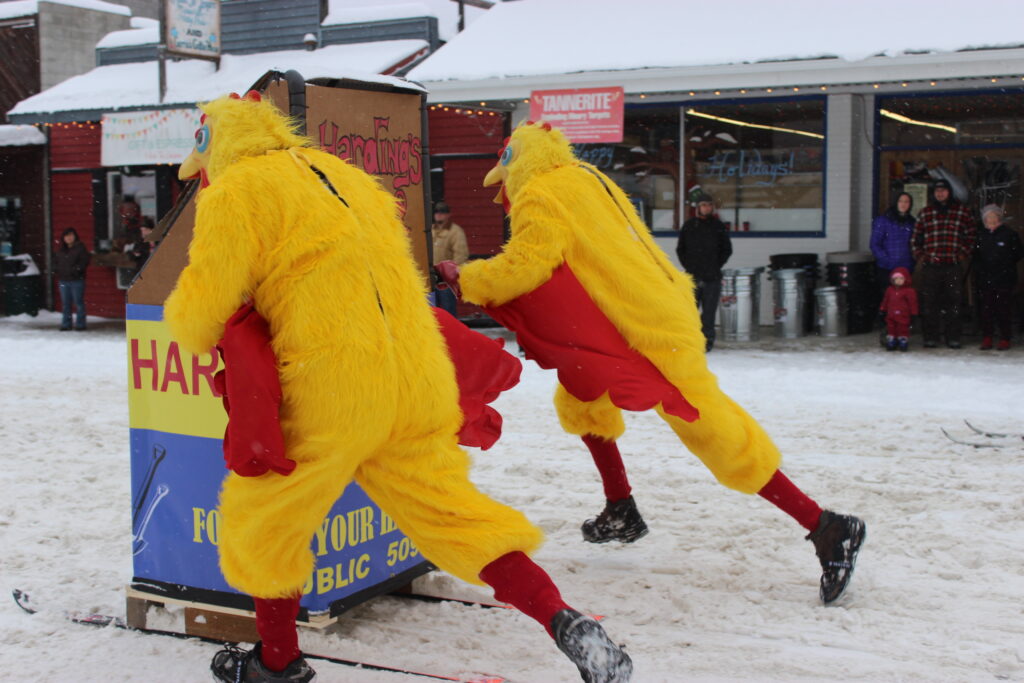 Lodging, Dining, Nightlife & More
From comfortable hotels in the heart of Republic to spacious vacation homes, snug cabin rentals, and even an Airbnb yurt, there are plenty of quality places to stay in and around Republic. Check out the K-Diamond-K Guest Ranch as a winter sports home base. Fisherman's Cove Resort on Curlew Lake is open year-round and has 16 comfy, modern cabins as well as RV sites.
Republic Brewing is the preferred gathering spot in town for food, drink, and live music and other fun. Their award-winning beer and cozy taproom has given this mountain town brewery a stellar reputation throughout the Pacific Northwest. The Republic Chamber of Commerce holds their annual Winterfest in January, with events like snow sculpting, sasquatch calling, outhouse races, and chili tasting. Come join the fun and try to hold your own against the locals. Check out the Winterfest Facebook page for details.
While Republic is a fantastic place to play during the winter, there is plenty of recreation during the summer as well. Visit in the summer for hiking and mountain biking trails, ATV riding on miles of back roads and trails, birding, fishing, backpacking, river tubing or kayaking, road biking, and more. Republic also hosts the Ferry County Fair, has a petting zoo nearby (Goat Farm – Goat Patrol), and the entire area is rich in geocaching opportunities.
One of the main summertime family-friendly draws to the region, however, is the Stonerose Interpretive Center and Eocene Fossil Site on the north end of town. Guest can dig and split rocks for fossils of plants, insects, and fish that lived millions of years ago and learn about fossils and the ancient history of Northeast Washington.
Discover all Republic has to offer at the Republic Regional Visitors & Convention Bureau or at Ferrycounty.com.
(Sponsored Content)