It takes some preparation, a little planning, and a touch of patience, but winter commuting is very doable in Spokane, Coeur d'Alene, Sandpoint and many other towns around the colder, snowier regions of the Pacific Northwest. Yes, it gets cold, but most of the time the roads are clear. And when road conditions are bad, you can always take a different mode of transportation.
1. Choose the Right Ride
Let's start with your bike. Do you want to subject your nice commuter or road bike to ice and slush and traction grit? If so, remember you'll need to replace the chain more often. Grit is great for shortening chain life. And you'll be subjecting the rest of your bike to the harsh elements. My aluminum frame Trek is still plugging away after ten years. I don't mind that it looks well used. If you'd rather protect your "good" bike, then get yourself a low-end mountain bike. Basically you want something you don't mind beating up. It will probably not get a good cleaning until your garden hose thaws out in the spring.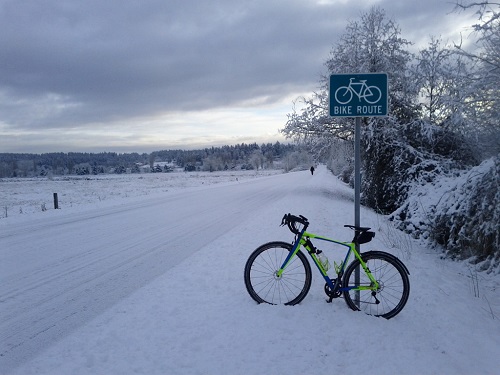 2. Get the Right Gear to Stay Safe and Dry
Fenders are useful for blocking the stuff your tires fling up. Fatter tires get better traction than narrow ones. Big knobby tires and studded tires can help, but they're not a 100% guarantee that your bike won't slide out from under you. Switch to platform pedals so you can put your foot down quickly. There are a wide variety of snow and ice conditions in which you need to learn the limits of your bike and your winter riding abilities. Sometimes you learn the hard way. I have on more than one occasion just riding around the neighborhood. Going slower than normal is a wise start.
Winter means shorter daylight hours and a greater likelihood of gray, cloudy weather, so you need to see and be seen. Wear a reflective jacket or vest. I use two taillights, one on the seat post and one on the rack. I have them blinking at different patterns to make them more noticeable. I use two headlights, one mounted on the handlebar and one on my helmet. The helmet light is useful for getting the attention of drivers coming from my left or right. When I look their direction, I light them up with 1,200 lumens. But I still ride defensively, which given the lack of protected space for cyclists in Spokane, we should be doing regardless.
3. Dress to Keep Warm and Comfortable
I keep my winter riding wardrobe pretty simple because I tolerate the cold fairly well. I wear a mountain bike shorts liner under a pair of jeans. If it's below 20 degrees, then I add a long underwear top and bottoms. But go with more technical stuff if you want. Over that is a fleece top and reflective bike jacket. Rain pants are on standby in case it's really wet out. Wool socks and waterproof winter boots keep my feet warm and dry. I wear a pair of heavier-than-normal running gloves with ski gloves over them. I have enough mobility to shift and brake, but my fingertips still get chilled at times. A pullover cap is my top cover unless it's below 20. Then I wear a balaclava. I've seen people wear ski goggles, but I can't because I wear glasses. So far it hasn't been a problem. Besides, iced up eyebrows are kind of badass.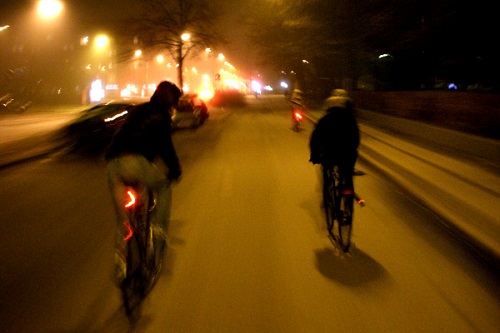 4. Choose the Best Route
If the roads are clear, then your normal commuting route should be fine. You'll be heavier and slower, so give yourself more time to reach your destination. When roads are snow covered, I prefer quiet residential streets and try to avoid the arterials. They're often narrowed by the snow pushed aside by the plows, making less room for bikes.
The most dangerous time, I think, is when the roadway is newly covered by freshly fallen snow. With the lane markings now rendered invisible, drivers make their own lanes. Sometimes they're one foot away from the curb or on the shoulder of the highway where I would be riding. Also, I notice a lot of drivers don't adjust to the conditions and start sliding around a lot. On those few occasions, I take the bus instead.
5. Have Fun
When I started bike commuting, I did not consider riding in the winter. But with time and experience, I learned that winter commuting was possible – as long as I promised my wife I would commute only when the roads are clear. My commute takes a little longer, but riding a bike is fun. And who doesn't want more fun in life? //