"Discovering" a new place so close to home that you immediately love is an uncommon delight when you've lived in the same place your whole life. My wife Shallan and I had skied the B.C. Okanagan region's snowy peaks, Big White (near Kelowna) and Silver Star (a short drive from Vernon), and had heard several of the skiers and riders we met talking up the summertime lake life on sprawling, 135k-long Okanagan Lake. But we had never experienced the Okanagan Lake region—a hotspot of trails, wineries, and watersports only four-and-a-half hours north of Spokane—in its warm-season glory.
Last September, early enough in the month that summer was still full-on, we headed north for a few days of hiking, biking, touring wineries and checking out the interior B.C. city of Kelowna and the more mountain-town-sized Vernon. The number one takeaway from the trip was how shocking it is that more of us Americans who live so close to the border don't make regular pilgrimages to British Columbia's third largest city (with 127,000 residents) that is picturesquely situated along the shores of one of the largest lakes in southern British Columbia. Kelowna, which takes its name from an Okanagan First Nation's word for grizzly bear, is an exceptional lake-and-outdoor-recreation-based tourist destination with all of the best urban amenities you'd expect from a small Pacific Northwest city.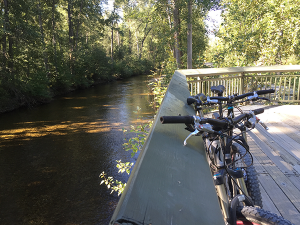 Day 1: Kelowna
We rolled into town—after taking the faster, scenic backroad route to the border through remote northeast Washington's Ferry County—and made our way to our downtown hotel where we immediately ditched our bags to set off exploring the area by bike. Situated right on Okanagan Lake, Kelowna is like a bigger, more cosmopolitan and urban-feeling Coeur d'Alene with more access to paved lakeside paths, hiking and biking trails, and renowned wineries. Our first taste of the town and lake was along the city's 2.2k lakefront boardwalk. Families and friends gathered for picnics in the beautifully manicured ribbon of parkland. Dreadlocked millennials balanced on slacklines between giant trees. A mix of languages drifted off the tongues of tourists strolling past street musicians. Sail boats, motorboats, and paddleboards plied the wide expanse of blue water abutting the city's well-developed and lively strip of resort towers, marinas, restaurants and bars.
On the north end of downtown, the boardwalk trail system eventually peters out where the resort strip transitions into a mix of residential and industrial development including a lake-side sawmill, but if you keep pedaling or walking north towards the mountain in the distance, you eventually reach Knox Mountain Park, Kelowna's largest natural park that has a system of 15 hiking, biking and running trails accessible from several different trailheads near downtown. With dwindling daylight, we opted to save Knox Mountain for later on in the trip. We cruised on back to our room at Hotel Zed, an old downtown motel turned refurbished and revitalized hipster boutique hotel that comes with free use of bikes and roller skates, a ping pong lounge, pool and hot tub, classic rotary phones and comic books in every room, and, best of all, an unbeatable location dead-downtown and across the street from the lake, park, and boardwalk.
All cleaned up and on foot, we hoofed it a few blocks north to scope out the downtown Kelowna nightlife and hunt down some drinks and quality eats, which we found in abundance thanks to Kelowna's sophisticated culinary and craft brew, spirits, and wine scene. We opted for a more casual evening and eventually settled in at a patio table at Fernando's Pub, a few blocks from our hotel, where we chowed down on happy hour poutine, fish and chips, and tacos.
Day 2: Vernon, B.C., and Okanagan Lake Country
It's a short and scenic 40 minute drive from Kelowna north to Vernon, B.C., and on the way, travelers on Highway 97 pass through the northern reaches of the province's lake-studded, arid Okanagan wine region known as the Lakes Country. On the way to Vernon, we again took the scenic route, this time detouring off the main drag to check out several recommended wineries. Our first stop was for lunch and a tour of the Gray Monk Estate Winery. Our meal at Gray Monk's Grapevine Restaurant and Patio was pretty much worth the drive from Spokane all on its own. We toasted a glass of bubbles surrounded by vineyards overlooking the stunning blue waters of Okanagan Lake. Of course we also sampled some of Gray Monk's award-winning wine with our lunch before joining one of the tours of the wine making facility followed by a tasting and then a cheese and wine shopping spree in the gift shop.
Departing Gray Monk en route to Vernon, we made pit-stops at several more roadside wineries for tastings, encountering more of the usual relaxed and friendly conversations with staff and other patrons that are typical throughout much of interior British Columbia. And, after sampling more amazing wines, we added a few more bottles to the pile of hiking and biking gear and luggage in the car. Almost to Vernon, we made one final stop at Davison Orchards, a family-farm enterprise offering fresh fruit, vegetables, and other unique local products that reminded us of Green Bluff back at home.
After checking in at the Best Western Pacific Inn near downtown Vernon, we had dinner at the Midtown Bistro in the heart of town which was recommended for its fresh, local ingredients and inviting atmosphere. The menu included a huge and diverse selection of locally-sourced and house-made sandwiches, sliders and entrees. The owner brought out an epic charcuterie plate as a teaser for the OMG-this-is-amazing butter chicken and stuffed cabbage rolls to come. Midtown Bistro is the place to stop to fill your belly after a day of riding (bikes or boards) at nearby Silver Star Mountain Resort. You're sure to find something to be stoked about on the vast and diverse menu.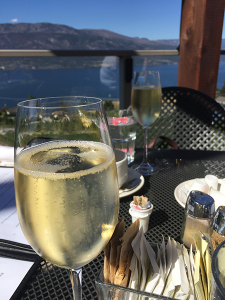 Day 3: Ellison Provincial Park and Back to Kelowna
We were back on our bikes for a ride on the mellow cross-country mountain bike trails at Ellison Provincial Park near Vernon before breakfast. We took our time on the mostly single-track climb up through mixed conifer forest to the reward: expansive views of Okanagan Lake in the distance. After a fun, squirrely decent back to our rig, we continued on to Kelowna for our final night north of the border. Not wanting to miss a major local hiking attraction, later that afternoon we squeezed in a hike to the top of Knox Mountain, Kelowna's version of Coeur d'Alene's Tubb's Hill, but with more acreage, trails, and elevation. The viewpoints on the way up and on top of Knox Mountain make for great Lake Okanagan gazing and photo ops of the beautiful city of Kelowna below.
After resting for a few minutes at the top with other hikers and trail runners, we hurried back down the trail to get cleaned up for our final night on the town, which for Shallan meant a pre-dinner yoga class at Hot Box Yoga a few blocks away, and for me, a few pints at my new favorite Kelowna eating and drinking establishment, Fernando's Pub. We rallied later that evening for the wait-list worthy RauDZ Regional Table. Given how highly it was recommended by several locals we randomly polled, the small, jam-packed restaurant was surprisingly laid-back and comfortable and, not surprisingly, the dishes we tried, a huge plate of sautéed mushrooms, tomato salad with fresh herbs and local cheese, and melt-in-your mouth risotto, were simply prepared and totally delicious. Thankfully after an extended happy hour and a late dinner, it was only a few block walk to our room. Despite the energetic, Friday-night scene back at Hotel Zed, our last night in Kelowna delivered sweet dreams on soft pillows.
On our way out of town and back to the U.S., we wanted to weave in one more casual, leg-stretching bike ride. The Mission Creek Regional Park a few miles south of downtown Kelowna sounded about right. The trail system is 16.5 k in length; however, we only had time to pedal an out-and-back on the first 8k or so of the flat, wide pathway tucked in the trees along Mission Creek. Since it was September, the spawning kokanee were thick, and we stopped at every interpretive sign and creek viewing spot along the way to watch the brightly colored fish swim upstream toward their final days. While we weren't able to pull it off on this trip, riding the entire trail system, including the Phase 2 from Ziprick Road to KLO Creek, would make for an adventurous day's ride. The upper part of the trail features a canyon environment with a narrower trail, several bridges, and some steep hills with switchbacks.
Plan Your Own Trip to B.C.'s Okanagan Region
The two major tourism promotion agencies in the Kelowna and Vernon area provide invaluable information online (and in print at various visitor centers) covering things to do—from outdoor recreation opportunities to cultural and culinary options—places to stay and eat, events, and travel tips. Visit Tourismkelowna.com and Tourismvernon.com to help wade through the options and plan your perfect trip.
More Outdoor Adventures in the B.C. Okanagan
Knox Mountain Park (easy to difficult)
Trails of varying difficulty offer relatively easy-grade walking to some awesome views of the lake, city and mountains. The hike up to the Lower Crown Lookout (approximately 40 minutes to an hour roundtrip) or all the way up to the Upper Apex Lookout (about an hour and a half roundtrip). Some trails are open to mountain bikes too.
Kettle Valley Railway—Myra Canyon (easy)
This section of the Kettle Valley Railway (KVR) is highly lauded for its spectacular scenery, including 18 trestle bridges and two tunnels. The railroad line was originally built at the turn of the last century and was rebuilt again after wildfire damage between 2003 and 2008 when the Okanagan Mountain Park Fire claimed 12 of the trestle bridges. Bike or hike as far as you care to go before turning around and returning the way you came.
Kalamalka Lake Provincial Park (easy to difficult)
The centerpiece of this stunning park is the distinctively blue-green Kalamalka Lake, which gets its unique and beautiful color from dissolved limestone that crystalizes when the lake heats up in the summer. A network of hiking and biking trails traverse the park, with some leading to swimming beaches (try Jade Bay and Cosens Bay). Juniper Bay is the most developed and easily accessible area in the park and has a playground, picnic tables, toilets, water, and a swimming area.
Silver Star Mountain Resort (easy to difficult)
20 minutes from Vernon, Silver Star is Canada's second largest bike park, featuring 125 kilometers of cross-country and downhill trails for every level of rider. A high-speed bike chairlift offers riders and hikers quick and easy access to the top where the trail choices include 18 downhill trails, 21 cross-country trails, four hiking-only trails, and two multi-use trails. //