Many people who pursue creatures of fur, feather and fin are eagerly anticipating the fourth annual Rendezvous of the Backcountry Hunters and Anglers. Scheduled for March 6-8 at the Red Lion Hotel at the Park in Spokane, the event promises a range of social gatherings, how-to sessions and thought-provoking speakers. Oh, and gallons of brewed adult beverages at the Backcountry Brewfest Friday night from 5-9 p.m.
To be sure, BHA's primary audience is hunters and anglers. However, the group does stand and advocate for things that many other outdoor recreation enthusiasts care about, including protecting public lands, wildlife habitat and wilderness. Whether you're a seasoned backcountry hunter or angler looking to connect with a like-minded community or a non-hunting or fishing hiker, backpacker, boater or mountain biker who is interested in learning more about the skill, dedication, and challenge that hunting and fishing in remote, wild country involves, the Rendezvous will have something for you. Here are a few good reasons to check it out.
You want to learn more about backcountry hunting and fishing. The Rendezvous will offer something for everyone. Holly Endersby, immediate past Conservation Director for BHA, emphasized the fine writers, the panel on women and hunting and the Saturday sessions. Topics include backcountry videography and photography as well as archeology and the hunt. The audience will experience a special screening of writer David Peterson's new film, "The Good Hunt." The keynote speaker for this year's Rendezvous is Randy Newberg, host of "Fresh Tracks" on the Sportsman Channel.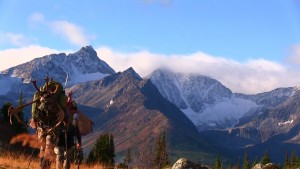 You fish and/or hunt and care about protecting backcountry lands. As veteran Northeast Washington member Bart George emphasizes, BHA is one of the few organizations building upon the contributions hunters and anglers have made to preserving wild places in our country. "You don't hear a wilderness message as much from some of the other hunting and fishing groups," he says. "And I really appreciate that BHA is explicitly wild habitat-centric."
George, a wildlife biologist and avid hunter, also pointed out that BHA members typically share values with people who crave wilderness experiences, whether that means trail running, floating backcountry waters, or riding on horseback into remote terrain. "I respect that diverse group of people – including hunters and anglers – who choose to do things the hard way," he says. "That inclination is certainly going out of style."
One of George's goals for BHA's Washington Chapter is to raise membership: "We need to find a way to get people involved, particularly with habitat restoration projects, wilderness bills, and what's happening with habitat protection."
New BHA member Mark Heckert concurs. "I joined specifically because of the organization's efforts to resist the grab for public land," he said. "I support BHA in their efforts to resist the ongoing and simmering effort to privatize what belongs to all of us. The preservation of federal land is an existential issue for me, something I identify with as an American citizen," he says. "BHA can help in this regard by counteracting the special interest groups seeking to wrest lands from the public."
Beyond the Rendezvous, BHA has chapters in 16 states and British Columbia, and the Washington chapter meetings occur on both sides of the state, so local involvement is possible.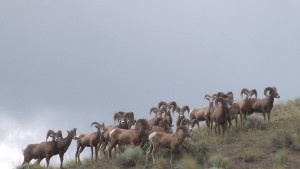 You care about wildlife conservation. Back in the late 1800s and early 1900s, a great number of species were in trouble as a result of rapid resource extraction. Settlers and industrialists took and then took some more. This had startling consequences for wildlife and their habitat. As biologist and writer Jim Posewitz notes in "Beyond Fair Chase," "The United States observed the first 'Earth Day' in 1970. This 'day' marked the time when the general public recognized it was time to stop destroying nature. Yet as early as 1871, nearly a century before Earth Day, hunters and anglers were speaking out for nature and the environment." BHA builds on the legacy of earlier hunter-conservationists with a mission that "seeks to ensure North America's outdoor heritage of hunting and fishing in a natural setting, through education and work on behalf of wild public lands and waters."
According to Endersby, the Rendezvous in Spokane and the organization are for anyone interested in conservation. "BHA is not just for hunters and anglers," she says. "One of our focal points, for example, is to encourage more families to engage in the outdoors." The idea is that active members can reinforce for children the importance of healthy living and the need to preserve wild places. "But in fact, anybody connected to the outdoors could take something away from the Rendezvous because it builds upon the principle that communal effort is necessary to protect our resources and the legacy we have been given." Endersby says the people in BHA tend to be thoughtful, even reverential, about hunting and fishing. As such, the group offers non-hunters and anglers a venue for encountering perspectives not always evident in the hunting and fishing community.
You like to drink beer. To add some spirits to the Rendezvous, BHA is hosting its 1st Annual Backcountry Brewfest on Friday, March 6 from 5-9 p.m. This chance to mingle with like-minded hunters, anglers and outdoor adventure enthusiasts from around the country will feature the delights of more than a dozen regional breweries in the Red Lion's Skyline Ballroom downtown Spokane. Ticket info at www.backcountryhunters.org or call 406-370-4325.
More Info: Register for the BHA Rendezvous at www.backcountryhunters.org. Can't make the event but want to join BHA? Visit the same website for membership information. //