Since I still want to believe that winter will return and there will be too much snow to access the high country, I am recommending a nice walk on the beach for March. Spring is truly the best time to visit the Lake Roosevelt National Recreation Area for hikers. The boating crowd isn't likely to arrive before Memorial Day, and spring water level drawdown reveals special treats that hikers won't want to miss.
With its playground at the trailhead and rock-skipping potential along shore, this hike is good for families with children. For birdwatchers, eagle sightings are almost guaranteed. History buffs can visit the site of Old Kettle Falls by exploring near the Locust Grove Group Campsite, where the National Park Service has placed markers indicating the layout of the old town site.
From the parking area and picnic shelters, start by hiking west on the trail leading to the shoreline. Cross the sandy beach to reach the water, and after noting the return point by the trees, begin to explore by hiking north along the sandy shore. Interesting artifacts are sometimes exposed as the water level goes down, including wooden water pipes from the old town. Take only photos, as removing historical objects is illegal. Instead, consider carrying a trash bag to help clean up garbage that is also inevitably revealed by the receding water.
Once satisfied with the beach, hikers have two choices: either reverse direction and possibly extend the hike by including the beach south toward the mouth of the Colville River, or create a loop by hiking inland and connecting with unmarked trails that bring one back to the picnic shelter. If choosing the latter, be sure to carry a map and compass to verify the route. This hike is approximately four miles roundtrip and is dog friendly with a leash.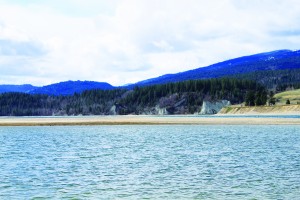 Getting there: From Spokane, head north on Highway 395 through Colville and Kettle Falls. Just before the Columbia River crossing, turn left (south) on Boise Road. Proceed to Lake Roosevelt National Recreation Area. Park at the Old Kettle Falls Picnic Area. //