Why I Ski: Lars Johansson, Silver Mountain Resort
"I love being outside, being in the cold, the solitude, the sounds of the mountains." Lars Johansson

It's rare to find Lars Johansson without a grin radiating through his bushy beard. It is obvious he enjoys people and the great outdoors. He spends a lot of time with both, welcoming life head on, living without reservation.
Johansson hails originally from central Wisconsin, "in the middle of nowheres," as he puts it. There weren't any mountains, but he certainly experienced cold and snow. When he was 10-years-old, his dad got him and his brother their first snowmobile. "My dad said, 'You guys can ride it whenever you want…after you can start it.' Well, we started it, and as long as there was gas, we kept going," Johansson recalls.
During college in southern Wisconsin, a friend introduced Johansson to snowboarding. Within two years, he was a snowboard instructor at Cascade Mountain, eventually becoming the snowboard school director. After college, he took a mechanic job with Empire Airlines in Mosinee, Wisconsin. He still rode five days a week at Granite Peak in Wausau, but he craved bigger mountains and better snow. So he spent time each month traveling to and from the Colorado Rockies, where he had friends in the Breckenridge/Vail area.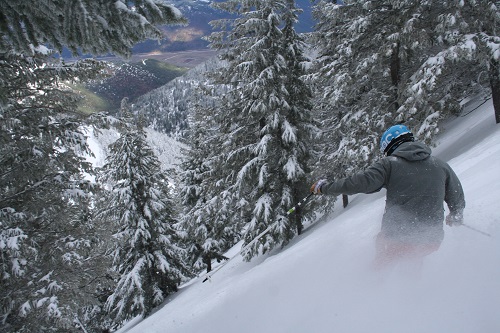 "Snowboarding was all I did," he says. "I bought a season pass in Colorado for a couple of years, and I was there so often, people who were friends of my friends thought I lived there." His routine seemed insane, but it let him have the best of everything he enjoyed – small town living with big mountain recreation. Then in 2006, two things happened that forced him in a different direction.
First, a wakeboarding back injury forced him to give up snowboarding and switch to telemark skiing. "Tele skiing turned my back around and made [the pain] tolerable," he remarks. "It works your core so hard and keeps everything in line." The change was very therapeutic, and eventually he switched to alpine and cross-country skiing. Occasionally he jumps back onto a snowboard.
Second, Empire Airlines closed its branch in Mosinee. They gave him a couple choices: a mechanic position in Anchorage, Seattle or Portland, or a management position in Coeur d'Alene. Not interested in big city life, Johansson decided on a two-month trial in Idaho and set out from Wisconsin in February 2007. "All I had was ski gear, a sleeping bag and a bag of clothes. That was it. Driving out, the mountains were huge! Coming over the passes, I thought, this might be pretty awesome!"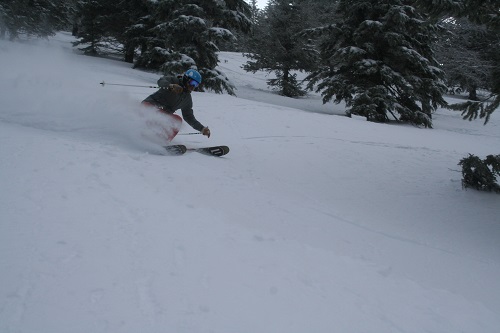 The second day after Johansson arrived in North Idaho, it snowed. "I did some research," he says, "and, hey, look at that. Silver Mountain was close by." At the time, Silver's main chair lift was broken, so they were offering deeply discounted lift tickets. Lars was on the slopes before the weekend. "There was nobody there," he remembers. "It was a waist deep powder day, and I'm skiing and freaking out!"
Today, eight years later, Johansson is the supervisor of Empire Airlines' local maintenance department, a Liberty Skis rep, and, while he has skied every mountain in the Inland Northwest, Silver is still his favorite. He and his wife Melissa even got married in the gondola village. "The people here are unpretentious," he says. "There's no fashion show." As a consistent weekday skier, Kellogg is easily accessible from his home in Coeur d'Alene. "I work at nights, 2 p.m. to either 10 or midnight. I can get up to Silver quick, go skiing in the morning for two hours or so, get back in my car, get back down here, take a shower and go to work. It's really convenient."
He also appreciates the diversity in terrain and weather at Silver. "You can have certain runs on some days where you can't see very well, but if you go to a different side of the mountain, you can get into some good viz." It's tough, though, to pinpoint his favorite Silver run, but he admits to a fondness for skiing the trees, "even though they put me in the hurt locker big time last year."
Last season was pretty tough on Johansson. After smashing head first into a tree, losing a close friend to an avalanche, and facing some difficult personal challenges, he struggled to return to the slopes. "These things really put me down," he says, "but I finished the ski season strong." Despite the setbacks, he is already anticipating a new season. "I love being outside, being in the cold, the solitude, the sounds of the mountains," he beams. "Some people have asked if the avalanche changed my view on being out there and skiing. To me, these guys died doing what they loved. If anything, it's almost a reason to double down on skiing. I love it so much – I don't know if there's anything that could replace it." (S. Michal Bennett).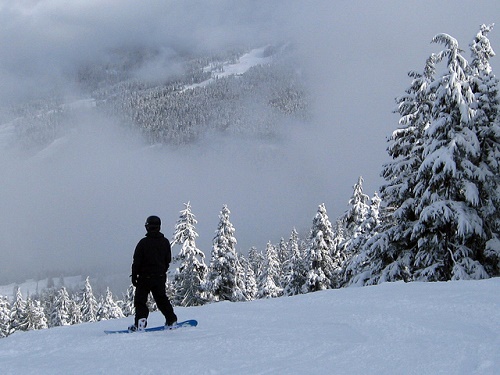 I'd Rather Be Skiing: OTM Winter Obsession Confessions
Skiing may not necessarily be the outdoor sport that defines you, but it's certainly a critical piece of the local outdoor scene and the personality and passion puzzle that drives many of us here in the Inland Northwest outside into the cold, white mountains each winter. We are hikers, mountain bikers, river surfers, runners, cyclocross racers, snowshoers, triathletes, disc golfers, Nordic skiers, anglers, travelers, whitewater rafters, and, yes, especially when the snow flies, skiers and snowboarders. Why do we stand in line at ski swaps, start saving in June for that season pass or new skis, obsess over snow reports, wax and tune our boards to perfection, and drive icy roads, only to finally hop on a chair or head up the mountain on touring gear to spend a day sliding down snow-covered slopes? The easy answer is that it's damn fun! Of course, like with all outdoor pursuits, there are often more complex and personal motivations behind our obsessions with skiing and riding. These confessions from OTM writers dig a little deeper into that seemingly simple question: Why do we ski? (Derrick Knowles, Editor)

 "Skiing is an addiction. One that runs deep in our souls." Chic Burge
I ski because I'm addicted. Addicted to the outdoors, addicted to controlled falling, addicted to fun. Addicted to the endless adrenaline rush that sometimes lasts for hours afterwards. I can't stop, but my body yells at me to do so. As I leave the ski resort after a hard day's ski, I'm already planning my next visit. Hoping my body recovers in time for the next powder day.
Why do people ski? They strap on slippery boards and catapult themselves down slopes so steep they can't walk up them in the summer. We withstand brutal temperatures, blowing snow, cold toes and noses, and all the time, grinning from ear to ear with the pleasure of controlled falling. Non skiers think we're crazy. Who'd go out into the cold on purpose?
Yet every winter day the resorts are open, there are huge numbers of people playing in the cold. And loving it I might add. Skiing is an addiction. One that runs deep in our souls. We skiers don't expect non skiers to understand. So when your relatives ask you to spend a powder day doing something else, be aware. For some of us, skiing controls our lives all winter long.
Why do I ski? What a silly question to ask a skier. It's simple. We ski for the thrill of shushing, for the feeling of snow billowing up in our faces. The rush of controlled falling is a sensation we can't resist.
Our muscles burn with effort, while our minds float down thru the powder. Even lunch is often skipped, when the snow is like champagne.
By the end of the day, we are exhausted. But we don't stop until the lifties inform us of the last run. We outwardly grimace at the thought, but internally we are happy to have survived yet another day of glorious powder.
We ski for many reasons. Fresh air. Exercise. Camaraderie. Thrills. Addiction to the white stuff. The need for speed. Beauty. But it all comes down to making that choice to have fun rather than complain about the snow. It has been said many times and it's true: A bad day of skiing beats any day at work. (Chic Burge)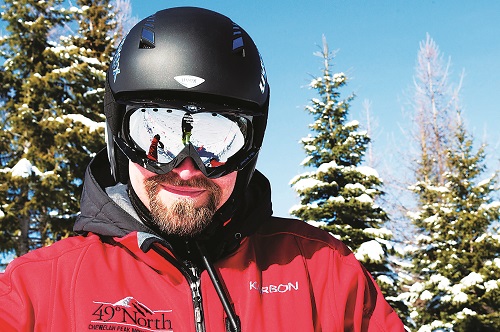 "Now I ski with my family, and I appreciate the time we have together on the mountain. It almost seems like everything has come full circle – I ski for the fun of it." Brad Northrup

Looking back over the past three-plus decades of my skiing career, the reasons for why I do this crazy sport have changed, much like I have. I can blather on and on about how my perception of the sport has changed with time, but the reality of why I ski has more to do with my memories associated with skiing; memories that put a smile on my face and make me look forward to going again.
I grew up skiing at Mission Ridge, an area notorious for rock-hard groomers, technical steeps, and the rare day of true champagne powder. During the 1980's, I raced for Mission Ridge Ski Team, and it was during these years that I developed friendships with people that would last until the present. Funny thing is, I was a second-tier racer at best, but it was the fun we had during this time that makes me laugh whenever I think about it. Maybe skiing is how I try and hang on to my youth….
In 1987, I blew out my left ACL and swore I would never again partake in the sport that ruined my athletic career. I did take some time off, but my thoughts kept wandering back to winter. Eventually, I did return to the slopes, thanks in large part to my best friend Corey, who encouraged me to get back on the horse. I'm thankful I did, because he and I ended up going skiing nearly every weekend for several years, almost always at Mission Ridge. We had a favorite run that we would ski over and over again, whooping and hollering our way down every time. Sadly, Corey was killed in an avalanche not long after I moved to Spokane, but I still  try and make a pilgrimage to Mission Ridge every year to ski our favorite run. I like to think that I ski to honor his memory.
I moved to Spokane in 2001 to complete my college education, and somehow managed to get hired at both Lou-Lou's Ski Chalet and 49 Degrees North. Working at a ski shop and coaching at a local resort was my real skiing education, and both played a crucial role in my development as a skier. As a coach for many years, I can say that nothing compares to the moment when the proverbial light bulb goes off for a kid, and they finally get it. I will admit that I got a little misty-eyed a few times when I saw this happen. I retired from coaching some years ago, but I keep skiing because that's what those kids would want me to do.
For the past three seasons, I have been just another skier on the hill, and a return to anonymity has been good for me. I don't ski as hard or as fast as I used to, but it really doesn't seem to matter, because the feeling I get from skiing hasn't changed a bit. Now I ski with my family, and I appreciate the time we have together on the mountain. It almost seems like everything has come full circle – I ski for the fun of it. (Brad Northrup)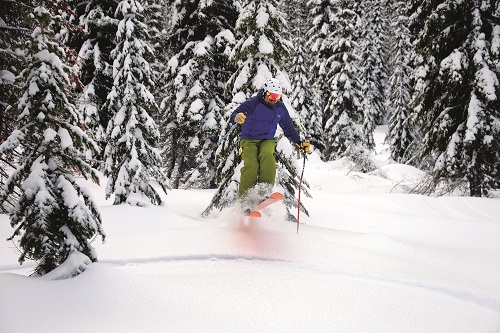 "There are few, if any feelings in the world of physical expression, that compare to the 'flow state' of dancing through a foot of fresh snow, deep in the trees, in complete solitude." Brad Naccarato
Skiing for me is one of the highest forms of physical expression. Like an artist working with a blank canvas of snow, my skis are an extension of my body, carving beautiful lines and squiggles through an untracked glade, in perfect synchronicity with the movements of my body. There are few, if any feelings in the world of physical expression, that compare to the "flow state" of dancing through a foot of fresh snow, deep in the trees, in complete solitude.
Pushing, pulling, gliding, carving, and reacting to the pitch of the slope and the varied terrain, I imagine that I'm moving down the mountain as though I'm water flowing through the varied paths of least resistance – always moving fast, yet calmly and deliberate, and never with hesitation. As a true Pisces, I am forever drawn to the water and the seasonal cycles that govern it. I play all winter long in the soft blankets of frozen water that cover my beloved mountains until it transforms into the brilliant blue water of my favorite lakes where I play all summer long. In autumn, when the cold northern air returns the "white water" to the hills above town, I strap on my skis in eager anticipation of starting the cycle all over again. (Brad Naccarato)
"Through the years, skiing has made me a tougher, braver Inland Northwest woman, and has taught me to anticipate and celebrate all of winter's possibilities." Amy Silbernagel McCaffree
I ski because I love mountains – they always stir my emotions, a mixture of solace and anticipation for adventure. And the fastest way to summit a mountain during winter is to ride to the top.
Riding a chairlift can be a poetic experience – the tranquil silence while passing over slopes and by trees with branches thick and heavy with snow. Now that I'm a mom, I appreciate solo chairlift rides even more for the blissful minutes where I don't have to be responsible for anyone or anything. It's just me sitting on a chair, riding up a mountain. Clear days are my favorite, when I can pause to gaze at peaks, forested wilderness and lakes in the distance before skiing down. I'm always wooed by these breathtaking views. Night skiing and foggy conditions don't quicken my heart the same way.
On the practical side, I ski because I am married to a man who is a devoted, expert skier – he's also a ski patroller. I was a fair-weather, few-times-a-year skier before meeting him. It's only because of him that I transitioned to shaped skis eleven winters ago. If I didn't ski with the love of my life, I would miss out. But I'm also happy to stay on the groomers while he seeks powder.
This season will be our third one skiing with our children – an experience that both challenges and bonds us as a family, as we overcome both real and metaphorical parenthood mountains. Through the years, skiing has made me a tougher, braver Inland Northwest woman, and has taught me to anticipate and celebrate all of winter's possibilities. (Amy Silbernagel McCaffree) //