Kids love to climb: trees, rocks, walls, whatever. And they're naturals at it too. As a parent, you have some options when dealing with your child's monkey-like behavior this winter. You could discourage the climbing instinct by nudging them gently towards more traditional ground-based activities and team sports, but why not help them cultivate their ingrained urge to climb in a fun, safe, indoor climbing environment? Climbing is excellent exercise for kids of all ages and helps them develop strength and better control over their bodies and minds, all while draining them of excess energy, leaving them more calm and relaxed.
Wild Walls Climbing Gym has been a downtown Spokane fixture since opening in 1995, and over the years has expanded and evolved into the clean, family-friendly, state-of-the-art climbing gym that it is today – buzzing with the energy of kids and adults of all ages literally climbing the walls littered with colorful hand and foot holds. While families with enough climbing experience to pass the mandatory belay test can climb together at the gym anytime, Wild Walls offers two programs geared specifically towards kids, from total beginners to kids with different levels of climbing experience. Both programs include climbing gear and instruction at an affordable rate.
The popular Spider Monkeys classes for kids ages 4-8 are held on Monday and Wednesday nights from 5-7. Parents can come to watch or climb on their own as experienced, certified instructors work with their little climbers. The classes focus on having fun while teaching the basics of climbing and team work. The first class is free, a single visit is $12 and an eight-class pass is $74 (gear included). Wild Walls general manager Todd Mires says that in the past year, the program has been filling up, so signing up as early as possible is a good idea.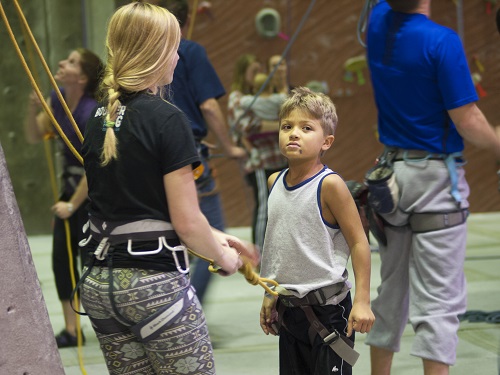 Wild Walls also offers Climbing Club for older kids ages 9-16 on Sunday and Thursday evenings from 6-8. In addition to the basics, kids can learn more advanced climbing skills in Climbing Club, including knots, belaying, body movement and climbing techniques. The number of Climbing Club participants isn't as limited as it is with Spider Monkeys, so there is plenty of space for new climbers. The first visit is free, and after that, it's $12 per class, $65 for a month pass and $100 for 10 visits (gear included).
Brandi Hall, whose 4 year old son Kody is currently enrolled in Spider Monkeys, had never been climbing before and hadn't given any thought to taking her son climbing until Kody's grandma gave him a gift certificate. "He always loved to climb on trees and anything else he could get his hands on, so we figured we'd give it a try." Hall reports that she's seen an improvement in Kody's coordination and strength, and she says it helps stimulate his mind as he works through where to put his hands and feet. She also notes that it's a positive and healthy way for him to work out some energy. "Climbing makes him exhausted. After class, he often falls asleep in the car on the way home."
Being introduced to indoor climbing at Wild Walls has had a positive influence on the whole Hall family. "My husband and I are now going to start climbing so that we can all come out and climb together as a family," Hall says. "We love it and are so glad the gym is here." Learn more about Wild Walls and their climbing programs, lessons, and open climbing opportunities for kids and adults at wildwalls.com. //