Bugling sounds of Vuvuzelas and the ringing of cowbells lead the way for ski mountaineering racers as they traverse around Whitefish Mountain Resort for the 10th annual Whitefish Whiteout Race on February 11, 2017. Ski mountaineer racing, or SKIMO, consists of athletes strapping skins on their skis, racing up the hill, and riding down as fast as they can. This past year's event was dedicated to Ben Parsons, an active member of the SKIMO community in the greater Kalispell area of Montana, who died in an avalanche on January 5, 2017 while backcountry skiing in Glacier National Park. Parsons was 36 years old.
"He would make friends with anybody," says Brandon French, a close, life-long friend of Parsons'. "He was genuine and actually wanted to get to know you and that was a big part of why so many people loved him." French and Parsons met in 7th grade and grew up together in Kalispell, Montana. The two separated paths during college–French went to Missoula, Parsons went to Bozeman–but they would always stay in touch to do ski trips.
"He always had motivation to do big days," says French. In November when there wasn't even snow in the valley he went up on Great Northern Mountain and did a couple 10,000 foot days. He would climb 2,000 feet carrying skis on his back through rocks and ski down on the upper glacier. "That was just typical," says French. "He would get out and just hammer it."
They both returned to the Flathead Valley after college and became firefighters and paramedics in the area. French and Parsons also skied together on the US National SKIMO team in 2010. "On the race course, he was strong," says French. "Whether it was skiing, mountain biking, or running he would focus on the podium."
The Whitefish Whiteout ski mountaineering race has three different courses. The shortest course, 1.4 miles, is where competitors only ascend to the top of the mountain. The 3.4 mile short course includes the ascent and another loop around one of the other faces of the mountain. The 7.4 mile long course goes around the entire mountain, including both the ascent and short courses. "This year we went for the five peak experience for the course," says Josh Knight, Events and Recreation Manager at Whitefish Mountain Resort.
Long course racers get to traverse the five high points of the resort–the Summit Hill, the top of Lodi, East Rim, the Radio Towers, and Hellroaring Peak. This year's race, with 130 competitors, was the largest turn out the mountain has hosted for the Whitefish Whiteout. The previous largest Whiteout was last year's at 87 participants. It will be interesting to see what the 2018 season brings. "This year is the most important and biggest in every capacity," says Knight. "From the number of competitors with what it means with Ben's death."
The winner of the Men's AT long course was Mike Foote with the fastest overall time of 1:32:07 and the fastest ascent of 00:24:52. His time broke the record for the fastest overall time by 19 minutes, and the ascent record by two minutes. This is Foote's third season competing in ski mountaineer racing and also his third time racing at Whitefish Whiteout. During training sessions, he takes a lot of time going up and down, while focusing mostly on time and vertical gain. He keeps this mantra in mind: go slow to go fast. "I really focus on staying calm because there are so many opportunities to make mistakes and the less mistakes you make the faster you go," says Foote.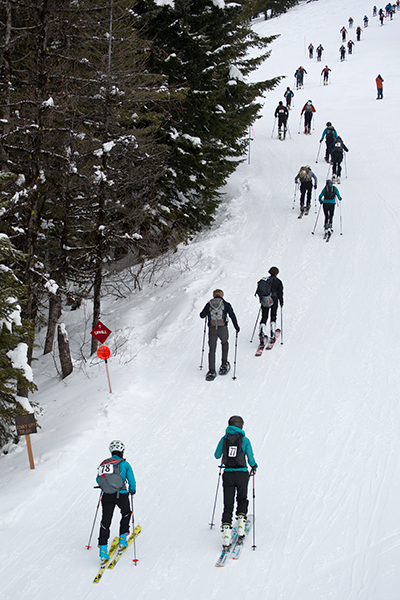 Foote started ski mountaineering because of Ben Parsons and a few others who lived in the area. "They were my mentors and inspirations to do it, and it feels very good to be here for this," says Foote. Friends and family who were all impacted by Ben Parsons gather, sweat, and cheer in remembrance of the community he helped to create. "The atmosphere of everyone being excited epitomizes what Ben would've wanted for this event," says French. "The sun's out with good friends and that is what it's all about." // (Drew Castellaw)
Drew Castellaw is a visual journalist who is passionate about storytelling, adventure, and photography. This is his first article in Out There Monthly.